We are part of The Trust Project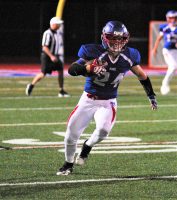 My 30th year of covering the Section 1 football circuit should be a doozy, what with the significant shifting and reshaping among the five classifications (AA, A, B, C & D), coupled with the upside-talent on the grid itself. It all makes for what should be a very intriguing 2018 season. There are many reasons to be excited, including the returning stars and the breakout talent that exists throughout the Northern Westchester/Putnam County region.
Here's just a sliver of what you need to know heading in to the campaign.
LEAGUE AA-NORTH/WEST
Both Carmel and Mahopac are coming off excellent seasons, in which each qualified for the playoffs but neither made that next-level jump they were shooting for, which entails challenging three-time reigning champion New Rochelle for all the marbles. The Class AA leagues have been shuffled some, combining the former North Division ('Pac, Carmel, Arlington and John Jay EF) with the West, linking several Rockland County powers, including North Rockland, Suffern and Ramapo, along with former North foe RCK. So, eight teams now form the ranks of the division, which makes winning a league title all the more difficult with seven league games leading up to playoffs. The top eight teams in Class AA will qualify for the playoffs based on a point's formula.
Host Carmel and Mahopac will meet on Friday, October 12th (7:00 p.m.) in the final week of the regular season, setting up what could be a whale of a finale. Carmel Coach Todd Cayea, entering his 25th season on the Ram sideline, dubbed the league title a "toss-up", claiming a number of teams could win it.
CARMEL
Coach: Todd Cayea, (24th year with Rams)
Last Season: 7-2 lost in quarterfinals to Clarkstown South
Offensive Starters Returning: senior QB Peyton Cayea (6-4, 175), senior RB Sam Duke (5-8, 175), TE/DE Brian McCabe (6-1, 196), junior Gianluca Piccolino, senior WR Joe Mascetta (6', 175)
Defensive Starters Returning: Andy Parisi, Brian McCabe, Sam Duke, junior DB Alex Beauchesne
Key Veterans Assuming Roles: OL Nick Telesco (6', 160)
Key Rookies: junior RB Andrew Bumgardner (5-9, 165), junior OL/DL Matt Massi (5-8, 190), senior WR/RB Matt Murphy (5-9, 145), junior OL/DL Noah Wahl (6-4, 230), junior WR Ryan McCarthy (5-9, 158)
Captains: Brian McCabe/Andy Parisi
Coach's Quote: We have some experience at the skill positions, but are very young up front. We need to focus on taking it one day at a time and trusting the process.
League Favorite: Toss-up.
Sectional Favorite: New Rochelle
Social: @CarmelRams
Outlook: Duke and Mascetta provide Cayea with superlative options with which to run and pass, respectively, and Cayea, himself, is a desirable alternative. With this trio healthy, the Rams are going to score points; don't think otherwise, and competent backup QB Andrew Nunez could allow for some wrinkles with Cayea split wide. Coach Cayea is an exquisite play caller, who tends to think outside the box and spread the field. Defending this unit will be difficult, especially if the young grunts can come of age up front. Going in to the season, the goal should be to win the league title and go from there in the playoffs where the Rams could be a legit contender to New Ro'.
The fact that several teams dropped down to Class A opens things up in Class AA where the potential exists for the New Rochelle dynasty to win a fourth-straight title, and 11th in the last 15 years. Whether or not Carmel can alter the Class AA landscape remains to be seen, but the Rams fully expect to be one of the last two teams standing on November 2nd/3rd as Mahopac plays host to the Section 1 championships.
MAHOPAC
Coach: Dominick DeMatteo (2nd year at Mahopac)
Record Last Year: 6-3, lost to North Rockland in opening round
Returning Starters: senior RB Tim Cegielski; senior WR/DB Rheal Allen (6'4", 200); senior OL/DL Anthony Pericone (6', 260); senior OL/DL Tom Vellek (5'11, 205); senior OL/DL John Nickisher
Key Veterans Assuming Starting Role: senior QB Anthony Corrado
Key Rookies:
Captains: Cegielski, Corrado, Dan O'Neill, Perricone, Vellek & Randy Ferrieri.
Coach's Quote: It's amazing how far we've come as a football program in such a short period of time. Corrado is a diamond in the rough, so we think he'll develop into a solid replacement from Dugan. Timmy runs the ball hard and Rheal is a legit down-field threat.
Social: @MahopacFB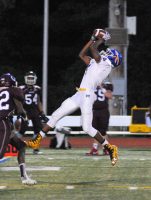 Outlook: More often than not, the vast majority of Class AA teams are playing for second fiddle, given New Rochelle's dominance (12 titles since 2000), but that won't stop Coach DeMatteo from planting the seeds to sow a bright future. The schedule is tough right out of the gate with John Jay EF and North Rockland to open up, and the back end will be equally tough with trips to Arlington and Carmel in Week 6-7. Throw in a potential Week 8 playoff game and one begins to see the make-or-break stretch the Indians will face.
In Cegielski and Allen, Coach DeMatteo has two special weapons. Expect him to feed the duo early and often as Corrado, a legit diamond in the rough, develops into a quality signal caller. Mahopac's success, or lack thereof, lies in the development of its front line on both sides of the ball, led by Perricone.
CLASS A
Yorktown enters the scrum as defending Section 1 champions for the first time since 1998, having reached the state finals last year for the first time since repeating as NYS champions in 1993-94. Repeating in Class A this season will be extraordinarily tough, tougher than it may have ever been, given the 25-team field and the host of serious contenders in a deep field.
"It's as deep a class as I've ever seen," Yorktown Coach Mike Rescigno said. "It's unreal!"
Many coaches are touting Clarkstown South as the team to beat, but there are as many as seven to eight legit title contenders. Seven new teams have entered into Class A this year, including last year's Class AA runner-up and perennial power Clarkstown South. The Vikings are one of five schools to drop down to Class A from Class AA, along with rival Clarkstown North, much-improved Fox Lane, Horace Greeley and an explosive Spring Valley club. Peekskill and Pelham also return to Class A from the recent futility of the now-defunct Yonkers/Hudson River Football League. Rye, Clarkstown North, Spring Valley, Yorktown, Hen Hud and Lourdes are formidable Class A contenders.
The top 16 teams will make the qualifying round of the playoffs.
YORKTOWN
Coach: Mike Rescigno (14th season, 85-34)
Record last year: 12-1 lost in NYS finals: Huskers are 21-2 over the last two seasons, nearly matching the 1993-94 NYS champs, among the finest two-year periods in school history.
Returning Starters: QB /CB Tommy Weaver (Sr.) All-Section; TE Naim Sinanaj (Sr.);
LT/DT Matteo Cermel (Jr.); RG/ LB Eddie Capone (Jr.); FS Nick Campanaoro; SS Dylan Smith
Key Veterans assuming a new starting role: Dylan Smith (Jr.) RB; Nick Campanaro RB; Ed Capone OLB; Sean Finnegan OT; WR's Sean Vogel, Joe Atherall, Nick Gibson;
Andrew Lasala DT
Key Rookies: Trevvon Johnson (Jr.) RB/WR/DB; Keith Boyer (So.) RB/DB; Ben Robinson (Jr.) LB/ TE; Evan Makar (So.) LB; Jack Tinari (Jr.) LB/OG; John Bowen (Jr.) C/ DT
Captains:  Tommy Weaver, Nick Campanaro, Naim Sinanaj
Coach's Quote: The bar has been set over the past few years and players have bought in to the fact that being a part of a program means that you have a responsibility to continue to build on the tradition that has been cultivated. We are a young group, however, I cannot think of the last time that we were able to put so much on our kids in such a short amount of time (the preseason). We are counting on many young guys to take a role. Our team has already shown that they are loyal to one another and willing to work for one another. This brotherhood has been, and will continue to be, at the core of our success. This group is coachable and relentless. Those two qualities have inspired our team and coaches alike. While last year was the experience of a lifetime, we have hit the reset button. The only thing that the past can do for you is set the bar and enable you to reflect on how to get better. The last game we played is a vivid reminder that every week has a winner and a loser. You cannot simply expect to win the 13th game. It is for that reason that our goal right now is to handle getting better every single day and concentrate on the first week against Panas. This year's game plan won't be much different than any other: Mandatory improvement every day; out work our opponents every day; play for each other and those that came before you.
Outlook: The Huskers have only repeated as Section 1 champions once, doing so during the 1993-94 NYS championship campaigns, and doing so in 2018 will be a tall order. With so many quality programs dropping down from AA to A this season, it really tightens things up in Class A where reigning champion and state runner-up Yorktown will find it much tougher to repeat than perhaps any team in the history of Section 1 ever has when you factor in the number of additional legitimate competitors and the loss of first team All-NYS RB/LB Brett Makar, possibly the finest two-way player in the history of the Cornhusker program.
The Huskers should come out of the gate like gangbusters, opening against Panas and Lakeland, but a series of truly brutal run-ins come in Week 3 (Hen Hud), Week 4 (Somers), Week 5 (Lourdes) and Week 6 (Clarkstown South). Few coaches in Section 1 can rally the troops like "House" Rescigno, so once the Huskers establish their roles and build confidence, one would expect to see them remain in contention while challenging Lourdes for the league title.
SOMERS
Coach: Tony DeMatteo (19th season at Somers, 50th overall)
Last Season: 7-3 (lost in Section final to Yorktown)
Returning Starters: John Squitieri, Sr. OL 6'4" 300, an absolute monster who started on the O-line last year; Dom Cheek, Jr., DL/C, started at DT last year and will most likely see significant time on both sides of the line this year; Matt Soden, Sr. DE/TE, started last year before suffering a torn ACL but is the most physical player on the team and, if healthy, will have a huge impact on both sides of the ball.
Key Veterans Assuming New Starting Roles: Nick Maestri, Sr. QB, served backup to Kevin Olifiers last year and is ready to prove he can step up and play; Conor Jaykus RB/DB, saw time last year on defense and ready to take the starting role at RB this year; Charlie Balancia, junior RB, should surprise; FB Charlie Grinrod packs a legit load.
Key Rookies: soph. QB Jackson Kossow is pushing for a starting gig; soph; FB Jack Kaiser
Captains: Conor Jaykus, Matt Soden, John Squitieri, Steven Lawrence.
Social: @Somersfootball
Coach's Quote: We're young and inexperienced and we face a brutal schedule. We may take some lumps early on, but if we can stay healthy and trust the system we can make some noise in the playoffs. We have a lot of numbers but we don't know how many can play the game at this level.
Outlook: It's tough to say that the most consistent program in Class A over the last decade is rebuilding, but when a program loses 90% of its starting unit it's not that far-fetched to suggest it. That said, Somers is one of those programs that "pays the piper" and lives by the "next man up" theory, so one would expect the Tuskers will just lock and reload like they have in season's past. However, Somers, which has won three of the last six titles, is up against it this year if the perennial powers that be remain strong because Somers will face three of them to open the first four weeks of the season, including John Jay CR, Rye and Yorktown. Fox Lane, which has one of the best RBs in the section in Andrew Brown, will host the Tuskers in Week 3. There's not an obvious slouch among the quartet, so we'll know if Somers is a true contender or in rebuild after the first four weeks. The coaching staff remains among the best in the section and the players continue to buy into the legendary coach's system. Truth be told, though, Somers, which has been the elite program in Class A since 2012, may come back to the pack this season.
HEN HUD
Coach: Mike Lynch (7th year, 29-33)
Last season: 5-4 (lost to Somers in 1st round)
Returning Offensive Starters: Senior QB Manny Carbone (All- Conference and All-League selection in 2017, Passing: 113/180, 1,479 yards 20 TDs; Rushing: 111 carries 522 yards 7 TDs); Senior TE/DE Mike Fasolino; Senior RB/SS Jordan Grullon (Two-time All-League performer and All-Conference Selection in 2016); Senior RB/WR Donte White:
Returning Defensive Starters: Junior OLB Mike Tosi (led the team in tackles as a sophomore with 72) and is said to be the hardest working, most dedicated player in the program; Senior DE Ardrit Qelaj (52 tackles and 3 sacks), tough kid, never shy's away from contact and loves to compete.
Key Veterans Assuming New Starting Roles: Senior G/MLB Matt Ptashnik  (moves from fullback to guard and has also earned the job of starting MLB). His athleticism, speed and power are key to the O-line's development, which will make or break the Sailors.
Key Rookies: Soph. RB/CB Rafael Fasolino (expected to start at CB and be involved in the return game); soph. RB/DT Dylan Strothers (extremely physical player expected to start at DT).
Captains: Senior Mike Fasolino, Junior Mike Tosi
Coach's Quote:  This team has plenty of talent and experience at all of our skill positions on offense. The biggest question mark is our offensive line.  If the O-line continues to work hard and improve, we will be able to play with anyone in Class A.  I expect our defense to be much improved from last season. The defense is the most athletic unit we have had in our seven years here and it is anchored by our defensive line, which has a unique blend of speed and power.
League Favorite: Lynch likes Yorktown
Section Favorite:  Clarkstown South
Social: @henhudfootball
Outlook: The Sailors are easy to hype, given the vast collection of skill players, including Carbone, who is the very definition of a dual-threat quarterback. He led the section in TD passes after nine games last year and is said to have a much better grasp and command of the offense this season. Fasolino is a two-time All-League performer and All-Conference Selection in 2016.  His 31 receptions, 523 yards and 8 TDs last season led all tight ends in yards and TDs. Gronk-like, Fasolino is Carbone's favorite target. The two have shared a unique rapport since they were in 8th grade and should flourish this season. Grullon is extremely versatile coming out of the backfield; even Le'Veon Bell-like.  He rushed for nearly 500 yards in 2017 and caught the ball 31 times for 304 yards, scoring a total of seven TDs in 2017. White is incredibly dangerous in space and can stretch the field. He has the ability to take a 2-yard bubble and go 80 yards for a TD. Last season's 13 receptions for 119 yards and 4 TDs should pale in comparison to this season as his role in the offense will certainly expand. The Sailors should score the ball often, but will they be nasty enough on defense to contend with Lourdes and Yorktown, two of the top teams in League B. If they can't block and tackle (tackling has been suspect in recent seasons), the Sailors won't contend. If they can, this can be a special season. It's Final 4 or bust, really.
WALTER PANAS
Coach: Dan Patronik (9th year)
Lat year's record: 6-3, beat Sleepy Hollow in qualifier, lost to Rye
Top Returners: Evan Trapanese Sr .S/WR 2 year starter, backbone and leader of our defense; Davis Louis Sr. RB/LB 3-year starter and D-1 recruit, talented, quick and tough kid; Sean Laukatis Sr. RB/LB 3-year starter, quick explosive;
Anthony Mastraccio Sr. OG/DT, 3-year starter, anchor of the line; Joe Cavallo Sr. OG/DE 2-year starter
Key Newcomers: Robert Ennis Jr. WR/LB great hands, tough kid;
Dean Ragone- FB/LB soph. transfer from Stepinac, two-way starter; Lucas Feliciano Sr. QB, transfer from Kennedy; Jason Keefe Jr. OL/DL, big tough kid
Captains: Trapanese, Laukatis, Mastraccio, Ennis
Offensive strengths: Team speed and size upfront will be relied upon for success. David Louis and Sean Laukitis should provide stability in the backfield with newcomer Dean Ragone at fullback. The line is stable in the middle and has looked solid in camp. Robert Ennis has looked good at the wideout and should provide a consistent pass option. Newcomer Lucas Feliciano is a transfer from Kennedy and has progressed nicely at QB. We are young and will probably endure some growing pains but have shown some promise.
Defensive strengths: Evan Trapanese will lead the defense in an aggressive scheme that will benefit from collective team speed. The line will be led by Anthony Mastraccio and Joe Cavallo along with newcomer Robert Ennis. Size, up front, should provide stability for LB's David Louis and Dean Ragone. Consistency and toughness will determine how good we can be on this side of the ball.
Coach's Quote: We are a young team that lost 19 seniors, many 2- and 3-year starters. We are working hard to become a team. If the young kids can learn the scheme and contribute with the senior class, we will compete in the section. Team speed and size up front should give us a shot, and our toughness will determine our success.
Outlook: Panas lost 19 seniors, including QB Brandon Hodge, RB Jacob Liebert, and Justin Walker, so replacing that trio will be tough to do. With Yorktown up in Week 1, the Panthers will get an early indication of where they stand, and by Week 4 (vs. Lourdes) we will know even more. Feliciano, or whoever takes over for Hodge under center, will be the key, because the Panthers can run the ball. What remains to be seen is whether or not they can sling it and keep opposing defenses honest.
BREWSTER
Coach: Ed Mulvihill (33rd season coaching, 7th as head coach, 33-21)
Last Year: 3-6, lost in first round of playoffs
Top Returning Players: Nick Girard – 6′ 3″ 260 Jr. OL/DL and Mark Delgado –  5′ 10″  215 , Sr.  OL/DL (duo will anchor the left side of the offensive line. Both players are sound blockers and work well together); Franco Milano 6′ 2″ 225 So., Nick Gonch  6′ 215  Sr.,  Dylan Simon  5′ 9″ 205 Jr., Austin Beal 5′ 9″ 185 Jr. will all be vying for a spot on the offensive line.
Mike Martinez – Jr. and Tom Cosolato – Jr. look to be set at RB with Dom Bartolomeo – Jr.  Danny Buonadonna – Jr. and Jack Gussler – Jr. helping at slot back and TE.
Paul Catalano – Jr. WR/DB and Bobby McBride – Jr. WR/DB and Charlie Russell – Sr – will be the receiving corps. Brendan Fox – Sr. QB/DB will be in the mix at QB as a dual threat QB with Joe Dominguez – Jr., who can sling it pretty well. Henry Gonzalez 5′ 10″  235  Sr. and Nico Slater 5′ 10″ 250 will anchor the interior line on defense with Franco Milano and Omar Elabdouni 6′ 210 Sr. ahead for the defensive end positions.  Jason Cardone – So., Aidan Sheil – So., Anthony Capone – Jr. and Joe Dominguez look to have the lead in the linebacking corp. Justin Niles Jr., Tom Consolato – Jr., Paul Catalano – Jr. , Brendan Fox – Sr., Charlie Russell – Sr., Nico Surace – Jr. are all in the mix for DB.
Coach's Quote: We are very young and inexperienced in many positions but we like the attitude of our players. They are very coachable and willing to work hard. We play in a tough league but I feel we will be competitive in all games. They have been a pleasure to coach this pre-season. We are looking to become a more consistent team this year. Last year we made too many mistakes on both sides of the ball. We have done a better job this season on the little details. We are excited and looking forward to the season.
League Favorite: John Jay and Somers are perennial favorites. With Greeley and Fox Lane coming down from AA Mulvihill believe the Bears are looking up to the lot of them. "We will need to be ready to give our best each and every week," he said.
Class Favorite – Coach Mulvihill believes the Clarkstown teams have to be considered the favorites in Class A this year but won't count out former Brewster Coach Brian Walsh up at Lourdes. "I think he could also have a shot to be there at the end," Mulvihill said.
Social: @TheBrewsterBear
Outlook: The Bears are still reeling from the loss of the 2016 senior class and until they can find that kind of size and athleticism the Bears will find the sledding tough, particularly after the first three weeks when Brewster opens up with Sleepy Hollow, Greeley and Lakeland. If the Bears don't get off to a good start there, things will only be tougher over the final half of the season with John Jay CR, Somers and Fox Lane on tap.
LAKELAND
Coach: Mike Meadows (2nd season, 10th overall)
Last season: 2-7 (lost in qualifying round to Yorktown)
Returning Offensive Starters: OG- Jorge Duque (5-9, 215, Jr.), one of our leaders on the team and plays physical; OG- Josh Hirsch (5-9, 205, Sr), the guy with the most experience at the varsity level (3rd year on varsity); WR- David Kollbeck (5-7, 165, Sr.), brings speed and athleticism on the outside; WR- Phil Dellamonica (5-9, 170, Sr.), good athlete; OT- Nick Verrino ( 5-9, 215 Sr.), smart intelligent lineman
Returning Defensive Starters: DE Hirsch; OLB- Chris Kenney (5-7, 165 Sr.), small but most aggressive player on the team; S- Robert Hart (5-8, 170, Sr.), great all around football player and an old-school guy; S- Lucas Kowalski (5-8, 170, Sr.), plays angry; LB- Dan Ciraco (5-9, 185, Sr.), great athlete and smart football player
Key Veterans Assuming New Starting Roles: QB- Mason Nocito (5-8, 160, Sr.), will be starting QB after being the backup last year; OL/DL- Zac Pedretti (5'10, 235, Sr.), first time starter who worked hard in the off-season; OL/DL- Mike Cianci (5-10, 250, Sr.)
Key Rookies: RB/DB- Matt Makar (5-6, 155, Jr), younger brother to former Lakeland grad Sean
Makar, who brings speed to the team; OL/DL- Jason Green (6'2, 235, Jr.), great all around lineman, who will be focal point on the line for us; RB/DB- Mike Castelli (5-6, 150, Jr.), great athlete; WR/OLB- Mark Cummings (5'11, 165, So.), young guy who will start both ways on
varsity as a sophomore.
Captains: Mason Nocito, Lucas Kowalski, Josh Hirsch, Pat Fahey
Coach's Quote: In my second year as head coach we hope to take the next step as a program. We worked extremely hard in the off-season to improve on the things we struggled with last year. Improving our offense was a major focus as well as hitting the weight room. We improved our overall team strength and conditioning. The weight room has been our best friend and we hope to be physical in all phases of the game. We have an extremely difficult schedule however; but we are not using it as an excuse. Rather, we see it as a challenge and expect to be competitive. We expect a lot from our captains and senior leaders since many guys will be starting for the first time at the varsity level.
League Favorite: Meadows likes Yorktown
Section Favorite: Lourdes
Social: MaxPreps, Instgram @lakelandhornetsfb
Outlook: Winning football games has never been easy at Lakeland. For whatever reason, sustained success on the gridiron has been inconsistent for portions of the last two decades. That probably won't change this season, given the youth on the roster and the difficult schedule. Reaching the field of eight Class A playoffs teams will be extremely difficult, and few teams have a tougher first two weeks than Lakeland does (the Hornets host Lourdes & Yorktown). Let's say they start 0-2, Lakeland will face a must-win game against Brewster in Week 3 before they visit Hen Hud in Week 4. Unless they win both those game, Lakeland would be 1-3 (at best) before facing rival Walter Panas in Week 5, which would be a must-win scenario if the Hornets are going to qualify for the playoffs as a top 16 team. Coach Meadows, a former Hornet great himself, has done everything possible to change the culture, but that doesn't happen overnight. If Lakeland can manage three/four wins this season, it will be a step in the right direction.
CLASS B
It's been all Pleasantville in three of the last five years, including the last two, and the Panthers enter the 2018 campaign as the team to beat in a revamped Class B field. Just seven teams will compete in Class B this season, including reigning state champ Pleasantville, which remains the favorite to represent in the state tournament this November. The Panthers will be joined by Ardsley, Bronxville, Nanuet, Putnam Valley and Westlake, plus last year's Class C champ, Albertus Magnus, so there won't be an easy game on anyone's schedule, outside of a potential crossover with a Class C or independent program.
PUTNAM VALLEY
Coach: Ryan Elsasser (6th season at Putnam Valley, 3rd as Head Coach)
Last season: 4-5 (lost in first round sectionals)
Returning Starters: Sr. Darnel Shillingford LB/WR 6'3", 205 lbs; Sr. John Listwan LB/HB 5' 10", 215 lbs; Jr. Matthew Carravone C/DE 5'10", 220 lbs
Key Veterans Assuming New Starting Roles: Sr. Quinn Strang QB; Sr. Daniel Tavares HB/LB; Jr. Kaiden Patterson DB/HB; Jr. Joseph Cioffi DB/WR; Sr. Christopher Cottrell OT/DE
Key Rookies: Sr. Jeremy Aviles WR/DB; Jr. Michael Reichardt WR/DB; Jr. A.J. Keogh LB
Captains: Shillingford/Listwan
Section Favorite: Up for grabs
Social: (for weekly stats) & Twitter Handle: @CoachElsasser
Coach's Quote: We have some amazing D1AA/DII quality captains leading the surge this season in Darnel Shillingford and John Listwan. Class B is going to a very competitive class without a break in the schedule. We will need to come out at our best each week in order to be successful this year. We have a lot of talent returning and I am expecting some good things from the players joining the roster from the JV team, who had a successful 4-2 season last year. We will be throwing a lot at this group the next two weeks and will see who steps up and shines. It will be a very competitive atmosphere with players looking to win starting spots each
week.
Outlook: With Magnus on tap in Week 1, the Tigers will get an early glimpse into their potential. The pre-season pecking order has the Falcons high up on the list, so the Tigers will know where they stand quickly. Listwan works as hard as anyone and is an absolute beast, who should get the bulk of the workload in the running game, along with Taveras, Shillingford and Patterson. Shillingford is one of the best players in Class B, so expect Elsasser to figure out ways to get him the ball in space or over the top. The key, however, will be the development of QB Strtang and the progress of the linemen. Carravone is stout but the rest of the line is relatively green to varsity experience, which may prohibit the Tigers from making the necessary jump in status to qualify as a legit contender. That said, Class B is there for the taking this season.
CLASS D
Like it does every year, it comes down to Haldane and Tuckahoe as the lone legit Class D title contenders. The Blue Devils have copped just three titles since 2007 but appear poised to challenge in 2018 with a handful of key veterans back in the fold.
HALDANE
Coach: Ryan McConville (5th year)
Last season: 6-3 lost in Sectional Finals
Returning starters: Nate Allen WR/DB, Brad Dowd RB/LB, Craig Dowd OL/DL, Sam Giachinta RB/LB, Adam Hotlang OL/DL, John Hankel OL/DL, Matt Ortiz OL/DL, Thomas Percacciolo WR/DB, Will Westerhuis OL/DL, Matt Champlin WR/DB, Darrin Santos RB/DL
Key Rookies: Daniel Santos QB/DB Andrew Aiston OL/LB Christian Pezzullo OL/LB
Coach's Quote: We have a great group of returning players who have a ton of experience and understand what it will take to play for and win a sectional title. Our young guys got a lot of work at camp over the summer and the coaches and I are hopeful that can translate to making some big plays once the season starts. Coaches and I are excited to start the season and see what our team is capable of doing. Obviously, a lot of attention will be paid to Giachinta to have over 1,300 yards last season, and we need to have guys like Percacciolo, Santos, and Champlin make plays and score TD's. We have a competitive schedule and are looking forward to renewing some old rivalries throughout the season.
League Favorite: McConville likes Tuckahoe
Section Favorite: Tuckahoe
Social: @CoachMcConville
Outlook: Haldane's discipline and attention to detail is what keeps the Blue Devils as the thorn in Tuckahoe's side. The Tigers are usually the more athletic team, but the Blue Devils are well coached and have, in 5'9" 180-pound Giachinta, one of the best backs among all small schools. Santos will be the key, however, as he takes over for Brandon Twoguns, a three-year staple under center. The 6'3" 185-pound Champlin gives Santos a legit red-zone target and gifted set of hands, and at 6'3" 245 pounds Westerhuis will have his blind side covered. The Blue Devils will know where they stand right out of the gate as they open the season on September 6th against visiting two-time NYS champion Tuckahoe, winners of 12 of the last 15 Class D crowns.