We are part of The Trust Project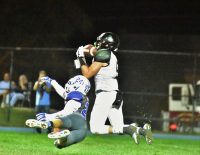 Section 1 Champ Yorktown Beats Hen Hud, Gains Momentum
Brewster Reels off 3rd-Straight Win; Carmel, Mahopac Chalk up Class AA Wins
Don't look now, but the reigning Section 1 Class A champion Yorktown Cornhuskers (3-0) are starting to take on a look that might land them in the 2018 finals, or semifinals, worst-case scenario: Provided the Huskers clean up their act (they won despite 15 penalties). After scoring 28 first-half points on four TD passes from QB Tommy Weaver to TE Naim Sinanaj, the 2017 NYS runner-up Huskers cruised to a 28-13 win over host Hendrick Hudson (0-3) last Friday night.
What's in a Naim? Here's what… Weaver (11 of 23 for 190 yards) and the 6'4" Sinanaj (128 yards), who signaled for the ball like Randy Moss used to, hit on touchdown strikes of 37, 18, 27 and 20 yards in the first half. The final TD pass came 18 seconds before the half, just a minute after Hen Hud trimmed the Husker lead to 21-7. It was a demoralizing shot to say the least for a Hen Hud team that has faced one of the toughest schedules in the section (opponents are a combined 8-1).
Hen Hud QB Manny Carbone fired a pair of TD passes, including a 26-yard spiral to good looking sophomore TE Rafael Fasolino late in the first half. He spun another 55-yarder to Donte White and had the Sailors in scoring possession again before an INT at the Huskers five by Keith Boyer, the Yorktown sophomore DB/RB, who also rushed for 74 yards.
"Naim and Tommy have been long overdue," Husker Coach Mike Rescigno said. "Teams are trying to plug up our run game with aggressive box play. When they do, this what we always hope can happen.
"As far as the penalties," the coach added, "we are entering a part of our schedule that simply will not forgive rookie mistakes. We have a grand total of four seniors at most in our starting line up on either side of the ball at any given time. This is a source of pride for us and will not be a source for excuses. I have nothing but full confidence that our mistakes can and will be fixed during this practice week. As you saw, when the mistakes happen, they get each other's backs and find a way. I have been amazed week after week by the way new faces are finding their way onto the field. Our kids are hungry. They are fun to coach and we're looking forward to the fireworks ahead!"
They won't have to wait long with neighboring rival Somers on deck this Friday…
SOMERS Coach Tony DeMatteo said prior to the season that he expected some growing pains as a relatively untested unit took over for a Tusker program that had unmatched Class A success since 2012, winning three sectional titles and losing a fourth to Yorktown last November. The legendary was boss was right, as Somers slithered out to an 0-2 start before opening some eyes last Friday in a 35-0 whipping of host Fox Lane.
Somers FB Jack Kaiser had his coming out party, rushing for 118 yards and two touchdowns while WR Charlie Balancia snagged four balls for 81 yards and a pair of scores. Yes, Somers answered the bell with its playoff hopes hanging in the balance, but the biggest test of the young season will come this Friday when the Tuskers visit Yorktown (7 p.m.).
Neither the Huskers, nor the rival Tuskers, are the team it was last season, but Yorktown needs this non-league victory to keep alive its hopes for an undefeated regular season while Somers can ill-afford to go 1-3.
With the easy portion of its schedule out of the way, BREWSTER (3-0) will turn its attention to undefeated John Jay CR with first place in League A-D on the line after the Bears shutout winless LAKELAND, 14-0. Charlie Russell and Justin Niles each picked off a pass for the Bears, who pitched a second-straight shutout.
Bears QB Brendan Fox and RB Mike Martinez each found paydirt for Brewster.
Brewster Coach Ed Mulvihill knows there's work to do, but 3-0 is 3-0 and he seems pretty proud of this young unit
"It's a great start for us and we're very excited about it," Mulvihill said. "We had many question marks going into this season, having graduated 10 starters on defense, four offensive lineman and all of the running backs. Our young kids have been a pleasant surprise. Wes till have a long way to go, but they are picking things up quickly and allowing us to put in some more scheme as the season goes forward.
"Offensively, our line has performed well and is improving," the coach added. "We've had good play from our QB and the RB's have been the real surprise for our offense. They run very hard and are quick out of their cuts. Our next three games are against some highly-ranked teams, so we will need to improve quickly in order to grab a win but we are on the right path."
OT/DT Jason Green led Lakeland with eight tackles and has kept the pressure at a minimum on the blind side all season.
WALTER PANAS (1-2) found the win column for the first time this season when RB David Louis plowed for a pair of scores. Sean Laukatitis and Lucas Feliciano each scored a TD for the winners, who visit mighty state-ranked (No.14) Lourdes in Week 4.
CLASS AA
CARMEL certainly got back into the thick of the Class AA North/West league title chase with a convincing 31-0 win over host RCK. Rams QB Peyton Cayea hit on 4-5 passing for 106 yard and a scoring strike to Joe Pellegrino (3 grabs for 89 yards and two TDs). Cayea also rushed five times for 59 yards and a score.
Carmel's Andrew Nunez (7-yard TD run) and HB Sam Duke (19 rushes, 95) yards rounded out a multi-pronged rushing attack. Ram Andrew Bumgarner added a 30-yard touchdown with 8:38 to play. Chris Jordan had an interception to set up the game's first score, and K Christian Hutra booted a 21-yd field goal. The Rams, who have allowed just 10 points in three games, are hoping to get versatile RB/DB Alex Beauchesne back healthy next week for a monster tilt when Carmel (2-1) will host North Rockland in its homecoming game on Saturday, Sept. 22.
"We played a lot better than last week," Carmel Coach Todd Cayea admitted. "I think the loss to Arlington was a good wake-up call, but there's so much work to be done. We came out relatively healthy; just some bumps and bruises. We're in the meat grinder in this league. North Rockland next, so one day at a time."
That approach has kept Carmel relevant year in and year out…
MAHOPAC saved its season with a 27-6 win over host Suffern, doing so behind a signature game from senior QB Anthony Corrado, who rushed for three TDs and 67 yards on 10 totes. Senior HB Tim Cegielski was a workhorse back, going for 155 yards on just 15 carries. Corrado (7 of 14 passing for 73 yards) also found WR Rheal Allen open four times for 57 yards, including a score.
OSSINING (3-0) went old school on Poughkeepsie in a 55-6 rout, doing its damage on the ground. Josh Manning (12 carries, 140 yards), Z'air Fields (9 carries, 128 yards), Izaiah Steen (8 carries 108 yards, 2 TDs, blocked punt),  JT Turnquist (8 carries, 58 yards, 2 TDs, 45-yard TD grab), Xavier Morris (2 carries 46 yards, TD), Terence Williams (3-yard TD), Chris Sanchez (2 carries for 15 yards), Isaiah Beltran (45 yard TD pass) and Salman Bhatti (TD on blocked punt) were all part of a 499-yard rushing attack and 544 total yards.
CLASS B
PUTNAM VALLEY (1-2) was desperate for a win after starting out 0-2, so it turned on the jets in a 20-14 win over host Bronxville last Saturday and got a necessary, well-rounded effort. QB Quin Strang connected on 7 of 17 passes for 178 yards and two touchdown passes, and another on the ground. He also picked off a Bronco pass to end the game in what was, without question, his best game of his career.
Tiger RB John Listwan had 18 rushes for 92 yards and a 2-point conversion, plus five tackles.
The receiving corps was special. Put Valley WR/LB Darnell Shillingford had three catches for 70 yards and 30-yard touchdown snatch, plus seven tackles and a sack on D. Freshman WR Cole Duroucher had his coming out party with a dazzling 40-yard TD catch off a madcap scramble (keep an eye on this Duroucher chap).
The defense saw DT Christopher Cottrell (5 tackles, 1 for a loss, sack, two hurries and a fumble recovery), LB Jake Listwan (6 tackles, sack, 1 caused fumble), Matthew Aviles (2 fumble recoveries on special teams) and DL Matthew Carravone (4 tackles and a sack) lead the way.
"The game was an absolute battle on both sides of the ball," PV Coach Ryan Elsasser said. "It was a fun game to be a part of, each team was coming up with big plays and big stops when they needed them. It was definitely exciting. We still have some things to clean up, but things are starting to come together for us and the kids are starting to play well together. I was very proud of the fight and determination that was displayed during the game."
Next week is going to be a huge challenge against an Ardsley team that defeated reigning NYS Class B champion Pleasantville in Week 1.
CLASS D
HALDANE (1-1) saw senior RB Sammy 'The Bull' Giachinta score the Blue Devils'first two scores on rushes on a pair of 66-yard jaunts before punctuating a 38-12 win over Croton with a 42-yard TD catch from QB Daniel Santos, who fired his first TD strike to WR Matt Champlin. Giachinta finished with 188 yards on just 13 carries while Sanots had 79 yards on a mere four totes.
CHSAA
KENNEDY CATHOLIC (2-0) routed visiting Nazareth, 28-0. Gaels RB Myles Proctor had 12 huge carries 140 yards and a TD. Kennedy 6'5" 225-pound TE Eric Volpi hauled in an 80-yard TD reception from QB Ryan Johnson, who fired three TD passes, including two to RB Brandon Gibson (3 catches, 65 yards). LB Cole Esposito forced a fumble, notched two sacks and dictated the defensive tempo for the Gaels (2-0).