We are part of The Trust Project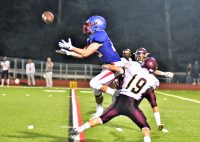 Carmel Drops Pivotal League Game, Yorktown Busts Up Lakeland
Don't look now, but Ossining is the only unbeaten team in Class AA among the local teams covered in these Northern Westchester/Putnam pages.
The road to the League AA-North/West title will now run through Arlington after the visiting Admirals (2-0) shut down Carmel's vaunted offense in a stifling 10-7 win over the Rams (1-1) and the raucous @CarmelCrazies, who were out in full throat but disappointed when a last-minute field goal attempt came up short for the tie.
Carmel went up 7-0 when backup QB Andrew Nunez hit on a 19-yard scoring pass to QB/WR Peyton Cayea with 7:10 to play in the first half. The ball was knocked loose as Cayea stretched across the goal line, but officials conferred and gave the Rams the score moments after Arlington scooped up the ball and went 100 yards the other way for naught.
From there on, though, it was Arlington and its hard-hitting defense that assumed control. That, and a combination of mistakes and penalties, killed Carmel's momentum throughout the second half.
Carmel Coach Todd Cayea admitted his team did not play to its capabilities and was beaten up front, but was delighted the Rams never quit and wasn't ready to throw in the towel by any means, even though Carmel was pretty banged up afterward.
Admiral RB James Bringman tied the score at 7-all and K Tommy Gibson kicked the game-winning field goal with 5:39 left in the fourth.
Carmel will visit RCK Friday night and had best get to 2-1 or this could go south quickly…
Indian RB Tim Cegielski led MAHOPAC with 22 carries for 106 yards and scored both touchdowns in a 26-14 setback at North Rockland Saturday. The Indians (0-2) led 7-0 but the second half belong to the Raiders. Mahopac QB Anthony Corrado added 100 yards on 14 carries and connected with WR Rheal Allen for four times for 26 yards, but the offense has struggled with just 21 points in two games.
The Indians will visit Suffern (0-2) Friday and should they go 0-3 it might be time to write off playoff hopes, but Coach Dom DeMatteo said he saw significant improvement…
OSSINING continues to improve in Coach Dan Ricci's final season and QB Isaiah Beltran is a big reason why. Beltran had four carries for 54 yards and a touchdown and connected on 4 for 5 passes for 81 yards, a touchdown pass to his top target John Turnquist (4 catches) among them. Turnquist added 17 carries for 62 yards.
"The kids are buying in and playing with passion," Ricci stated. "They are playing team-first football."
Ossining will host an athletic Poughkeepsie club Friday.
CLASS A
In YORKTOWN's 48-6 win over LAKELAND, Husker RB Nick Campanaro needed just 10 carries to rush for 103 yards and a score. QB Tommy Weaver (seven carries for 88 yards) and RB Keith Boyer (60 yards) each found paydirt twice for the Huskers (2-0), who amassed 407 yards on the ground against a Lakeland defense that was solid for a quarter. Huskers Dean Patierno and Mike Benzinger also scored TDs. QB Tyler Santucci threw a touchdown to Mason Nocito for winless Lakeland's only score. The Hornets (0-2), who have opened the season against two of Section1's top bananas (Lourdes & Yorktown), can only hope to apply the lessons learned, minimize mental mistakes, fight to the death and turn things around this Friday at Brewster.
The reigning Section 1 champion Huskers will visit HENDRICK HUDSON this Friday in a pivotal league matchup with the winless Sailors (0-2), who are coming off a tough 42-13 loss to undefeated Lourdes, which faces a monster test this weekend against Clarkstown North. Yorktown, which hasn't faced a powerhouse yet, vs. Hen Hud is an interesting game that could see some points put up, and whichever defense shows up best could prevail with a late stand. At any rate, the Sailors, who have opened against two imposing foes (Lourdes & Spring Valley), can ill-afford a third loss in three tries…
WALTER PANAS (0-2) got worked by visiting Nyack, 34-3, and needs a quick turnaround to make the season viable. The Panthers will visit Horace Greeley Friday in a battle of winless clubs, the loser will essentially put itself behind the eight ball in terms of legitimate playoff hopes…
SOMERS (0-2) failed to pass its second big test of the season in a 19-9 loss to visiting Class A heavyweight Rye. It's looking more and more like this could be a come-back-to-the-pack year for a Somers program that has habitually lit up Section 1 for much of the last six years.
The Tuskers will visit Fox Lane (1-1) Friday with an eye on their first victory and the only path to a potential league title, now trailing John Jay (2-0) by two games…
BREWSTER (2-0) defeated Greeley 14-0 and witnessed a second-straight solid effort from QB Brendan Fox, who fired two TD passes, including a 79-yard strike to WR Bobby McBride and threw for 182 yards in all. He also dropped a dime on Paul Catalano for a 44-yard score.
The Bears visit Lakeland this Friday with an above-average chance to go 3-0 while setting up a potentially huge Week 4 League showdown with undefeated John Jay.
CLASS B
PUTNAM VALLEY (0-2) got crushed by Westlake, 37-6, and the deck is getting stacked against the Tigers after the winless start. Tiger HB John Listwan carried 17 times for 79 yards and added a team-high 14 tackles on the other side of the ball. FB/LB Darnel Shillingford (11 tackles, 6 carries for 46 yards, 5 catches 55 yards 1 TD) had a terrific game on both sides of the ball, but the Tigers were beaten up front and face a must-win scenario in Week 3 against host Bronxville Saturday (1:30 pm).
"We were defeated in the trenches," PV boss Ryan Elsasser said. "We are still battling with the growing pains of some of the new starting players."
CLASS D
Sam Giachinta led HALDANE with 20 carries for 82 yards in a 14-8 loss to rival Tuckahoe. Blue Devil WR Matt Champlin had two interceptions and a two-point conversion off RB Daniel Santos' first varsity score from two yards out.
The Blue Devils (0-1) will host Croton Saturday (1:30 pm), and should Haldane falter against the Tigers times will get significantly tougher.
CHSAA
KENNEDY CATHOLIC has owned St. Dominic's in recent years and it was more of the same in the host Gaels' 35-14 win last Friday when JFK RB Seth Surrett had nine carries for 155 yards and three scores, plus a 25-yard TD catch. Myles Proctor (of Yorktown) added 13 carries for 85 yards and TE Eric Volpi (Mohegan Lake) had three catches for 56 yards for Kennedy. LB Cole Esposito (of Cortlandt Manor) was an absolute beast on the JFK defense, blowing dudes up with regularity and making 12 tackles. The senior is game-changer for sure.
"We've set some goals this season that will require our program to take the next step in being successful," Kennedy Coach Dominick Tassone said. "We want to win every snap, every
series, every quarter, every half and every game. We have been knocking on the front door for
the last two seasons and this year we plan to kick that door down."