We are part of The Trust Project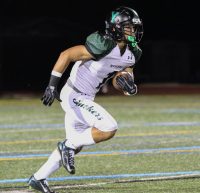 Yorktown, Panas, Somers Survive, Advance to Class A Quarters
Carmel Lone Local Class AA Team Standing; Put Valley Qualifies in Class B
All things considered, this has been a truly special fall on Northern Westchester/Putnam County gridirons. This notebook has been loaded with positive doings each and every week and a pleasure to recap. Week 1 of the playoffs – actually, the play-in round — was no different, as three Class A teams – Yorktown, Panas and Somers — moved on to this week's sectional quarterfinals, as well as one Class AA club (Carmel).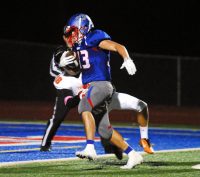 CLASS AA
The only real downer last week came out of Class AA MAHOPAC where the seventh-seeded Indians (4-3) were ousted in a 27-10 loss to No.10 North Rockland last Friday. North Rockland tailback Jayden Cook carried the ball 41 times for 168 yards and a score and that was all she wrote. The game changed on a dime during a five-minute span bridging the second and third quarters, leading to 14 unanswered Red Raider points.
Mahopac will host Fox Lane in the hopes of playing in a bowl game in Week 9.
No.4 CARMEL (6-1) manhandled No.13 Mamaroneck 33-0, wheeling and dealing behind a dynamic attack that featured both air and ground. RBs Sam Dukes, Joe Mascetta and Kevin Heis were a lethal combination of shake and grind. Mascetta had 78 yards of offense and two touchdowns to pace the Rams, who will host No.5 Clarkstown South Friday (7 pm) in what should be one of the week's best games.
The shifty Duke rushed 20 times for 131 yards and a score in a career effort. Rams WR Henry Flocco had five catches for 98 yards, much of it coming from Rams QB Peyton Cayea, who hit on 9 of 18 for 158 yards and a touchdown. Heis rushed for over 50 yards and hit paydirt off a bruising TD trot in which he bowled over a Tiger defender at the goal line. Sean McCarthy had a pick-6 for the Rams, who eliminated Mamaroneck for the second straight year. Carmel QB Aiden Nunez fired one pass, which went for a 34-yard TD.
CLASS A
YORKTOWN's 42-0 win over LAKELAND went as expected for the title-starved Huskers, ranked No.2 in the state. Yorktown (7-0), which last won the Section 1 title in 1998, saw QB Tommy Weaver connect on 10 of 12 passes for 143 yards and a touchdown to TE Alex Ujkaj (three catches for 78 yards). Husker RB Brett Makar made the most of 12 carries, compiling 70 yards and four touchdowns. Yorktown will host No. 9 Tappan Zee in Fridays 7 p.m. quarterfinals with the No.5 Rye/No.4 Panas winner on deck. Coach Mike Rescigno, among the best in the section, will have the Huskers ready after what happened in last year's title tilt with Somers.
SOMERS seems to have right the ship after a 37-15 win over visiting HEN HUD Friday. The No. 6 Tuskers saw QB Kevin Olifiers air it out some, hitting on 7 of 9 passes for 206 yards and two touchdown passes to TE Jack Gilroy (three passes for 78 yards) and RB Antonio Vieira (43-yard TD grab). Vieira also had nine tackles. Somers DBs Drew Cassin and Vinny DiFillippo, as well as DL Nick Gargiulo, each had an interception. FB Tyler Carr and HB Michael Somoza also rushed for touchdowns for the sixth-seeded Tuskers, the reigning NYS Class A champions, who will visit No.3 John Jay in Friday's quarterfinals. John Jay stunned Somers, 21-7, just two weeks ago and the rematch figures to be more than a bit testy.
Few, if any, would have figured Somers to be the underdog in this game at the start of the season, but state-ranked (No.12) John Jay has been among the most complete teams in the section this season. The Jay O-Line can push the pile and win the war up front; the Indians have game-breakers in both the passing and rushing game; and they play "actual" defense for the first time since 2011.
CLASS B/D
PUTNAM VALLEY locked up its second playoff berth in three seasons by securing the No.6 seed in a 26-0 win over host Briarcliff Saturday and will face No.3 Valhalla this Friday (7 pm). Should the Tigers survive and advance, the No. 2 Pleasantville/No. 7 Blind Brook winner would await.
Tigers QB Travis Anderson threw for 175 yards, hitting 10 of 15 passes and rushed for 25 yards and a TD. Anderson was locked in on WR Darnel Shillingford, who had 100 yards receiving on three catches, including a lunging TD. WR Jason White added 88 yards receiving on five catches. Tiger FB John Listwan kept the Bears honest by rushing for 72 yards on 12 carries, RB Mike Gaitain added a score. DE Chase Sauther had two tackles and a sack, all for negative yardage.
"We played well as a team this week at each level of our depth chart," PV boss Ryan Elsasser said. "We were able to focus on what we do well and make sure that every person was getting it done this week. When we got the ball in the hands of our play makers they definitely performed on offense and our defense played nearly flawless. These boys are very talented, if we can stay focused and play as a team we should be able to make a run in the sectional play."
No.2 HALDANE will face No.1 Tuckahoe in the Class D championship, at Mahopac High on Friday, Nov.3rd at 4 p.m. after the Blue Devils waxed Millbrook, 53-25. Blue Devil RB Sammy 'The Bull' Giachinta rushed 18 times for 183 yards and three scores while QB Brandon Twoguns was spectacular through the air and on the ground. The signal caller rushed nine times for 120 yards and three TDs while hitting on 4-of-4 of passes for 82 yards and two more scores.
Panas Beheads Sleepy Hollow
By Ryan Bieber
No.4 WALTER PANAS (6-1) squared off with No.13 Sleepy Hollow in the first playoff qualifier, a despite a sloppy first half, and tension running high between the two teams, the Panthers pulled through with an overwhelming 35-7 victory.
The Panthers came alive in the second quarter behind a series of dynamic running plays by Sean Laukaitis, Jacob Liebert and David Louis and advanced to Sleep Hollow's 1-yard line where it was second and goal to go before Louis struck paydirt, tying the game at 7 apiece. The Panther's defense also rose to the occasion on the Horsemen's next drive boasting a four-man QB sack and a string of deflected passes. The ensuing short punt by the Horseman left the Panthers in a prime position to score. It didn't take long for Liebert to fly into the end zone from there. The score was 14-7 at the end of the second quarter.
An early interception by Panas' Evan Trapanese bolstered the team's new-found, second-half confidence. The triple-threat backfield resurfaced as Louis, Liebert and Laukaitis once again began an aggressive drive downfield. Faced with 4th and 2, just feet from the goal line, Liebert secured the Panther's third touchdown, leading to a 21-7 lead.
Panas QB Brandon Hodge hit Laukaitis for the next TD, further extending the Panther's lead, 28-7. Laukaitis extended the lead when he miraculously broke through the line, charging 90 yards into the end zone and putting the final nail in the coffin with four minutes left. Laukaitis, only a junior, was the lead playmaker, totaling an impressive 172 rushing yards. The Panthers rushed for 347 yards as a team.
Panas will host No. 5 Rye in Friday's 7 p.m. quarterfinal.
NWE/Putnam Examiner Grid Poll
No.1 YORKTOWN – Tappan Zee should be a breeze before the Huskers, who take on the Panas/Rye survivor, and I can't get this vision of a No.1 Yorktown vs. No.3 John Jay finale at Mahopac for all the marbles in what might as well be a track meet. Though No.2 Lourdes is getting a stud back on the field with the return of mighty RB Joe Scaglione, who could be a difference maker down the stretch. Conventional wisdom says No.5 Rye will pay the Huskers a semifinal visit with the Lourdes/John Jay winner for all the marbles.
No.2 CARMEL – Why not us? The Rams have to be thinking they have the necessary moxie to go toe-to-toe with New Rochelle in a title tilt, which, win or lose, would be the capper on what has already been a wonderful season; though Clarkstown South will not be a quarterfinal pushover, this I promise.
No.3 SOMERS – Could the Tuskers have a rougher, tougher road to the finals? Only if Yorktown were in their semifinal path. As the No.6 seed, Somers will likely have to go through third-seeded John Jay and No.2 Lourdes just see No.1 Yorktown; provided the Tuskers can "upset" Jay and chalk prevails elsewhere. Should the Tuskers do the improbable and get to the finals, legendary Coach Tony DeMatteo would be setting the bar as high as humanly possible this season. Nobody said repeating was easy, but this is harder than anyone could have imagined.
No.4 PANAS – Rye is a tall order, indeed, but this No.4 Panas unit is only beginning to realize how good it can be. Don't buy into the mysterious Rye mystique; the No.5 Garnets suit up one leg at a time, too, and may not have the speed the Panthers do.
No.5 MAHOPAC – Let's be honest here: Pretty sure most folks in town would have signed in blood for a 4-3 season when the Indians were up a creek without a paddle (or a coach) last June and had just six weeks to get things in order. That said, the Indians weren't big enough or strong enough in the box to contain North Rock's Jayden Cook, who they knew was coming time and time again but were helpless to stop.