We are part of The Trust Project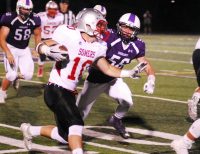 Somers Socked for 2nd Week in Row, Yorktown Rolls On, Carmel Settles for 2nd in AA-North,
Either there's a new sheriff in town or the old one, Somers High, is playing a precarious game of possum, hiding in the dim of mediocrity. The Class A football circuit was tossed upside down last Thursday night when reigning NYS champion Somers was defeated, 21-7, by unbeaten host John Jay Cross River (5-0), the Tuskers (3-2) falling for the second time in as many weeks.
Jay joined Yorktown, a 60-13 winner over Peekskill, and Lourdes, as the only remaining unbeatens in Class A after the Indians dominated the Tuskers from start to finish behind the stellar play of junior QB Bryce Ford and the interior rushing of senior RB Thor Adamec.
Somers continued to ply the notion that Jay, which hasn't been very physical since losing in the 2011 Section 1 Class A title game to Poughkeepsie, would eventually soften up, but the Indians never wavered.
When Somers QB Kevin Olifiers connected with Mike Somozza for a long, dazzling scoring strike, nearly everyone dressed in red, black and white figured the state-ranked (No.13) Tuskers would get rolling and prevail over No.19 Jay, but Ford (30 carries, 124 yards, 3 TDs) and Adamec (29 carries, 168 yards), plus a physical front five, gouged the Tusker defense time and time again, combining for 59 carries and 292 yards as the Indians put up nearly 400 yards as a team. John Jay Coach Jimmy Clark knew he had playmakers, but he didn't know it the Indians could make plays against a staunch defense like Somers, seeing how they hadn't beaten anybody any good during their 4-0 start (Jay opponents had a combined 6-14 mark).
"It was literally like the first day of the season all over again," Clark said. "We just didn't really know what we had. We knew what Somers was all about, but we hadn't seen a team like that all year. I can't tell you how proud I am of this team, though. We finally have a group of kids that want to be physical on both sides of the ball. These kids are throw-backs who actually want to play defense and hit and be physical."
Somers will look to tune up on Beacon Saturday (3 pm).
YORKTOWN's 60-13 win over visiting Peekskill kept the state-ranked (No.2) Huskers (5-0) on track for the No.1 seed in the upcoming playoffs, but their biggest test comes in Week 6 on the road at also-undefeated and state-ranked (No.7) Lourdes this Friday (7:30 pm).
Yorktown backup RB Dylan Smith finished with seven carries for 81 yards and three touchdowns on a day he'll never forget. Husker senior RB Brett Makar, perhaps the section's top back, had a light day at the office, going for 76 yards and two scores on just seven totes.
HEN HUD QB Manny Carbone (193 passing yards) hit TE Michael Fasolino for the game's first score and the Sailors were off and running toward a 21-0 win over Sleepy Hollow, improving to 3-2. Hen Hud's Donte White scored a TD on both sides of the ball while WR Alan Porter-Jackson had 109 receiving yards and RB Jordan Grullon had 130 total yards for the Sailors, who host Panas this Saturday (5 pm) on Homecoming Day with a whole lot of playoff jockeying on the line; not to mention the north vs. south Town of Cortlandt bragging rights.
LAKELAND RB Tommy Barnett led Lakeland with 90 yards rushing on 14 carries and Dylan Semenza snagged a 10-yard TD catch from QB Micahel Capozzi in a 28-7 loss to Panas. If the playoffs started today, the Hornets would be a 15-seed and open with No.2 Yorktown. Lakeland needs to beat Byram Hills Friday to ensure a playoff berth.
BREWSTER won its first game, beating Beacon 21-14 on TDs from Bears (1-4) Josh Nelson (55 yards), Tim Meissner (34 yards) and Mike Buonadonna (10 yards). The Bears need to win Week 6 against visiting Poughkeepsie (1-4) this Saturday (3 pm) to qualify for the field of playoff-eligible clubs.
CLASS AA
CARMEL's 17-12 win over visiting John Jay-East Fishkill locked up the Rams' second-place finish in League AA-North and saw them improve to 4-1 overall, 3-1 in league. A Week 6 win over Spring Valley would help secure a Top 4-5 seed for the upcoming playoffs.
The Rams held John Jay to 127 offensive yards, a paltry 16 yards rushing. Carmel RBs Nick Heis and Sam Duke combined for 133 yards rushing while QBs Peyton Cayea and Adrian Nunez each fired a TD strike. Nunez, who has thrown three TD passes in the last two games, hit Jaden Pellino for a 20-yard TD catch and a 14-6 lead with 2:04 left in the third. Leonard Flocco snared a 12-yard TD pass from Cayea in the first half. Pearce Millard's 31-yard field goal provided the final margin of victory.
AA-North was the most competitive league in the section this season with Carmel, JJEF, Arlington and Mahopac having played six games head to head with the games decided by 7, 6, 5, 5, 4 and 1 points. Carmel will host Spring Valley Saturday (3 pm).
MAHOPAC continued its commendable bounce-back season, improving to 3-2 after a 21-7 win over host Spring Valley Saturday. Mahopac took the ball on opening drive and scored on RB Tim Cegielski's 11-yard rush, and QB Ryan Dugan (12 for 16, 117 yards passing, 2 TDs) followed that up with a 22-yard TD strike to standout WR Reahl Allen (4 receptions, 56 yards, TD), and later connected with Chris Dalo (2 receptions, 35 yards, TD) on a jaw-dropping touchdown. Indians will be a tough out as a potential 8-seed in the playoffs, potentially pitted against No.9 Port Chester in what would only be a family-style matchup between coaches Dom DeMatteo and young Paul Santavicca; lot of family history there.
CLASS B
State-ranked (No.19) Ardsley's 31-6 win over host Putnam Valley was just a crushing blow to the Tigers' playoff hopes. Ardsley QB Julian McGarvey shredded the Tiger secondary on 8 of 13 passing for 177 yards and Panther RB Glenmour Osbourne added 79 yards and two scores on the ground. Tiger LB Darnel Shillingford led Putnam Valley with 13 tackles, but the Tigers couldn't get it going offensively. RB Adam Rukaj rushed for 70 yards and QB Travis Anderson connected with WR Jason White for the Tigers' only score.
It won't get any easier for Putnam Valley (3-2) when they host state-ranked (No.3) Pleasantville – the reigning Section 1 champions — on senior night this Saturday (7 pm). The Panthers are 16-1 in their last 17 games under veteran Coach Tony Becerra, one of the best in the section, and are favored to win their third sectional title in five years.
NWE/Putnam Examiner Grid Poll
No.1 YORKTOWN – Starting to get the feeling that Yorktown vs. Lourdes in Week 6 might be something we see again down the championship road, unless John Jay CR, Rye or Somers has something to say about that.
No.2 CARMEL – This is what continuity and cohesion looks like. When you get a coach who knows his business, you produce quality year after year.
No.3 SOMERS – Having seen the last two losses in person, I'm either the Somers #Mush or a person very concerned with their ability to win a 4th sectional title in 6 years.
No.4 MAHOPAC – Pretty sure just about anyone and everyone would have signed in blood for a 4-2 start in Dom DeMatteo's first year on the Indian sideline.
No.5 HEN HUD – Well, if there was ever a regular season game to prove one's merit, Week 6 vs. Walter Panas would be it.
HM PANAS – The only thing keeping the Panthers from the Top 5 is strength of schedule. Panas 4 W's have come against teams with a combined 5-14 record. Still, the Panthers have quietly posted an impressive season and would be as high as a No.5 seed if the playoffs began today and would face the No.12, currently held by Byram Hills. It won't be easy to hold on to that spot, though, with Hen Hud hosting the Panthers Saturday (5 pm). The Sailors are among the best three-win teams in Class A, their losses coming at the hands of Harrison and Yorktown.