We are part of The Trust Project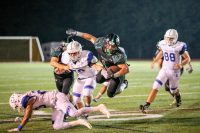 Carmel Three-Peats, Defeats Mahopac, 15-14, for Higgins Trophy
Visiting Carmel won the game, 15-14, over League AA-North rival Mahopac last Friday night before a spectacular SRO crowd, but Putnam County was the biggest winner in the 30th renewal of the Bryan Higgins Memorial Trophy game, which the Rams retained the rights to for a third-straight year.
Carmel (3-0) RB Nick Heis, the hammer-wielding senior, ran for 106 yards on 20 carries, setting up a pair of one-yard paydirt plunges from junior QB Peyton Cayea (5 for 10, 109 yards in the air). Pearce Millard's short, first-quarter field goal opened the scoring and proved to be the difference in a back-and-forth affair.
"We showed perseverance," Cayea said. "And our defense just locked up on their final drives, and shout-out to our O-line for getting yards every time we needed to. Nick Heis and Sam Duke ran it hard all night behind them guys."
Mahopac (2-1) trailed 9-0 at the half but strutted its stuff in the second half under first-year Coach Dominick DeMatteo, taking a 14-9 lead and providing the Mahopac Maniacs with the spectacle of their young lives, including pre-game and halftime fireworks and dudes dropping in from planes with an American flag. It was majestic stuff, the kind of stuff the makes communities come together.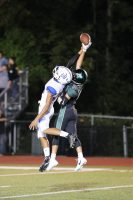 Mahopac QB Ryan Dugan connected on 11 of 18 passes for 85 yards, including a 14-yard TD strike to WR Rheal Allen on a fourth-and-1 play with 8:42 left in the third. Cegielski had 16 carries for 76 yards, including a 30-yard TD dart up the gut for a brief fourth-quarter lead.
As the dust cleared from the end zone fireworks, though, Carmel answered in the form of Heis. His punishing style was the perfect complement to Sam Duke's jukes. And with 7:40 to go, Cayea gave the Rams a 15-14 lead before the two-point PAT try failed, setting off the raucous, black-clad Carmel Crazies.
"It was completely my offensive line," Heis said. "All I did was see the holes. Our last scoring drive, they made the best blocks possible. I couldn't ask for a better line to run behind. It feels great, it's a night I'll remember forever. Mahopac's a great rival and they gave us a tough game."
Mahopac has come a long way quickly, upsetting Arlington in Week 2 and playing Carmel to the bitter end, but mental miscues and penalties cost the Indians and the game was costly in terms of injuries, too.
"We established the fact that we have very, very good team character," DeMatteo said of his Indians, who will face host John Jay EF this Friday (7 pm). "Tonight, was just a tale of mistakes, too many mistakes in the first half. The rivalry game and the emotional dynamic certainly played into it. At the end of the day, Carmel made less mistakes than we did and walked away with the win. We have to learn from this and I think we will."
Carmel Coach Todd Cayea agreed that Mahopac put on a great show and Putnam County's greatest rivalry got its juice back.
"I didn't know what to expect because Mahopac looked so much better on film from Week 1 to Week 2 and Dom has them believing in themselves," Rams Coach Todd Cayea said. "The way we came out physically in the first half I felt like we were handling them and I thought we were going to be fine, but we made so many mental mistakes. I was concerned because we hadn't built a big enough lead and they changed the momentum behind Cegielski, he's a great player. My hats off to that team because they never gave up, but I was very proud of our response after we went down. The game had some juice, though, and the place was packed. It was just great to see the rivalry get going again. It has lost some steam the last couple of years but it came back big time tonight and tonight was Heis' night. We just kept giving him the rock because he was running extremely hard."
Carmel vs. Mahopac notes: without the internet to provide info before the turn of the century, the following nuggets are fairly accurate but not 100% guaranteed: Carmel holds a 25-20 edge over Mahopac since 1974; Carmel won 10 of 11 Higgins games from 1997-2008; the first Higgins trophy game was 1988, won by Mahopac with a 9-0 regular season; since 1988 Carmel holds a 19-11 edge for Higgins trophy rights; Peyton Cayea joined his uncles Frank and Eric Heitman as QBs in the same family, combining to go 4-1 as starters under center against Mahopac in Higgins games; Carmel has gone 16-8 since Coach Cayea took over in 1995.
In OSSINING's 21-20 win over Ketcham, Pride QB Jahseem Gray threw a touchdown to Z'air Field with 11.5 seconds left and QB Isaiah Beltran then found Josh Manning for a game-winning two-point conversion. Field shined on defense as well, returning a fumble 80 yards for a score as the Pride erased a 14-0 deficit.
CLASS A
YORKTOWN RB/LB BRETT MAKAR continued his case for Player of the Year honors. Makar regularly makes plays on both sides of the ball and Hen Hud had no answer for him on either end in the undefeated Huskers' 28-14 come-from behind win.
The Sailors (1-2) looked every bit the part of a contender, leading 14-7, until Makar assumed total control of the game, along with fellow senior and close chum Brandon Meyreles. The duo rushed for nearly 400 yards and all four Yorktown TDs as the Huskers scored the last 21 points.
Makar finished with 16 carries for 215 yards and two touchdowns, adding eight tackles, an interception, a sack and a fumble recovery on defense. RB/DB Meyreles carried 10 times for 150 yards and two scores, adding a pick on defense. Dylan Smith and Justin Comeford also had interceptions for Yorktown (3-0), who looked the part of the third-ranked team in NYS in the second half. Hen Hud QB Manny Carbone fired first-half touchdown passes to Donte White and Alan Porter-Jackson.
State-ranked No.1 SOMERS made short work of visiting BREWSTER in a 41-0 rout. Somers (3-0) QB Kevin Olifiers did get some major work in this week when he hit on 7 of 12 passes for 130 yards and three touchdowns and also rushed for a touchdown. Tusker TE Jack Gilroy and RB Antonio Vieira each snared a pair of TD catches. The Somers defense, which has been tough to run or pass against, had eight tackles for a loss and ball-hawking DB Ryan Elliott recorded his seventh interception of the season. DB Vincent Cartelli had another for the Tuskers, who should get a serious test this Saturday against unbeaten Our Lady of Lourdes in what translates into the game of the week.
"All is looking good and we are ready for our senior game this week," Olifiers said. "The O-line is getting better by the day, soon they'll be a force to be reckoned with."
CLASS B/D
PUTNAM VALLEY improved to 2-1 courtesy of a forfeit by Croton-Harmon, which has a combination of injuries and off-field issues currently killing this once-prideful program. PV will visit Hastings Saturday…
HALDANE is looking pretty sweet at 2-1 after its 40-18 win over Onteora, this on the heels of its loss to state-ranked Woodlands in Week 2. Blue Devils QB Brandon Twoguns was a man on a mission, rushing for a career-best 143 yards and three TDs on just 13 carries. Haldane RB Sam Giachinta was another legit option, adding 125 yards and a score on just 14 totes. Twoguns was slinging it, too, hitting on 3 of 4 passes for 90 yards, including a 60-yard TD strike to sophomore WR Matt Champlin, who has added another major dimension to the Blue Devils.
NWE/Putnam Examiner Grid Poll
No.1 SOMERS – There are two huge games in Class A this week that could determine who will be among the top seeds come playoffs: Lourdes vs. Somers is one of them. Winner gets the inside track toward a potential No.1 seed. Can't see Somers losing, though.
No.2 YORKTOWN – With state-ranked Rye coming to Yorktown this week, the Huskers will know if they have what it takes to run with the upper crust of Class A this year. This game is huge on many levels.
No.3 CARMEL – At 3-0, the Rams are sitting pretty atop League AA-North (2-0), and they face a streaky Arlington team that comes in fresh off its monstrous win over John Jay EF, who many considered the pre-season favorites in the league.
No.4 MAHOPAC – Indians are nicked up and will be short-handed against a unforgiving John Jay EF team this Friday on the road; not at all an envious situation.
No.5 HEN HUD – The Sailors, the best 1-win team around, get the five-spot by default and will face Lakeland Saturday with a chance to get their season back on track, but a loss to the one-win Hornets would be devastating. The Hornets (1-2) shut out Peekskill (1-2) for their first win and the Hornets believe they can play with the Sailors; this much I know #WeShallSee about that.