We are part of The Trust Project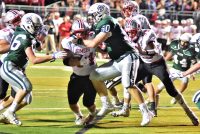 Kaiser Kills It Again, Scoots for 5 TDs in Somers Rout of Brewster
Leave it to affable Brewster Coach Ed Mulvihill to make the best of any situation. Mulvihill had just watched Somers FB Jack Kaiser ransack his Bears last Friday, and the veteran coach could only tip his cap to Kaiser and shoot for the leg in the post-game handshake.
"I pretended to tackle him in the handshake line at the end of the game and told him somebody has to tackle you tonight," Mulvihill joked. "He smiled. He's a nice kid and I hope he has a great career… just not so great against the Bears."
Kaiser is just a freak of nature, like Sasquatch in shoulder pads. At 5'11" and 220 pounds, the Somers sophomore is beginning a legacy the likes of which they've rarely seen at Tusker Nation; to think otherwise is a #Hoax. Behind an offensive line of John Squitieri, Dom Cheek, Mac Joyce, Joe Griffith, Joe Calandrucci and Liam O'Loughlin, the #KaiserRoll rushed for a career-high five touchdowns and 142 yards in the visiting Tuskers' 41-7 League A-D win over Brewster last Friday night, giving him a Section 1-best 14 scores for the season.
Somers has had some great backs since legendary Coach Tony DeMatteo hopped on board at the turn of the century, and Kaiser is putting himself in the same breath with the likes of Jordan Rabidou and Matt Deiana, who also starred as sophomores, while taking aim at illustrious HB Stefano Bicknese's school record of 23 TDs in a season.
"Tony D has them rolling and Kaiser is a big reason," Mulvihill said. "Somers is always tougher when they have a fullback who can run the ball. To think he's only a tenth grader is a little frightening for the rest of us. Physically, they are as strong as we have seen. We've got some good teams in Class A this year for sure and they are right in there with them."
The Tuskers can clinch second place in the league and improve to 4-1, a game behind champion John Jay (5-0), with a highly-likely win over visiting Greeley this Friday (7:15 pm).
Brewster packed the house and the Bears electrified the home folk when QB Joe Dominguez caught Somers (3-2) snoozing by hitting Captain Charlie Russell in stride for an 80-yard TD on the first play from scrimmage for a 7-0 lead. Kaiser countered to tie the game by rumbling 64 yards straight up the gut on the Tuskers' first play from scrimmage and two TDs were posted within 26 seconds of the opening kick. The game had shootout written all over it, right? Wrong!
The Bears (3-2) were hoping to recover on the next possession when they fumbled on third down and DL O'Loughlin recovered for Somers at the 14, setting up a one-yard TD for Kaiser and a 13-7 edge. Somers HB Charlie Balancia set up another shorty for Kaiser with a 43-yard dash on the next possession and the rout was on, Somers leading 20-7 late in the first quarter. Kaiser added two more rushing TDs from there and Somers had its halftime Hail Mary answered when QB Nick Maestri's pass into the end zone with four seconds left was tipped by WR Kenny McGrane into the waiting hands of RB Nick Rossi for a 34-7 halftime edge.
The Somers defense collapsed the pocket all night long, leading to a season-high nine sacks against a pair of Brewster QBs. The Bears will look to right this ship this Friday when the visit Fox Lane (1-4) Saturday (3 pm)…
YORKTOWN (3-2) fell two points shy in its valiant comeback attempt during a 35-33 loss to state-ranked (No.11) Lourdes Friday. Husker QB Tommy Weaver (9 for 16, 234 passing yards) rushed for three touchdowns and 196 yards on 10 carries and fired a 53-yard TD strike to Reese Andrews. RB Dylan Smith rushed for a pair of scores and 54 yards.
Yorktown's final drive stalled on downs, but Coach Mike Rescigno's Huskers proved to themselves and Section 1 that they are capable of a dignified defense of their Section 1 title with potential favorite Clarkstown South (5-0, state-ranked No.7) on deck this Friday (6:30 pm). With its back-loaded schedule, it's entirely possible that Yorktown returns home at 3-3, but the battle-tested Huskers are sure to be the finest .500 unit in Class A if so…
HEN HUD cruised to a 45-21 victory over host Fox Lane, getting the juices flowing when QB Manny Carbone (10/15, 217 yards, 3 TDs) went up top and connected with Donte White (3 grabs, 138 yards, 2 TDs) for a 68-yard TD strike. Sailor RB Jordan Grullon was explosive, flashing the kind of stuff everyone knew he was capable of. The senior RB was uncontainable, rushing 13 times for 157 yards and three scores, he also hauled in three passes for 28 yards and a TD. White added 76 yards on the ground.
"We finally got our offense in gear," Hen Hud Coach Mike Lynch said. "We've got a big one next week."
The Sailors will host WALTER PANAS (2-3), which had its way with winless rival Lakeland in a 35-7 rout Friday. Panas RB Sean Laukaitis snagged a short TD pass and grabbed chunks of yards throughout the day. Panas RB David Louis notched a 19-yard TD run up the gut and another off right tackle from six yards out. Dan Ciraco led Lakeland with 13 tackles, and Matt Makar rushed 16 times for 84 yards…
Had to know it was just a matter of time before BYRAM HILLS Coach Doug Carpenter changed the Bobcat culture, and he's got Byram playing at a level it has rarely been at after trouncing Harrison, 28-7. 'Carp' is one of the good guys in the business; a guy you can't help but root for and dudes have #MaxRespect. Known 'Carp' since his heyday at John Jay CR, few were more committed to the process…
CLASS AA
Man, these Dutchess County football teams are coming on strong #SleepingGiantsNoMore. There was a time, little less than a decade ago, when you could book John Jay EF, Arlington and RCK as sure wins along the Class AA circuit, but those days are gone now and CARMEL (3-2) found out first hand in its 17-9 setback to host John Jay EF last Friday when Mike Carmosino picked off Ram QB Peyton Cayea in the third quarter to set up the game's winning. The state-ranked (No.26) Patriots improved to 5-0 and have now been fast-tracked to the League AA-North/West title. Cayea threw an earlier touchdown pass to hand the Rams a 9-7 halftime lead, but the offense is still a work in progress upon entrance into the red zone.
The Rams will get a chance to fine tune its engine this Friday at Ramapo (7 pm) in what best be a rout before their Week 7 encounter with rival MAHOPAC (2-3), which had its way with the visiting Gryphons on Homecoming Day in a 42-6 rout. Mahopac RB Tim Cegielski rushed for 171 yards and a touchdown on 19 productive carries. QB Anthony Corrado added 97 yards on eight totes, including a pair of TDs. He also threw for two more to WR Rheal Allen (3 grabs, 84 yards). RB Zack Esteves added 51 yards and a touchdown on 11 carries.
It was a get-well win for Mahopac, which gathered as a community on homecoming day to raise the roof like few communities can; complete with parachuting dudes, a mighty fireworks display and the 30th anniversary celebration of former Coach Gerry Keevins' undefeated 1988 bowl champions. Coach K, who led many great teams to triumph, and his boys were treated like kings at the square with a season-saving win and cocktails at the Mahopac Inn afterward.
CLASS B
PUTNAM VALLEY's homecoming day didn't go as planned when a pair of first-quarter pick-6's by visiting Pleasantville set a tone the Tigers (1-4) could not overcome in a 31-14 setback to the reigning NYS champions. PV senior FB/LB John Listwan (11 carries, 51 yards, TD) did the bulk of the damage on the ground, adding three catches for 56 yards and a team-high 14 tackles on defense. PV senior WR/DE Darnel Shillingford had one carry for 45 yards but went off in the passing game with 10 catches for 118 yards and a TD. He added eight tackles and a sack on defense, but it wasn't enough on account of the hole the Tigers dug themselves against the state-ranked (No.13) Panthers (4-1), the defending NYS champs.
Bad starts have doomed the Tigers this season and the seniors they honored Saturday night will be sorely missed next year, sorely. PV will travel to Nanuet Saturday (2:30 pm) in an effort to halt a two-game skid and salvage its season.
CLASS D
HALDANE (3-1) RB Sam Giachinta rushed for three first-quarter scores, a two-point conversion and 94 yards on 11 carries in the Blue Devils' 35-0 win over host Hastings. Haldane QB Daniel Santos also fired a pair of TD passes to Jagger Beachak and Thomas Percacciolo, who also logged a two-point conversion. The Blue Devils will visit Irvington Saturday (7 pm).
CHSAA
KENNEDY CATHOLIC continued to romp through its League A slate with a 21-7 over Cardinal Spellman. The Gaels' (4-0) Cole Esposito-led defense remained stout, and RB Myles Proctor (110 yards rushing, 1 TD) and RB Seth Surrett (2 TDs, 90 yards rushing) handled the scoring. The Gaels host a Nazareth team they crushed 28-0 in Week 2 this Saturday (7 pm).