Greeley's Season Ends With an Outbracket Loss to JFK
We are part of The Trust Project
In the far corner of the Kennedy Catholic gymnasium last Wednesday afternoon, Horace Greeley seniors Harrison Brown, Matt Xie and Teddy Graves stood together one last time, posing for posterity as pictures were taken.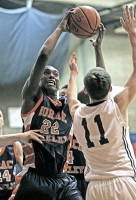 Moments earlier, their time as Quaker basketball players had come to a disappointing end with a 64-44 loss to the host Gaels in a Section 1, Class AA outbracket game.  Despite 20 points from Brown that included the 1000th of his career, Greeley was unable to keep pace with Kennedy in the second half and its hopes of earning a berth in the sectional tournament were dashed.
"They outplayed us," said Quakers coach Dave Fernandes afterwards. "We didn't play well on defense and we didn't play well on offense."
The Quakers actually built a 20-15 advantage at the end of the first quarter. The score was tied six different times during the period, but Greeley scored the last five points, getting a layup from Graves, one free throw by Brown and a 20-foot jumper by Ryan Lubarsky at the buzzer.
Brown had 10 of his points in the opening quarter and reached the 1000 plateau with 1:48 left when he spun his way inside for a layup. He had scored 27 points a day earlier when the Quakers lost 76-72 to Newburgh Free Academy in their regular-season finale.
"I'm really proud of Harrison getting 1000 points," said Fernandes. "That's an accomplishment."
The Gaels picked up their defensive intensity at the start of the second quarter, applying full-court pressure. But the Quakers seemed undeterred and a long pass over the top of the press led to a layup by Greg Handler that gave Greeley a 22-19 lead. The Quakers still led by two points late in the quarter following a bucket by Lubarsky.
But Kennedy closed the half with four free throws and took a 30-28 lead it never relinquished. The Gaels then wound up outscoring Greeley by a whopping 16-5 margin in the third quarter. Brown had scored 12 first-half points, but was limited to just two in the third period and the Quakers found themselves trailing by 13 points as the fourth quarter got underway.
"We just didn't play in the second half," said Fernandes. "I mean, go in at halftime at two (down) and then we come out and they outplayed us."
Kennedy scored the first four points of the fourth quarter before a conventional 3-point play by Brown two minutes in narrowed the Quaker deficit to 50-36. But four seconds later, Brown picked up his fourth foul. He did collect the last basket of his varsity career midway through the quarter on another old-fashioned 3-point play, but Greeley still trailed by 14 points.
Any lingering doubt about which team would be advancing to face top-seeded Spring Valley on Friday disappeared as the Gaels then scored the game's next 10 points, increasing their lead to 24 points. In the midst of the Kennedy run, Fernandes cleared his bench and shook hands for the last time with his sullen seniors.
"Oh, I'm really proud of them," he said. "I love them. I love the kids, they're the best. But we underachieved, so it's hard."
So the Quakers, who were forced to make do without Xie the last two games after he turned an ankle, finished the 2012-13 season with just five victories, far fewer than Fernandes would ever have anticipated.
"Underachieved," he said. "I thought we could do better than this. But we've got a good nucleus coming back, got some of the kids on JV. Hopefully next year we can bounce back."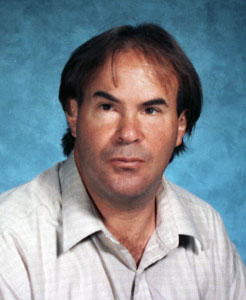 Andy is a sports editor at Examiner Media, covering seven high schools in the mid-Westchester region with a notebook and camera. He began there in the fall of 2007 following 15 years as a candid photographer for the largest school picture company in the tri-state area.
Read more of Andy's full bio here.
Read Andy's archived work here.