Greeley Juniors Organize School's First Invitational Science Olympiad
News Based on facts, either observed and verified directly by the reporter, or reported and verified from knowledgeable sources.
We are part of The Trust Project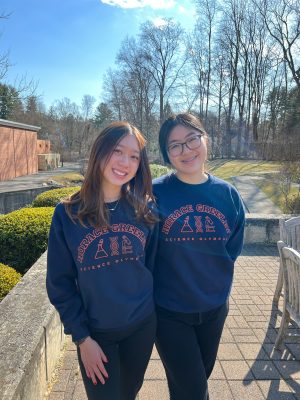 Over the past few years, students who wanted to participate in the annual Science Olympiad, considered the nation's top Science, Technology, Engineering and Math (STEM) competition, saw their opportunities severely curtailed.
The pandemic forced the cancellation of the 2020 regional event, and the next two years saw the competition shifted to a virtual format.
For science enthusiasts Chloe Ng and Erin Song, currently both juniors at Horace Greeley High School, they hoped to recapture some of the experiences they lost and provide middle school students in the area, and as it turned out, across the United States an additional opportunity by organizing their own Olympiad.
Since last spring, they had been preparing with some of their peers at school to hold the inaugural Horace Greeley Science Olympiad, a virtual invitational in early February, that attracted 35 teams from 19 different schools from coast to coast.
"We always competed in Science Olympiad since seventh grade, so it's been a very big part of our academic journey," Ng said. "I think, in particular, when we were in eighth grade, we felt the impact of COVID-19 when the Science Olympiad regional competition was canceled, and so since then we weren't really able to compete with our peers and we wanted to essentially create this competition experience that we kind of lost as a result of COVID-19."
Patterned after the matchups at the regional and state tournaments, they offered the participating student teams consisting of up to 15 students who pair up to contest 23 events, or different science topics, and ranked the teams in each category. Late last month Ng, Song and other Greeley students who assisted them, announced the first-, second- and third-place finishers in each event and then the overall winner in a 10-minute video.
Chappaqua's Seven Bridges Middle School's Team A, one of four squads to enter from the school, finished first, the team from Timberline Middle School in King County, Wash. captured second place and Pleasantville Middle School's Green Team was third.
After announcing the results, Song said they received positive feedback from some of the participants.
"One student thought that the competition was really well-organized and the tests were fair and they had a really good experience taking it," she said. "So that was really valuable for us to hear."
The two friends, who collaborated as part of a team when they were in middle school, said the Greeley Olympiad essentially served as a warm-up event for many of the participating teams that will be headed to the regional and hopefully state competitions, Ng and Song said.
For Ng's father, Daniel, who assists students along with other community members at Seven Bridges prepare for the regional competition, was especially proud of not only his daughter but all of the high school students, which was a first for the district. It was also one of the few invitationals around New York State that was recognized as a sanctioned competition he said.
"I think it's a neat program," Daniel Ng said. "I think it gives a chance to kids who are, one, like science, and also like to compete. They do well in their individual events but also do well as a team, and I guess these schools get recognition as well."
The two students said they are planning to reprise the invitational next year when they are seniors, and after that, hope that students who are currently freshmen and sophomores will pick up the baton and make the Greeley Olympiad an annual event.
What may make it even more impactful is that now in the 21st century learning and loving science may be more critical than ever.
"I think what attracts me personally is I view science as the future, and I see us progressing toward a very science-focused future," Song said. "And just the fact that science is always changing makes it very appealing to me."