Greeley Falls a Game Shy of the County Center
We are part of The Trust Project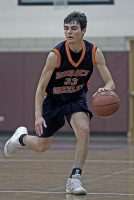 Dave Fernandes walked out of the locker room at Scarsdale High School late Friday afternoon carrying with him more than two decades of memories as the Horace Greeley head basketball coach and a lot of uncertainty about his future. He had just shared some parting words for his three senior captains and there were a few tears in his eyes, tears that quickly multiplied when assistant coach Liz Lops greeted him with an emotional hug.
Just a few minutes earlier, the 25th, and perhaps final, season for Fernandes had come to a bittersweet ending with his Quakers falling to the host Raiders 57-42 in the Section 1, Class AA quarterfinals. Instead of making a Cinderella appearance at the Westchester County Center in a week's time, the realization was starting to set in for Fernandes that he might never coach again.
"The kids played as hard as they can, it's touching," he said after regaining his composure. "It's emotional for me because this could be my last game, you know. We'll see."
The 11th-seeded Quakers had advanced to within a game of the County Center by beating sixth-seeded Clarkstown North in their opening-round sectional game. But facing a Scarsdale team that had already beaten them by double digits twice during the regular season, the Quakers never led and found themselves trailing 14-6 after the opening quarter.
With junior guard Nash Goldman scoring 18 of his game-high 30 points in the opening half, the Raiders built a lead as large as 19 points and left the court at intermission with a 29-14 advantage.
"They hit a lot of outside shots," said Fernandes about the dominant first half for the Raiders. "They were on their game. I thought our defense was pretty good, but they hit shots two, three feet behind the 3-point line."
Greeley, which finished the 2016-17 season 11-11, tried to cut into the Raiders' big lead in the third quarter. Jack Baron, who scored all of his team-high 14 points in the second half, connected on a 3-pointer from the right corner that cut the Scarsdale lead to 31-19 with 6:25 left in the period. Brian Unger's 3-point shot with five minutes to go narrowed the Quakers' deficit to 35-24.
A pair of free throws by Brandon Gecaj, who finished with nine points, moved Greeley within 10 points. The Raiders' Goldman drove the lane for a basket with eight seconds remaining, but Baron answered with another 3-point shot, this time from left of the key as the buzzer sounded, and the teams went to the fourth quarter with the Quakers within 38-29.
Jared Schulman's straight-away 3-pointer 90 seconds into the final period stretched the Raiders' lead back to 12 points, but Greeley creeped within 41-32 on two Unger foul shots with 4:56 left in the game. Unfortunately for the Quakers, they never got any closer. Unger fouled out with 3:47 to go in the midst of an 8-0 Scarsdale burst that included Goldman's last two baskets of the day.
Greeley Junior forward Greg Karr scored a put-back basket with 2:11 on the clock, trimming the Raiders' lead to 49-37. But Goldman swished both ends of a 1-and-1 three different times in the final two minutes to seal the outcome. Baron's final points as a Quaker, on a 3-pointer from the left corner, came with 1:16 to go. Two seconds later, he joined fellow captains Unger and Justin Abrams, who tried to play on a broken foot but was limited to just two early minutes, on the sullen Quaker bench.
'We had a couple of times we had runs where we could've knocked it to eight," said Fernandes. "You know, when you get down to single digits, it puts a little pressure on them now. But we missed some layups. We missed some baskets that I thought normally we would get. Yeah, there was a chance for us, but we made a couple of bad decisions. That's what happens in a game."
Fernandes had plenty of praise for the Raiders, who now move on to the County Center for a semifinal meeting against Yorktown on Friday night.
"They're a great team," he said. "I hope they get to the final. Very well coached. Very well disciplined. They run that back door 'til death. They run that shot clock right to the end. They won't just chuck up a shot."
Admitting that coaching what could be his last game was a bit surreal, Fernandes added that he "didn't sleep much last night knowing that I don't know what my fate is. But a great year for the kids. To win as an 11th seed, beat North, that was a great game. You come here and try to give it your best. And they did."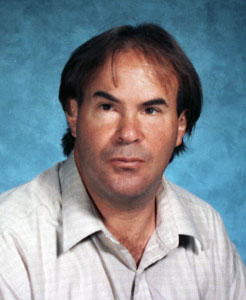 Andy is a sports editor at Examiner Media, covering seven high schools in the mid-Westchester region with a notebook and camera. He began there in the fall of 2007 following 15 years as a candid photographer for the largest school picture company in the tri-state area.
Read more of Andy's full bio here.
Read Andy's archived work here.