News Based on facts, either observed and verified directly by the reporter, or reported and verified from knowledgeable sources.
Greeley Crowned at Mahopac; Somers Wins Pelham Tourney
We are part of The Trust Project
By Ray Gallagher, Examiner Sports Editor @Directrays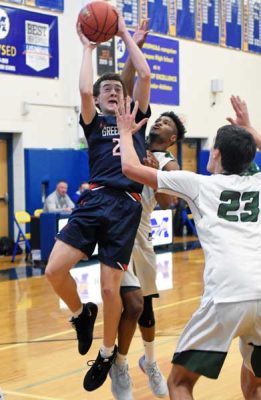 It was a light week of action due to the holidays, but Putnam County supremacy was clearly on the line at the Mahopac Holiday Tournament last week when the Class A host Indians invited both Class AA Carmel and Class A Brewster to the party along with Class A Horace Greeley, which fired a major monkey wrench into the situation when the Westchester-based Quakers knocked off Brewster, 53-45, in Wednesday's opening round. However, Mahopac would do its part to reach the finals, eliminating Carmel from the Putnam County experience with a 55-49 Indian victory, thus setting up a Greeley vs. Mahopac finale on Thursday when the Quakers – led by former Mahopac Coach Mike Simone – survived a 55-53 title-clinching win Thursday night.
In the Greeley/Mahopac game, Coach Simone, who planted roots in Mahopac as a youngster, witnessed an MVP performance from senior G Justin Potack, who triggered the Quakers down the stretch. Potack finished with 20 points, five assists and four steals. F Nick Tasso (15 points, 2 steals, 11 boards) and G Benji Ricardo (10 points, 4 boards, 2 steals, 2 assists) were key to the Quakers' success.
"Was a fun, intense, competitive game," Simone said. "Mahopac has a bunch of kids who never give up and are very tough and scrappy, but Potack is a guy who we rely on and can count on every game, especially in end-of-game situations to make the right reads when the ball is in his hands. Nick Tasso has been playing great basketball so far this season averaging a double double through seven games."
Mahopac was paced by Jake Couzens (points), Danny Koch (10 points) and Liam Scanlon (10 points, 13 rebounds).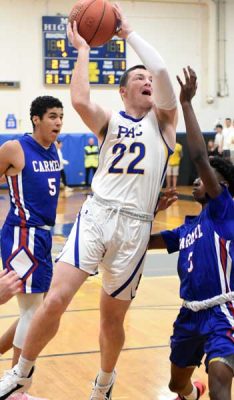 The half ended with Greeley holding a 22-16 edge. It was 26-19 before a Couzens trey made it 26-22 until Potock answered with a 3-ball and a 29-22 lead with 4:40 left in the third. Joey Koch kissed the glass for two and a 29-24 game with 4:20 left in the third. Danny Koch scored at 3:35 and Couzens made it 29-29 with a couple at the line, but it was all Potack down the stretch.
A Potack steal after some great board work from Greeley led to an easy Potack hoop and a 33-26 lead with 2:18 left in the third. Couzens answered, 33-30, off the wing. Potock extended to 37-30 with over a minute left in third, and his NBA-range 3 made it 40-30 with just under 40 seconds in third.
Mahopac continued to battle. In the fourth, a Joey Koch 3 made it 40-33 to open fourth and Couzens made it 42-35. Scanlon, at 6:01 on the line, made it 42-37. Potack was quick to glass and-1 at 4:21, for a 45-37 Quaker lead. Ethen Golub found Ricardo to go up 10 with 3:00 left. Mahopac's John Kearney had two quick answers and four straight points cut it to six 2:30 left.
The Indians battled back and a pair of Couzens 3's, one from NBA made it 50-49 with 1:00 left.
Potack scored with 36 seconds left on a lefty layup to make it 52-49 Greeley. Scanlon's lefty scoop brought the Indians with a point at 52-51. Quaker Golub was fouled with 10.69 seconds left and hit both free throws, 54-51. Danny Koch hit two at the line with 8.5 left, 54-53, but Potack hit one more at the line for the final margin. Joey Koch, Couzens and Tasso were All-Tourney choices.
"We made too many mistakes throughout the game to overcome and come out with a win, but I'm proud of how we battled," Mahopac Coach Matt Calabro said. "Greeley made a couple big plays down the stretch, credit to them."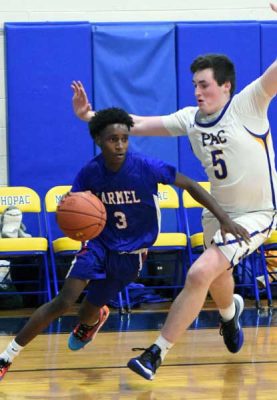 In the Mahopac/Carmel game, Indian senior Joey Koch led the way with 22 points, including 18 in the second half and 4-of-4 from the stripe down the stretch. He added nine boards. Pac G Couzens added 13 points and five boards while G Connor Ferreiri added a couple of huge treys, one of which inspired him to blow a friendly kiss in the direction of the @CarmelCrazies.
Danny Koch (8 points, 10 rebounds, 6 assists, 2 steals) and Scanlon (10 rebounds and great activity all night) were key contributors.
"Made a lot of progress tonight," Calabro said. "We just need to learn how to close the last two minutes with a big lead. Carmel plays very hard, and Aidan White is a really good player. We are happy with how we adjusted at half and played in the first 14 minutes of the second half."
Carmel (1-5) was led by fearless sophomore G Aiden White (19 points), who looks like he has a nice future, and junior F Damien Santiago (11 points). Senior Jake Storen (9 points) and sophomore Nick Kreatsoulas (6) also chipped in.
"I thought we took a step forward," Calabro said. "We played with a little more composure in the second half, minus the last two minutes. We hit some huge shots, got to the rim, and played together. I'd like to see us finish a little better, but we will grow from last night.
"Aidan White got us for 20 points, but we made him earn them," the coach added. "He is a good young player. Carmel played really hard and made some big plays late. It was a great game. I was really happy to see Joey Koch's leadership. He led us in the huddle and on the floor for 32 minutes."
In the Greeley/Brewster game, the Quakers were led by the duo of Potack and Tasso, who combined for 32 of Greeleys 53 points. Brewster did its best to contain Potack, but in the end the senior guard got the best of Brewster, scoring 18 overall, adding seven steals.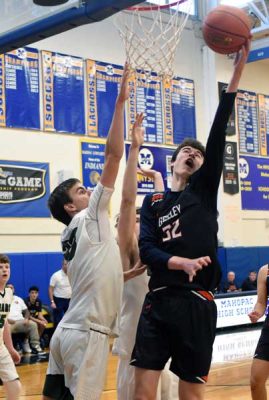 "We came out heavy in the third quarter, extending their four-point half time lead to 10 in the first minute of the second half," Bears Coach Michael Nicastro said. "It was tough sledding from that point on. Our mistakes became too costly. We clearly need to do a better job handling pressure down the stretch. Great teams are able to handle adversity better than we did. You have to give credit to Greeley. They are well coached and their players executed better than we did today."
The Bears were led by Steve Switzer, who had 13 points and four blocks. Conner Griffin, who had been a walking double-double, was held to a season low seven points while Matt Thompson picked up some of that slack with nine points. Lucas Cabiati chipped in with eight points.
The Bears (5-3) then set their sights on a rematch with Carmel in the consolation game of the tournament on Thursday in Mahopac when Brewster cruised to a 60-41 win and denied first-year Carmel Coach Bobby Russo, formerly of Bronxville fame, his 100th career win.
It was a vintage effort by the Bears, who defeated the youthful Rams (1-5) for the second time this season and face a daunting schedule out of the break, including Lakeland, Yorktown, Nyack and Somers, who go a combined 23-3 as we speak.
White, who led Carmel with 20 points and made the All-Tourney team, had a solid two days.
"There's a bright future ahead for this young man," Coach Russo said.
Swizer dropped a dozen for the Bears while Thompson added 11 points. White led the Rams with 16.
CLASS A
The opening round of the Pelham tournament featured two of Section 1's top Class A teams in state-ranked (No.11) PANAS vs. SOMERS, which drew an HM in the state rankings last week. The game lived up to its advanced billing for one quarter before the Panthers could not solve the Tuskers defensive schemes the rest of the way, allowing Somers to run off with a 61-39 victory to advance and face the host Pelicans in the finals where Somers cruised to a 56-45 win for the tourney title behind an MVP performance from senior wingman Matt Fitzsimons and an All-Tourney effort from junior G Brady Leitner.
Against Panas (7-1), Somers led 15-13 at the end one quarter when Panther Tyler Greene (X points) beat the buzzer to close what was a scalding 13-4 Somers start. Panas was getting beat in transition and inside, and the Tuskers (5-1) opened up a 24-18 lead just 6:00 before half, and then 26-18 at 5:00. The writing was on the wall when it extended to 28-18 at 3:35 off a 15-foot Matt Fitzsimons (19 points, 3 3's, 14 boards, 5 assists) curl.
Junior G Andrew Violante (16 points, 3 3's, 5 assists) began to light it up with a 3-ball at 1:55 of the second quarter for a 33-20 Somers lead. Fitz followed with an NBA-range 3 at 1:20 for a 36-21 edge and Somers took a 36-23 lead into the half, which then ballooned to 39-23 and 42-25 at 4:20 3rd. Fitzsimons hit a pull-up shot at 1:25. For a 48-34 lead at the end of three quarters.
Panas G Jerry Smallwood opened the fourth with a 3-ball to close within 48-37 with 6:00 left, but Fitzsimons snagged an offense rebound and hit two at the line for a 50-37 lead with 5:26 to play. A Panas turnover led to a Mac Sullivan bucket and a 52-37 lead with 4.30 to go. Panas C Dillon Chenard answered, making it 52.39, but Volante nailed a 3 for a 55-39 lead with 4:00 left, and Vio went for two more inside off a crisp Brady Leitner feed for a 59-39 lead with 3.20 left… game, set match!
"Our bench play was outstanding with Brady Leitner and Dan O'Brien," Somers Coach Chris DiCintio said. "The kids ran really well and pushed the pace the entire game. Our transition scoring was excellent. The on-ball pressure and doubling Alex Taveres paid dividends as the rest of the team struggled to score from the outside. We battled on the boards and limited Panas to one possession at a time, which was big, and we took care of the ball. We only had seven turnovers in the game."
Leitner was magic off the bench, finishing with 11 points, three assists and two steals.
Nate Cohen (5 points), Dan O'Brien (4) and Sullivan (6) kept the pressure on Panas, which, uncharacteristically, allowed Somers to hit 52% inside the arc and 42% (8 of 19) from distance and forced just seven turnovers.
"We have to be the team that plays with energy, presses, defends and creates turnovers that lead to offense," Panas Coach Mike Auerbach said. "When we don't have it we go from pretty good to average very quickly. We're going to have to find some answers too against junk defenses. They were smart and made life tough on Tavarez and Greene. Dillon Chenard stepped up and played well, but we'll need more from our other role guys moving forward assuming Alex and Tyler continue to see triangle and 2's, box and 1's, etc."
Panas went on to defeat John Jay CR, 62-41, in the consolation round of the Pelham tourney behind an All-Tourney effort from Chenard. Tyler Greene dropped a game-high 22 points for the Panthers while Tavarez (13) Smallwood (10) also went for double figures.
Coach Auerbach was pretty realistic about his Panthers.
"It's a pretty thin line for us from being good to mediocre," he admitted. "Our energy was much better (against Jay). I think our guys felt an urgency to come away with at least one win from the Pelham tournament. Obviously, we're disappointed about the effort against Somers, but we can't complain too much about 7-1 at the break with some quality wins.
"We inserted Jerry Smallwood into the starting lineup today," he added. "He's been a spark for us off the bench all year but felt he deserved a start. He was very good. He fits our identity. He can press, defend in the half court, he's a good passer on offense and a capable scorer getting to the basket. Tyler Greene played his best game in a while as well. We need him to be the second scorer alongside Tavarez. We have to do a better job finding ways to free him up from the outside, but today he was able to find some space and take advantage of it. Dillon Chenard was our lone all-tournament team recipient and it was well deserved. He's been very solid for us all season."
LAKELAND, ranked No.17 in NYS, improved to 8-1 after handing visiting Yonkers an 87-42 setback.
CLASS B
VALHALLA, ranked No.9 in NYS, hopes to keep the good times rolling out of the break. Class B, as of now, has a host of legit challengers, but the Vikings are emerging as the early favorites along with WESTLAKE, ranked No.25 in NYS,and BYRAM HILLS, HM in NYS.
"Throw in Rye Neck, which definitely has some really good pieces, and Hastings, which is a definite contender, too," Valhalla Coach Rich Clinchy said. "Hastings may not have great depth, but they do have two really good players who are fourth-year varsity players. They play great defense, control the tempo and have an experienced, outstanding coach. They will be tough in the sectionals.
"This coming week will be the first time that we have had all of our players healthy," Clinchy added," so I still don't have a set rotation just yet. I hope we have a good week of practices. The other teams – like Westlake, Byram, Pleasantville and Briarcliff – are very well-coached squads, so I think you're certainly correct when you ask if the title is up for grabs, though I think everybody fears Byram because they play an 'A' league schedule, so they will certainly be tested by the time sectionals begin."
Westlake lost its first game of the season at home to Blond Brook, 46-40. Albert Mehmedovic scored 15 points for the Wildcats (6-1) while Nick Castellano added 12.
CLASS AA
WHITE PLAINS, HM in the state polls, went to South Carolina over the break and came home with a championship before a bumpy flight home (the Tigers were rerouted and delayed for hours).
White Plains, which defeated Savannah, 60-34, for the title, was led by MVP Menzy Carden's 24 points. Tigers Miles Johnson (10), Logan McCormick (10) and Ethan Senkyire (6) all chipped in.
The Tigers (6-0) posted a 55-53 win over Berkley (SC) behind 15 points from senior G Carden. McCormick added 14 points and Jake LaBrosciano went for nine points as the Tigers reached the semis and dispatched University (TN), 57-51, when both Carden (22 points) and McCormick (16) blew the doors off. Tigers Jake LaBrosciano (8 points), Malik Dawson (5), Miles Johnson (4) and Senkyire (2) all found the score sheet as the Tigers reached the finals.
CHSAA
STEPINAC has prepared itself for a brutal league schedule after heading to the Slam Dunk to the Beach/Hoophall East tourney where the Crusaders (5-4 overall, 2-1 league) suffered a loss to nationally-ranked No.4 Paul VI (VA), 84-53. Boogie Fland (16 points, 3 steals, 2 rebounds), Danny Carbuccia (16 points, 4 rebounds, 2 assists), Ben Lyttle (7 points, 3 rebounds) and Hassan Koureissi (6 points) were all key contributors.
Stepinac Coach Patrick Massaroni believes his club is battle-tested and ready for the rigors of CHSAA basketball, beginning Tuesday, January 3rd at St. Raymond (6:30pm).
"We have played Imhotep, Paul VI and Centennial, all top 10 when we played them. Then faced Vashon, St. Frances (MD) and Myers Park, all top 50-60 programs with just one senior on our roster," the coach said. "Hopefully, this prepares us for the league playoffs."