Great Chappaqua Bake Sale Gears Up With New Promotion
We are part of The Trust Project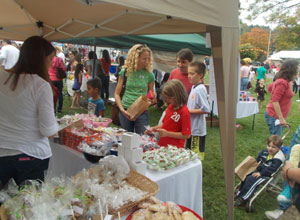 One of the most successful bake sales found anywhere will bring its fundraising efforts to the next level.
While the sixth annual Great Chappaqua Bake Sale will once again share space with the Chappaqua Children's Book Festival on Oct. 3 at Robert E. Bell Middle School, a new promotion this year will allow local supporters to contribute to the cause the week before any dessert is sold or eaten.
The promotion, "Treats to Beat Childhood Hunger," partners with 10 area restaurants and bakeries starting this Friday, Sept. 25 through Oct. 2. All of the proceeds generated by the sale of a certain dessert at each business will be donated to the money that the bake sale raises.
Great Chappaqua Bake Sale Co-chair Allison Spiegel said extending the reach beyond the day's bake sales was an important component to continue to exceed the previous year's total.
For the past five years, the sale has raised more than $78,000 for Share Our Strength's No Kid Hungry campaign, including $27,315 last year. Spiegel said the 2014 sale grossed the most of any individual bake sale last year for Share Our Strength in the United States.
"It's been great to see all the people responding and all the businesses that are contributing," Spiegel said.
The participating businesses for the promotion, all of which are in Chappaqua, Mount Kisco or Armonk, are Crabtree's Kittle House, Restaurant North, Le Jardin du Roi, Sherry B Dessert Studio, Quaker Hill Tavern, Ladle of Love, Flour & Sun Bakery, Beascakes Bakery and Breads, Frannie's Goodie Shop and Tazza Café.
In addition to the preceding week's drive, the bake sale will once again be offering an impressive array of items in its raffle. There are 13 prize packages valued at more than $20,000, including Knicks tickets, club level tickets to a Jets-Giants game later this season, admission to see the New York Philharmonic, dinner at the 21 Club in Manhattan and an entire month of summer camp at Camp Nabby.
Of course, for the expected several thousand visitors at next week's book festival who might be looking for something to satisfy their sweet tooth, the Great Chappaqua Bake Sale is still about the brownies, cookies and cupcakes. Spiegel said along with contributions from many area stores and bakeries, legions of local residents will be busy baking in the days leading up to the sale. Those who are volunteering goodies are asked to make at least two dozen for anything they bake.
Spiegel and co-chairs Holly Blum and Jessica Reinmann have seen the sale grow from a small sidewalk gathering on South Greeley Avenue to an effort that expands each year.
"It's very rewarding for my kids and we're also helping so many people throughout New York State," she said. "It just goes to show that every cookie counts."
For anyone who wants to get involved either to bake or contribute, e-mail thegreatchappaquabakesale@yahoo.com. The public can also visit the sale's Facebook page at https://www.facebook.com/TheGreatChappaquaBakeSale or follow on Twitter @GreatChapBakeSale.