Grease Fire Causes Shut Down of McDonald's in Mohegan
We are part of The Trust Project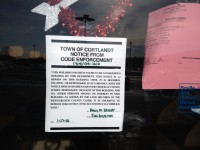 The popular McDonald's fast food restaurant in the Cortlandt Town Center in Mohegan Lake was expected to reopen Monday after a fire forced it to be closed for four days.
Cortlandt Code Enforcement Officer Ken Hoch said Monday morning town officials gave the restaurant the go-ahead to start serving customers again, but McDonald's still needed a green light from the Westchester County Health Department.
Hoch said McDonald's was required to replace a stove after grease in a fryer apparently caused a minor fire Wednesday night. Local fire departments responded to the scene and the interior of the eatery only suffered minor damage.
"They did the repairs quickly, replaced the stove and cleaned everything up," Hoch said.
Visitors to the 24-hour restaurant were greeted Thursday through Sunday with yellow tape wrapped around the building and an alarming sign posted on the front door from Holly Haight, Cortlandt's fire inspector, which stated, in part, "This building has been found to be a dangerous building by this department. This notice is to remain on this building until it is repaired, vacated or demolished in accordance with the notice…"