Goldberg Fired as No. Castle Town Administrator; Misconduct Alleged
We are part of The Trust Project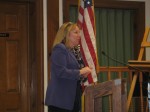 North Castle Town Administrator Joan Goldberg was suddenly terminated Friday afternoon in a split vote by the town board less than 16 months after she was hired as the municipality's first-ever administrator.
The stunning pre-Christmas firing, which was effective immediately, came without an explanation from Supervisor Howard Arden and council members Diane DiDonato-Roth and John Cronin in what was likely their final vote on the board. The outgoing majority voted to dismiss Goldberg at a special meeting "without cause" following an executive session of more than an hour at town hall.
Councilman and Supervisor-elect Michael Schiliro and Councilman Stephen D'Angelo opposed the resolution.
Although the board majority refused to address questions from several residents who appealed for answers and pleaded for the board to reconsider its decision, a statement distributed by Arden following the meeting mentioned "serious allegations of misconduct" on Goldberg's part and that the board was made aware of "numerous instances" when she violated rules of conduct that are outlined in the town's Employment Practices Compliance Manual.
The statement also cited job performance that has fallen short of expectations, although a formal job evaluation had not yet been completed for 2013.
"The majority of the Board feels this action is absolutely correct from a performance standpoint and will also put the Town in the best position to defend itself in the event that one of more of Ms. Goldberg's subordinates chooses to pursue an action against the Town based on her conduct," a portion of the statement read.
Goldberg, 48, was the only candidate interviewed for the job when she was hired in August 2012 for $135,000 following a stormy departure from the Town of Yorktown. In May 2012, a majority of that town board passed a resolution asking her to resign her comptroller's post, where she had served for 16 years, in what became a highly charged political atmosphere. Litigation is still pending on issues related to Goldberg's employment in Yorktown.
Schiliro said North Castle would pay Goldberg about $70,000 as part of a severance package that would be roughly equivalent to six months' salary. Her two-year contract was set to expire in September.
During the meeting, Schiliro also appealed to Arden to reconsider.
"You're better than this, Howard," said Schiliro, who comfortably defeated the outgoing supervisor last month. "I truly believe that."
Next year's board, which will have two new council members and a vacancy that will be filled through appointment, apparently will not have the services of a town administrator to start the year.
The move to sever ties with Goldberg came nine days after the town board's last meeting, which featured a few harsh exchanges between her and Arden and Cronin during the public hearing on the budget. She criticized the majority's late decision to cut $640,000 and five positions in the highway and recreation departments. Three of those positions were restored before the 2014 budget was adopted.
Goldberg, who attended Friday's meeting and sat in her customary seat in the front of the meeting room, said afterwards that she was given no inkling she would be terminated. She denied the allegations of poor performance and misconduct, while acknowledging there had been a complaint lodged by another town employee who alleged harassment against her, which likely triggered the events leading to Friday's vote.
"I know what the motivation is. They're protecting another employee, who truly has not lived up to standards," Goldberg said without mentioning the employee's identity.
However, Jason Berland, an attorney and the husband of town Comptroller Faith Berland, said it was his wife who filed the harassment complaint against Goldberg. Jason Berland, whose law firm, Beys Stein Mobargha & Berland LLP, is representing the town comptroller in the matter, said on Friday afternoon that there was a pattern of abusive behavior by Goldberg not only against his wife but against a number of other women who work at town hall.
Jason Berland, who said Goldberg is "kind of a tyrant and she is a bully of the worst kind," accused her of suggesting to the town board that a pregnant employee be let go and that she discriminated based on race and gender. Goldberg also went out of her way to destroy his wife's reputation in the financial community, he charged.
Berland said they are "strongly considering" a lawsuit against the town and that other female employees may also step forward to voice similar complaints.
"She was significantly damaged, federal and state laws were violated and the town's going to have to do the right thing," Berland said. "We'll have serious discussions of what that might be."
During Friday's meeting, several residents heavily criticized the board majority for its secrecy and for taking such serious action 11 days before they leave office. Some urged the board to leave the matter to the next administration, which will have to deal with the consequences.
"I think that if you make this decision to fire Joan Goldberg your administration will have left the town financially, emotionally and morally bankrupt," said resident Barry Malvin, co-chairman of the town's Democratic Committee.
Former supervisor Reese Berman, who saw the town board establish the town administrator position in the final months of her second term, said she found the move "offensive."
"You all talk a lot about running this town like a business," Berman said. "In my opinion, to me, government doesn't run like a business. Government is government, and if you run the town like a business you run it like a bad business."
In the statement handed out by Arden, it also mentioned that issues of misconduct had existed for a while but that they weren't acted upon because there was belief that Goldberg might accept the town administrator's post in New Castle had the Democratic ticket there been victorious last month. The Republican-endorsed ticket swept the election.
Goldberg said she may consider litigation against the town and pointed to the released statement's inaccuracies and misrepresentations.
"This is actionable because this damages my reputation," Goldberg said.
She also confirmed that she was approached about the administrator's job in New Castle but never said she would accept a position.
There is the possibility that the new town board could rehire Goldberg when it is seated, something she said she would be open to accepting. However, Berland warned that there would likely be legal and political ramifications if that occurred.
Despite the controversy, Goldberg said she doesn't believe that this episode will have a negative effect on her career.
"None of these claims have merit so I don't think this action damages me professionally," she said. "I stand on my reputation and the work that I've done."