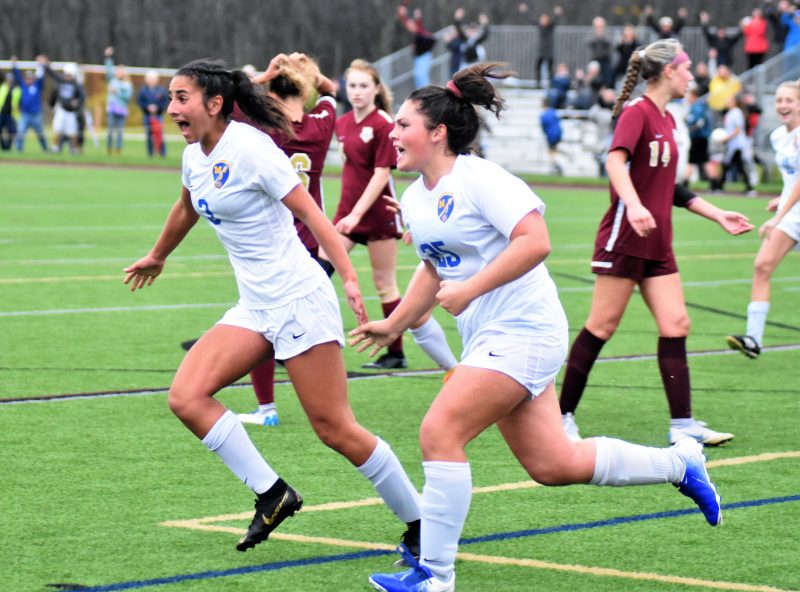 Class AA Mahopac, Class A Somers Fall in Title Tilts
Haldane Wins 9th Straight Class C Title Behind Two Rowe Goals
The magic came to an end for Class A SOMERS and Class AA MAHOPAC Sunday evening at Arlington High School where both girls' soccer programs suffered season-ending losses in their respective Section 1 championship games after fairy-tale semifinal triumphs to advance.
Second-seeded, state-ranked (No.1) Pearl River eliminated No.4 seed Somers, 3-0, to win the Pirates' third sectional championship in four years, just three days after the visiting, state-ranked (No.15) Tuskers (16-2-1) knocked off No.1 seed Rye (No.7 in NYS), 2-1, in quadruple overtime on a legendary shot from Dahlia Pepe, who deposited a free kick golden goal with 14 second left in the final OT session, a shot that Hope Solo would have found tough to defend. Megan Dineen scored the Tuskers' goal in regulation.
"Pearl River was definitely the better team today," said Somers Coach Paul Saia, who has guided the Tuskers to six sectional finals and four championships. "They played outstanding and definitely deserved to win. I'm not going to make any excuses but we're pretty banged up. I don't know if it would have made a difference, they were that good today. They gave us nothing, nothing and the lack of speed killed us.
"But I couldn't be more proud of the run they got on," Saia added. "Even down, as they were, they never quit and kept coming back. Even the bench was alive. Just an amazing group of girls."
Similarly, No.4 MAHOPAC failed to generate much of a push against a stout North Rockland club, seeded No.2 in the section, in a 2-1 Raider triumph. Mahopac junior striker Mia Klammer scored the Indians' lone goal off a second-half PK to tie the game at 1-all, but Raider Kelly Brady scored the game-winner in 62nd minute.
"It was a tough loss but a well-fought game tonight," Mahopac Coach Casey Carroll said. "It was such an amazing season with a great group of ladies. They made a lot of people proud with all they have accomplished this season."
Mahopac knocked off top-seeded, three-time defending champion Arlington, 2-1, in Thursday's Section 1 Class AA semifinal when sophomore D Marissa McCarney snuck in off the back line to head home Hailey Pereira's direct kick from the near corner with 1:30 left in the second half.
"I feel like we really pushed hard, tried our best," said McCarney, who notched her first career goal. "I think we played better in the first half, but pulled through in the end. I wasn't going to go in on the goal. I was following coach's rules, but I saw the ball coming in perfectly and thought why not just try. I just tried my best to get it. I feel great for these seniors because I know they didn't want the season to end today. I know how hard they've tried to beat Arlington, so it feels great that we could all work together and get this done."
Mahopac's Alyssa Chiulli scored the Indians' first goal to erase a 1-0 deficit with 14:09 left. Klammer didn't get an official assist but crashed the cage and wrought havoc on the Admiral keeper, who had Chiulli's awesome shot and Klammer to contend with.
"This feels so good, everybody is so excited," Klammer said. "It's one of the best feeling ever, I can't describe it. It's the high point of my career. I'm just told to crash the net and that's all I could do. And Marissa just came out of nowhere. I didn't even know she was there. Nobody was on her and she came flying through wide open."
"It's the best feeling ever," said UConn-bound senior Grace DiVincenzo, who has been on the losing side of two previous semifinal encounters. "It all came together today, so this is really an emotional time for me. This is the best thing ever. My team had my back today because I missed some shots I could have buried, but we came together. We're the perfect team.
"Marissa's shot was amazing," she added. "Marissa is the greatest human being, no one deserved to hit that shot more than she did. I would rather no one score that goal than Marissa.
Mahopac keeper Isabel Omboni had seven saves in the semifinal win and was outstanding all season.
"It's all them," Coach Carroll said. "I sit here and enjoy it, but it's all them, them working, them doing it all. We have a lot of talented, hard-working kids out here."
HALDANE scored a 3-1 Class C title victory over the Leffell School behind three unanswered tallies in the second half, two for freshman Chloe Rowe and another by Liv Vilella. Bella Monteleone added two assists for the nine-time defending Section 1 Class C champion Blue Devils (10-5-3), who advanced to the state tournament to face Section 9's Seward in a regional final on Tuesday, 4 p.m. at Middletown High School. Haldane reached the state semifinals last season and continues to represent Section 1 in the finest fashion.