We are part of The Trust Project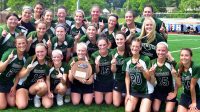 Brewster Punches Ticket to NYS Class C Final 4
Bears Pound Section 2, Section 9 Champs, Will Face Honeoye Falls-Lima in State Semis
By Tony Pinciaro & Ray Gallagher
Once Brewster won its first Section 1 girls' lacrosse title, the Bears were entering unchartered territory – the state playoffs.
This current group of Brewster trailblazers did not know what to expect, at first. So, Brewster coach Sara DiDio did not inundate the girls with information as to who the Bears were going to play. Instead, DiDio and her girls looked inward.
"We prepared by really focusing on our game," DiDio said. "We did what we needed to do to clean up our game. Sure, we watched game film and gathered information on the teams we were playing, and some of the other coaches in Section 1 really helped us out. We felt that by focusing on what we needed to do it has helped us succeed so far."
The approach worked as Brewster kept rolling and has booked a ticket to the New York State Class C Final Four, Friday-Saturday, at SUNY-Cortland.
Brewster achieved this with a 17-9 victory over Section 2's Burnt Hills-Ballston Lake in a regional semifinal, then dominated Section 9 champ Goshen, 20-5, in a regional final.
Brewster, now 18-4 this season, will face Section 5 titlist Honeoye Falls-Lima in a semifinal, Friday, 9 a.m., at SUNY-Cortland. The other semifinal has Section 3's Jamesville-DeWitt facing Cold Spring Harbor (Section 8) at 11 a.m. The Class C championship game is scheduled for Saturday, 9 a.m.
Mount Sinai defeated Honeoye Falls in the 2017 state final, so the Bears will be facing a hungry, battle-tested unit.
DiDio didn't want her team to lose focus on itself because of a regular-season game.
"Earlier in the season, we actually prepared for one of our opponents and we felt we gave them way too much information and we didn't come out well," DiDio said.
Even though the Bears almost doubled up Burnt Hills-Ballston Lake, DiDio said the team found itself in a frustrating trend.
"The last few games we have started a few goals down and had to fight our way back to get us going," DiDio said. "We definitely lit a fire
at the end of the first half and we came out in the second half ready to go and the girls showed how bad they wanted it."
Meagan Beal led the way with seven goals and Lauren Craft netted five goals. Marina Souza chipped in with two goals and two assists,
Maggie DePaoli added two goals and Dani Regan collected three assists.
Brewster broke out in a big way against Goshen, asserting itself from the opening draw and was never challenged.
"Our focus against Goshen was to come out and start strong from the beginning of the game," DiDio said. "When we get to Cortland, we can't give teams a lead."
Craft led the way against Goshen with five goals. Haile Ratajack and Megan Beal each had three goals and Sam DeLeo, Souza and Regan scored two goals apiece. Souza also assisted on five goals.
"The past few games we came out a little slow, and although we were able to come back in them we didn't want another slow start today," Brewster junior M Megan Beal said. "We had to pick it up and start off good today and we did. Our new assistant coach went to Cortland and she said from the very start that we gotta get to Cortland, so that's been our goal this entire season, and now that we're going it seems unreal. The seniors have been in the program since the third grade and we really want to win states for them. It would mean the world for us, and we're just so happy to be going up there with a chance now."
DiDio said her team will have a busy week in preparation for the final four. Even though it is going to be hectic, DiDio is enjoying this because she introduced many of her current players to the game as the Brewster Youth Girls' Program coach.
"A lot of the parents of the girls helped coach Brewster girls' lacrosse so it really is a family and the whole Brewster community is behind us and supporting us," DiDio said. "It is really special to do it with this group. They are a great group of girls."
Brewster will receive background regarding Cortland from assistant coach Kristen Ohberg, who played lacrosse for the Red Dragons. DiDio credits Ohberg and Brewster Junior Varsity coach Jen Hershman with having an impact on the team.
The countdown to Cortland has begun and the team's peers, as well as the teachers, parents and community will be looking forward to the weekend.
"I'm pumped," DiDio said. "We have a lot to do, behind the scenes, before we board the bus, know I know how excited they are. They have put in thousands of hours of work and, win or loss, this will be an amazing experience for these players. Winning the sectional title we were excited to make history and now, going to the final four, this is all icing on the cake. We are going to play our best, hope for the best, and will be prepared."
History hardly seemed likely four years ago when Penn State-bound senior All-American Lauren Craft was a freshman and the unit produced just four wins. Fast forward three years and the dividends are immeasurable, including memories that will last a lifetime for the likes of Danielle Heintz, Danielle Regan, Juliana Rienzi, Maggie Depaoli, Lauren Craft, Meagan Beal, Samantha Deleo, Michelle Feighan, Haile Ratajack, Grace Pastore, Hailey Bowser, Gillian Cunningham, Jane Scinta, Marina Souza, Ashley Goodliffe, Tara Regan, Leah Frey, Meaghan Feehan, Chelsea Steere, Nicole Cusanelli and a dedicated coaching staff.
"This is crazy, I don't think I could have pictured this or even imagined it my freshman year after winning just four games," Craft admitted. "Now, we're here going to the state Final 4, it's crazy. The whole season has been about playing our game and having fun, and we showed today that if we stick to the game-plan we can do anything. This week we'll work on all the little things to get prepared and make sure everything is perfect. We worked all year and all season for this, so I think we're ready to do what we have to."
Win or lose this weekend at Cortland, the Bears have set new standards by which to live, and the underclassmen will know what it takes to thrive at this level on account of Craft and her senior mates, who toughed out a four-win campaign back in 2015 to put the program on the state map.