Girls Hoops Notebook: No.11 Peekskill Upsets No.4 Beacon; No.3 Lakeland Stunned by Rye; Hen Hud, Kennedy, Ossining Advance to Quarterfinals
We are part of The Trust Project
If there is one thing Peekskill High proved this season, it's that a slow start can be made up for with a strong finish. The Red Devils began the season on a four-game losing streak, but ended winning six of their last eight. Then, after topping Nyack 53-37 in the outbracket game last Wednesday, No. 11 Peekskill traveled to No. 4 Beacon – a team that handed them a 53-37 loss at the beginning of the season. But in spectacular fashion on Friday, the Red Devils won 52-51 to move on to the Class A quarterfinal round.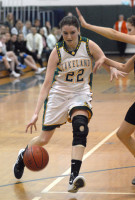 "It was very exciting and fulfilling," Coach Rodney Headley said of the win. "We played them the second game of our season when we were young, still finding our identity, and they had beaten us by 16. To come back to their gym and beat them in their house – the way that we did – was definitely a momentum builder going into the next round."
The Red Devils had the lead all the way through, going into the last five minutes. Beacon crept back into it, however, prompting a back-and-forth lead exchange going into the final minute. With Peekskill trailing 51-49, freshman Lanay Rodney, who led the Red Devils with 17 points, made a layup in the paint to knot it up, forcing Beacon to call a timeout with only three seconds left.
Coming out of the timeout, Beacon made a fatal mistake, the inbounds pass going straight into the hands of Morgan Beechum, who quickly dribbled the ball past half court and took a shot outside the arc. The shot missed, but it didn't matter – Beechum was fouled with two tenths of a second left, and made a shot behind the charity stripe for the Peekskill victory.
Beechum finished with 12 points, while Latisha Clark netted 13 points and added 10 rebounds, proving it took a team effort to eliminate Beacon. Headley's goal before the playoffs began was to get past the first round, yet now with Class A up for grabs, he feels the sky is the limit for the Red Devils.
"It's an open door," he said. "Who knows what the future holds. Anybody can win Class A now. Pearl River is the number one team, but it's not like they're unbeatable. If you look at their scoring averages, we average more points than them and we hold teams to less points than them. We're just coming in preparing, and may the best team win from every round on. If we prepare enough, we feel we can compete with anybody."
Peekskill (11-9) will host No. 14 Rye today, who ousted No. 3 LAKELAND on Friday. The Garnets stung the Hornets 45-30, forcing Lakeland to an unexpected early playoff exit. Some costly turnovers and a strong defensive presence by Rye were what led to the Hornets' downfall, Coach Steve Fallo thought.
"We made two, three turnovers in a row and it went from an 11-point game to a 17-point game, and they played really tough defensively – they did a great job on us," he said. "Basically that was the ballgame. They made baskets on open jumpers and we didn't."
The Hornets struggled offensively in the first half, down 17-6 at the intermission. Rye never allowed Lakeland to get back on its feet. In the third the Hornets went on a 5-0 run, but the Garnets answered with a 6-0 run to close the quarter, staying in front of Lakeland throughout. Hornets Kate Weldon and Nikki Kardias were held to seven points each, as Rye's Maddie Eck and Rachel Egan buckled down on Lakeland's top performers.
Despite a first round knockout, Fallo believes the season, all in all, was a success and the Hornets will come back next year tougher and more offensively ready, prepared to be more than just a second-half team.
"We're not an offensive team and we have to make more jump shots – hopefully next year we come back, play a full 32 minutes and make more jumpers," he said. "I'm happy with the girls, the way we played this year. 14-4, co-league champs with Peekskill; I thought they did a great job overall, and they exceeded all our expectations. It's been a great year and I hope we come back bigger and stronger."
No. 9 HENDRICK HUDSON breezed past Gorton last Wednesday in the play-in round, winning 52-19. They were then faced with the challenge of No. 8 Harrison in the opening round – and the Sailors rose to that challenge, beating the Huskies 34-28 on the road Friday.
Overcoming a sluggish start and handling Harrison's trap with adjustments were what Coach Ken Sherman felt led to the win.
"We got off to a slow start, which has been indicative of our whole season," he said. "Harrison got off to a 7-2 run, and they started out in a zone vs. us. Slowly we started making some shots but we made one adjustment: putting in our backup point guard Amber Feminella, and we moved Cassidy Boyle to the low post, because it created a mismatch with their guard. That made all the difference in the world."
The Sailors led by two at the half and were up by three at the end of the third, needing only to sink some buckets in the fourth quarter to seal the deal.
Boyle was at the forefront of Hen Hud's offensive strike, leading the way with a double-double: 13 points and 13 boards. Leatina Hutchings provided backup with nine points in the second half, going 4-for-8 shooting.
"Tina had one of her best games and her, with Cassidy, gave us some outside shots, finally," Sherman said. "All of Tina's points came in the second half, and we just needed some buckets down the stretch to pull away a little bit."
Today the Sailors (10-8) will head to Pearl River to the take on the top-seeded Pirates – another challenge Sherman and his girls are up to.
"That's going to be a tough matchup for us; they press almost the entire game, 2-2-1," he said. "They're very quick, but we're going to prepare."
The 17-2 KENNEDY Gaels, seeded No. 3 in Class B, defeated North Salem, 68-36, at home Friday, inching closer to their goal of a trip to the Westchester County Center. According to Coach Lance DeMarzo, defense was the key to victory.
"We played very well defensively," he said. "We held them to 8, 6, and 5 for three quarters before I emptied the bench with about three minutes to go in the third."
To go with that stellar defense was some top-notch offense, namely from Kiera Hennessy, who put up 22 points and eight rebounds. Leah Greene afforded reinforcements with 14 points, nine take-aways, and seven assists.
The Gaels also received outstanding supporting performances by Shayna Gaskins (six points eight boards), Megan Weidenhamer (seven points, four steals), and the injured Sara Dowd's understudy Grace Cunningham (eight points, six rebounds).
The victory marked the third time this season Kennedy posted a win over North Salem – in DeMarzo's eyes, a most impressive feat.
"It's always tough playing someone three times," he said, "because there's not much they haven't seen offensively and defensively."
With the advancement, Kennedy will host No. 6 Ardsley today in the quarterfinal.
"Up next is Ardsley, they're very tough; very physical," DeMarzo continued. "They're very good, but we're very good. We'll find out Tuesday who's going to move on."
No.1 Class AA OSSINING (15-4) took care of business in the opening round at home Friday, eliminating No. 17 Mamaroneck with an 84-37 win. To no surprise, Section 1's all-time leading scorer Saniya Chong was the state-ranked (No.1) Pride's leading lady, putting up 25 points and 10 assists.
Eighth-grader Andra Espinoza-Hunter was just as dominant, with 15 points as was Shadeen Samuels: nine points and 11 rebounds. Coach Dan Ricci saw an even scoring effort – a strategy he hopes to employ as the postseason moves on.
"Everyone got some playing time," he said. "Scoring was very balanced; it was a good tune-up for things to come."
The Pride will welcome No. 8 Scarsdale tomorrow for the quarterfinal match.
To get to Ossining, Mamaroneck ousted No. 16 Yorktown 52-44 in the outbracket game last Wednesday.
No. 13 Somers blew out No. 20 Eastchester 52-18 in the Class A play-in round, but fell short Friday losing in overtime 48-41 to No. 4 Albertus Magnus.
Mahopac, seeded 12th, suffered the same fate in Class AA. Matched up against No. 5 Arlington, the Indians were eliminated with a 75-53 loss. Mairead Hynes paced Pac with 16 points; Alayne Felix posted 14 in the loss.
Croton-Harmon, Class B's 12th seed, fell to No. 5 Dobbs Ferry in the opening round Friday, ending its season with a 53-27 loss. Grace Mulligan was the leading Tiger with seven points.
In Class C No. 2 Haldane will host No. 7 Yonkers Montessori in the opening round today.