We are part of The Trust Project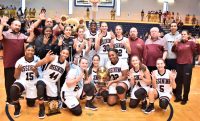 Griffin Leads Ossining to 8th-Straight Section 1 Title
Somers, Put Valley Ousted in Sectional Semis
By Tony Pinciaro & Ray Gallagher
Seven-time defending Section 1 Class AA champion Ossining went into halftime trailing undefeated Our Lady of Lourdes by nine points in the Section 1 Class AA Girls' Basketball Championship at Pace University last Saturday.
The Pride had scored a season-low 21 points in the first half, which was quite uncharacteristic. Usually, Ossining scores 21 points in a quarter.
Ossining didn't panic and there was no intense halftime speech from veteran Coach Dan Ricci. Instead, Ossining knew what needed to be done and Ricci took his usual positive approach and turned to his junior star Aubrey Griffin. Griffin, among the top three players in the state, finished with a game-high 46 points, and she added nine rebounds.
Ossining dominated the second half, outscored Lourdes by 22 points and walked off the Goldstein Center court with a 75-63 victory and an unprecedented eighth consecutive Section 1 championship.
"We can officially put Aubrey in the same breath with Saniya now," Ricci said, comparing Griffin to former Ossining and UConn star Saniya Chong, now playing in the WNBA. "She was Saniya-like tonight."
The Pride, riding a 14-game winning streak, have a bye in the first round of the state playoffs. Ossining returns to the Goldstein Center, Friday, 6:30 p.m., for the regional final against the winner of Elmira (Section 4)-Kingston (Section 9). Elmira will play Kingston, Tuesday.
The regional final winner advances to the state final four, March 17-18, at Hudson Valley Community College in Troy.
Pride senior Kelsey Quain admitted Ossining needed to ramp things up on the defensive end.
"In the first half, we were not playing with the defensive intensity we felt we should have," said Quain, who won her fourth consecutive sectional title. "Coach Ricci was positive with us during halftime and he told us that if we play our game, we would come out with the win. We also like to play fast, and we knew that Lourdes didn't want to play fast, so we made the game faster in the second half and that really helped us."
Ossining turned a 30-21 halftime deficit into a 53-49 lead through three, outscoring the Warriors, 32-19.
Pride F Kailah Harris contributed 17 points and 11 rebounds and Quain chipped in eight points.
"Aubrey is a great player and she carried the team on her back, but not in a selfish way," Quain said. "Aubrey is awesome about the way she goes about the game is always so humble."
Ossining went into the game with added incentive to win as the Pride listened to a boastful Lourdes' team.
"Hearing them wanting to play us made us want to play them even more win the game even greater," Quain said. "We ignored the trash talk and played Ossining basketball."
Quain had double pleasure in winning this title. It was her last opportunity for the gold ball with her senior teammates and the Pride did it. It also gave Quain a special feeling because she will attend Pace University this fall and play basketball. The women's team plays at the Goldstein Center.
"This one was special and a great feeling for us seniors," Quain said. "It feels good to go out on top and we worked hard for this one. People doubted us, this year, because we lost a great player to graduation in Andra Espinoza-Hunter, but we knew what we're capable of."
Quain and her teammates will focus on practice the next few days as well as scout the Elmira-Kingston game.
While Ossining has dominated Class AA, HALDANE does the same in Class C as the Blue Devils won their fifth consecutive Class C title under coach Tyrone Searight.
Haldane crushed Keio, 50-30, behind 21 points from Alison Chiera.
Haldane will play the Section 9 champion, Millbrook, in a regional semifinal, Tuesday, 3:30 p.m., at Beacon High School. The winner advances to the regional final against Our Lady of Mercy Academy (Section 11), at a site and time to be determined.
"This one was really special because we know, for a fact, that our team literally came from the bottom up," said senior and five-year varsity player Abby Stowell. "Our first game of the season was rough, but each game after that, we picked it up. Going into sectionals we knew we could do it because we were playing well and we're a good team."
Stowell said the season turned when Haldane played in a holiday tournament in Albany in late December.
"I had a lot of faith in us," said Stowell, who will attend Ithaca this fall and run track. "We knew we would be able to come together. In the beginning, we had to get to know each other's strengths and work with each other. At the tournament, it started clicked and we started winning."
Haldane goes into state play with a deceiving 12-10 record because the Blue Devils play the majority of their games against Class A and Class B teams. This is an annual occurrence, schedule-wise, for Haldane and one the team welcomes. Haldane owns a win over Class AA Final 4, R.C.Ketcham.
"Coach Searight schedules hard teams for us," Stowell said. "Playing at a higher level helped us during the season become stronger and prepare us for sectionals."
PUTNAM VALLEY had its hopes of a title-game appearance dashed by eventual runner-up Briarcliff, 44-34, in a Section 1 Class B semifinal at the Westchester County Center.
The third-seeded Tigers finished with a 20-2 record and will return the majority of the team in 2017-18.
"We were playing good ball on both ends of the court in the first half and went into halftime down by one, I believe," Morgan Winogradoff said. "After halftime, I think our intensity lowered and Briarcliff's intensity was much higher.
"We ended up having a harder time scoring. I think the game got away from us in the second half and we weren't expecting it. Throughout the whole game our defense stayed strong, and that's what we are known for, but offensively, we fell short."
Despite the final result, Winogradoff and her teammates have plenty to be proud of and optimistic about.
"This season was definitely one for the books," Winogradoff said. "This was the best record in Putnam Valley history, ending 20-2. We were league champs, made it to the final four and played at the County Center.
"I think our team has a bright future, if they continue on this track. I think this young team can have a really good chance at not only making it to the championship game, but also winning sectionals and bringing home that gold ball."
Briarcliff Coach Don Hamlin knew his club was against an up-and-coming PV outfit and needed to settle down and shut off PV sophomore Kelli Venezia's outside game.
"Our message at halftime was to just calm down a little bit," Coach Hamlin said. "Every time we touched the ball in the first half we tried to make a super play instead of just making a play. Kelli is a great player and I knew that if she got hot we'd be in some trouble, so we tried to keep her under control as best we could. They're a really good team with a really bright future, they're like 20-1 and had a great season and a great coach. They are on the way up for sure."
With the quartet of Venezia, Dora Rippon, Arianna Stockinger and Cyera Daughtry all returning to Coach Kristi Dini, the Tigers have a strong chance to return next season. Rippon paced the Tigers with a game-high 14 points despite suffering a cut above her right eye.
SOMERS had its quest for a second-straight sectional title end in heartbreak as Amanda Latkany's 3-pointer beat the buzzer in Rye's 50-49 victory.
"We just got beat on a crazy play and I give Rye a ton of credit for battling to the end," said Somers' Coach Marc Hattem. "It was a classic, but that's the game, beautiful when the ball bounces your way, heartbreaking when it doesn't. I wouldn't change a thing over the past couple years. The kids are awesome. It's a special group and I can't wait to get back at it with them next season."
Somers senior Liv Lipski scored a team-high 14 points, including four 3-pointers, and a slew of returning Tuskers will take aim next season, including Dani DiCintio, Hannah Angelini and Isabella Rukaj, who gave the Tuskers big minutes at County Center. No other player for the second-seeded Tuskers (16-7) hit for double figures. Somers junior G Hannah Angelini, last year's Section 1 Class A tournament MVP, hit one of two free throws with 7.3 seconds left to put the Tuskers on top, 49-48, but the final four seconds seemed endless as the Garnets got off two shots, including the game-winner.
Somers took loss very hard and finished at 16-7 for Hattem, who is awaiting the birth of twins.