We are part of The Trust Project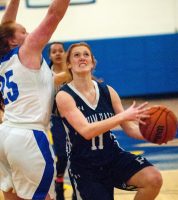 League Titles Abound at Ossining, Somers, Put Valley
It's been a regular bonanza when it comes to league titles on the local girls' hoops circuit. State-ranked (No.5) Ossining (17-3, 11-0 Sect.1) snagged its 19th straight, winning the League I-D title without struggle. State-ranked (No.19) Putnam Valley (18-1, 6-0) cruised to the League III-E title after a clean sweep of Haldane, North Salem and Pawling. State-ranked (No.22) Somers (14-6, 7-1) settled for a share of its 2nd-straight title and third in four years after falling at John Jay CR, 48-38, last Friday.
Hen Hud (13-7, 6-2) placed second in League II-E, losing only to undefeated, state-ranked (No.6) Class AA power Our Lady of Lourdes (20-0), so the Sailors have plenty to be proud of, too.
Collision Courses AA, A & B: No.1 seeded Ossining's road to the Class AA title will likely go through two Catholic powers, including No.2 Lourdes and/or No.3 Magnus and No.4 Ursuline. Pride Coach Danny Ricci is chomping at the prospects but admits this is one of the toughest paths his team will tread en route to its 8th-straight sectional title. Odds are, Magnus will be the team the Pride square off with for all the marbles, and odds are just as strong the Pride survive and advance.
"We had to go through them last year and suspect we will have to do so this year," Coach Ricci said of Mangus…
In Class A, second-seeded, reigning Section 1 champ SOMERS, ranked No.22 in the state, and No.1 seed John Jay CR could see one another a third time if the chalk prevails. To quote my son, "Somers shot like trash" in Friday's loss to Jay, but it would seem more of an aberration than the norm, knowing this team as we do.
"I would love to see John Jay again and we fully expect to see them again some time down the road," Somers Coach Marc Hattem said. "We can only hope to shoot better than we did tonight. I'm dying to see our shooting percentage, I don't think we shot 20%. We shoot better than this and we figure to do so in the playoffs. We've been shooting in the low 20s for the last two weeks now and it's killing us. As the returning section champs teams are shooting to take us down, and I trust my kids at the end of the day to figure this out."
No time like the present…
And could there be a tougher road than Class B PUTNAM VALLEY's road? PV, the current No.3 seed, will have to go through state-ranked (No.8) and second-seeded Briarcliff at the County Center and then defeat top-seeded, state-ranked (No.1) Irvington – the 3-time defending champs – in the finals. To be honest, the youthful, record-setting Tigers (most regular season wins in a year) – led by underclassmen Dora Rippon, Kelli Venezia and Ariana Stockinger — might be a year away from winning it all, but they are banging on the door well before anyone expected…
We just don't see anybody in Class C that is as prepared as four-time reigning champion HALDANE is to make a run for the roses. The Blue Devils (10-10), though not ranked in the state, are feistier and better coached than the whole lot of Section 1 Class C clubs. They will hoist again…
If anyone in Class A had just two players of HEN HUD's Caitlin Weimar's ilk, they might be unbeatable. The 6'2" sophomore is beyond good, a walking double and just 3.5 blocks per game shy of a triple-double. Weimar is putting up digits no girl or boy in Hen Hud history has ever posted: 18 PPG, 13.3 RPG, 6.4 blocks and 2 steals. The kid was one block shy of a triple-double in the Sailors' 50-36 win over Croton-Harmon, putting up 26 points, 15 caroms and nine blocks.
"I feel like she has improved every game this season and she is doing it with teams double- teaming her night in and night out," Hen Hud Coach Ken Sherman exclaimed! "She definitely could be the best to come thru the doors at the Donovan (gym). She's the first true center I have had in nine years at Hen Hud."
NWE/Putnam Fab 5 Poll
No.1 OSSINING – Catholic powerhouse Magnus is the only considerable bump in the road to Section 1 Class AA title, and the fact that the Pride dispose of every Catholic power in their way year after year only adds to the insurmountable lore of the Harris/Griffin/Quain-led Pride.
No.2 PUT VALLEY – Briarcliff might be too much for record-setting Tigers to handle this season, but this program is legit on every level and should see the finals in 2019 unless they can shock the section right here and now. B-Cliff is the team to beat.
No.3 SOMERS – At the risk of sounding too critical: The time is now to put one's best foot forward, lest you be left out of the state tourney. The 78 points scored in Saturdays blowout over Nanuet is encouraging, but anyone paying attention saw mental and physical lapses in loss to John Jay Friday #TimeToUptheAnteUpLadies.
No.4 BREWSTER – Should the No.8 Bears (12-8) survive No.9 Pearl River in the opening round, they would get a third crack at John Jay CR in the quarters and would need to amp up their intensity to match a scrappy Indian outfit; without doing so, Swaggy Maggie D's Bears would be two-and-through. All it took was one bad quarter last Thursday to see. "You have to give John Jay credit," Bears Coach Mike Castaldo said after Maggie DePaoli led Brewster with 16 points and six steals and Krsiten Stefanick had nine points and four assists in a 53-47 loss to the Indians. "They caused the turnover and scored off of them. We played careless for eight minutes and against the top seed in Class A you can't do that."
No.5 HALDANE – Can't see a scenario where Abbey Stowell and Alison Chiera's top-seeded Blue Devils (10-10) are knocked off by any Class C contender
HM MAHOPAC – No.12 Indians (9-11) will have to go through No.21 Suffern and No.5 RCK, whom they are very familiar with, to reach quarters in a somewhat likeable draw.
HM YORKTOWN – The No.14 Huskers (10-10) will draw No.3 Magnus in opening round if the survive No.19 Greeley in the out-bracket game. The only tougher draw in the field is Ossining #ToughBreak
HM PANAS – Who's to say the 10th-seeded Panthers (10-10) can't edge their way past No.7 Ardsley and suit up for a quarterfinal matchup with Somers and a Final 4 berth on the line.
HM LAKELAND – 15th-seeded Hornets (8-12) have played everyone as tough as possible and might give Somers fits in opening round should they survive outbracket vs. No.18 Nyack. If ya don't believe me, believe the ridiculous numbers put up by Hornet F Alexa Cole: 20 points in win over Suffern; 27 in 59-54 OT loss to Somers and 26 in 56-40 loss to Brewster.