Gilbert Extends Olive Branch as He Takes Office in Yorktown
We are part of The Trust Project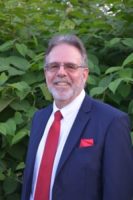 Ilan Gilbert was sworn-in as Yorktown's 61st supervisor in the town's 230-year history on New Year's Day before more than 150 family, supporters and well-wishers who crammed into Town Hall.
Gilbert, a former town justice who ousted three-term Supervisor Michael Grace in November in a Democratic board sweep that also included Councilman Vishnu Patel being reelected to a third four-year term and former Town Clerk Alice Roker earning a first term as the top vote-getter, credited his late parents with instilling in him a value system "that is at the core of who I am."
Despite the noticeable absence of Republican councilmen Tom Diana and Ed Lachterman, Gilbert stressed the need for the board and community to work together to get things accomplished.
"Even though we have a divided board we will work together," Gilbert said. "I intend to be the supervisor of all of Yorktown. The citizens of Yorktown deserve no less. I want to challenge the cynical notion that we are a town divided. Every town has their issues and problems. If we work together we can find solutions. I want to end partisanship, the us vs them mentality. All it takes to fix it is goodwill and an open mind."
Roker, who in 1990 was elected as the town's first Democratic town clerk, a post she held until she retired in 2005, offered similar sentiments after she was sworn-in by State Supreme Court Justice Jeffrey Cohen.
"I never thought I would be back on this side of the table," Roker said. "Never did I think I would run again for public office. It's not just a job. You're entrusting me to help create what people want. My promise is I will bring all of my experience to my new job. Above all, I will treat everyone with respect and fairness and I will listen. We should all have a hand in moving this town forward. I look forward to this journey."
Patel said 2018 would be a year of hope and optimism and a year in which residents "will begin making the important decisions that will shape our future as a community."
"I am hopeful and optimistic about the new year because I have enormous faith in the wisdom, intelligence, and ability of the people of Yorktown to be active partners with us in town government," Patel said. "Your Town Board will make decisions openly and not in secret. When we face controversial issues, we will ask what you think and we will take your ideas seriously before we make decisions. We will never withhold information. We will keep you fully informed so that you will be able to make intelligent choices to let us know what you want us to do."
"At a time when our national government is paralyzed by extreme partisanship and even hatred for those with different points of view, we can make Yorktown a shining example of the good that can happen when a government is inclusive and open, puts partisanship aside, and acts for the good of all the people and not for narrow partisan advantage," Patel added.
Also taking the oath of office were Highway Superintendent Dave Paganelli and Town Justice Sal Lagonia, who were both reelected.
"This is not about winning a race. This is about serving the public," Lagonia said.