GHVBL Championships Tugged on All Emotions
By Ray Gallagher, Examiner Sports Editor @Directrays
There were screams of joy and moans of agony coming from every direction. Angst, euphoria and intensity filled the air in and around Rogers Park in Danbury where more than 80 teams, from 8U to college, challenged for supremacy in the Greater Hudson Valley Baseball League last weekend.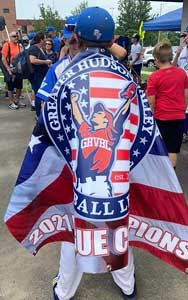 GHVBL founder David Zaslaw was shot (not literally) before the tournament's first pitch Saturday morning, due to the multitude of drama surrounding the leagues, the scheduling, the umpires, the merchandise, the medals and what not. It was quite the endeavor, for sure, but when all was said and done there were indelible happy endings mixed with fleeting moments of disappointment; depending on which side you were on. But, man, was it worth it, and, best I could tell on Day 1: Everybody was on their best behavior!
There's nothing quite like an impressionable youngster looking into the eyes of his coach while he awaits a high-five from a kid that desperately needed one after coming through when it mattered most, which is what we witnessed in a 9U game between Cortlandt and Briarcliff when lefty slugger Jackson Urezzio clubbed a walk-off double to cap a 16-6 Nationals win over the Bears.
Then, there are kids who hold themselves to the highest standard imaginable; like Putnam Valley P Logan Moriarty, who fired six innings of magnificent baseball to lead the 11U PV Miners to the first D-1 GHVBL title in town history. Backed by steady SS Matt Quinn and 2B Roman Catalano, Moriarty was near flawless for the second-seeded Miners, who toppled No.1 Danbury, 10-1, on their home turf. Ya' gotta love when it all comes together for a team that has put in the time and challenged itself to go where no team before it has, and Moriarty, who sets a high bar, cleared it sufficiently.
"We could've stayed down in lower divisions and won or challenged for a championship every year, but what's the sense in that," Miners co-coach Mike Quinn said between the lines before his team erupted off Danbury's ace. "We decided to challenge ourselves, and win or lose today, it's been a great season for these kids. We're always going to challenge ourselves and we see great things ahead for this group of kids."
You also got the sense that Cortlandt, and more specifically, Hendrick Hudson High, has a bright future after the Nationals delivered three GHVBL titles, including a 9U, 15U and a varsity D-2 championship last Saturday. Hen Hud Coach Van Vourliotis isn't messing around. He's a varsity coach that has taken to his program, so much so that he's leading them through the dog days of summer by coaching his 15U team to a 7-5 GHVBL title win over the CT Rangers.
So, we all need a feel-good story these days, and you'd have to feel pretty good for the Lipton family out of Cortlandt after their sons, Max, the winning pitcher in the 15U championship game, and Noah, the winning pitcher in the varsity tournament, each led their respective teams to a title. Max, a 2024 Hen Hud grad-in-waiting, went 5 2/3 innings with 7 K's. Not to be outdone by his little brother, Noah Lipton, just a few hours later, buoyed by an Alex Jankowski (Panas) two-run bomb, pitched his Cortlandt National varsity team to their championship with a complete game shutout on seven K's for Coach Mike Vaccaro's Nationals. Something tells me the Lipton's feasted somewhere between the CT border and Montrose, which brings me to my buddy, Bruce Fulgum, the owner of Fulgum's Bar & Grill across the street from Hen Hud High.
You hate to end on a down note, but Juicy Brucey is a fixture in the Hen Hud community, a man who set the Sailor parquee on fire before the three-point shot was even invented. On August 6th, a terrible tragedy occurred in Coachlight Square in Montrose when a fire started in one unit and quickly spread through the rest of the building where the Fulgums resided. All units were destroyed, leaving multiple families homeless and in need of EVERYTHING! This close-knit community will take care of its own, but anything you can donate to the Coach Light Fire Fund will be greatly appreciated. (www.gofundme.com/f/coachlight-fire-fund).