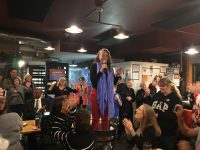 Ossining Mayor Victoria Gearity convincingly defeated Trustee Omar Herrera Tuesday to earn a third two-year term leading the village of almost 30,000 residents.
 According to unofficial results tallied by Gearity's campaign team at Sing Sing Kill Brewery on Spring Street, Gearity won all 30 election districts in the village and had more than a 2,000-vote advantage.
 "This is a mandate," Gearity declared to a throng of supporters that included State Assemblywoman Sandra Galef, Ossining Town Supervisor Dana Levenberg and Westchester County Legislator Catherine Borgia. "What this shows is this community wants to work together to keep doing great things for Ossining."
Gearity narrowily defeated Herrera in September in a Democratic primary but Herrera opted to continue his quest to unseat Gearity by running on the Working Families line. The mayoral seat in the Village of Ossining carries with it an annual salary of $15,000.
Speaking to about 100 supporters at Karma Lounge and Restaurant on Main Street, Herrera said his "One Ossining" effort led to the highest voter turnout in the history of Ossining.
"This has to be celebrated. We changed politics as usual and we did it on a third party line," Herrera said. "We started a movement that challenged the institutionalized Democratic Party in Ossining. You can't say we're united until we address what divides us. This is the new Ossining normal today. A community that is going to be asking questions, that is going to want explanations."
Deputy Mayor John Codman III, who did not seek reelection after being snubbed by the Democratic Committee and will be replaced on the board by former Trustee Manuel Quezada (who was elected in an uncontested race with Trustee Rika Levin), said, "Omar inspired all of us."
"What has happened is he changed politics forever in Ossining," Codman said.
At Gearity's victory celebration, Levin said, "I'm looking forward to working in a more civil tone."
One clear difference between Gearity and Herrera was their positions on the Emergency Tenant Protection Act (ETPA). Herrera, along with Codman and Trustee Quantel Bazemore, supported the adoption of EPTA in the village a few months ago, while Gearity and Levin opposed the measure.
"ETPA is about giving Ossining residents freedom to stay," Herrera said. "I freely admit that ETPA is not a perfect solution by any means. We need to do more, much more, to ensure that Ossining remains a great and affordable place to live. But I know that ETPA is one important step in the path to creating the stable Ossining that we will all benefit from. ETPA will give some of our current residents the freedom to stay here in the community that they love. That's never a bad thing."
"The intentions of this program are good for Ossining—keeping the village affordable and protecting tenants. Unfortunately, in practice, ETPA has too many unintended consequences that will be detrimental for the majority of Ossining residents—homeowners, small businesses and tenants alike," Gearity said. " It also undermines the progress we've been making on upgrading substandard housing—which is one of our greatest housing challenges."