Galef to Retire From State Assembly at End of the Year
We are part of The Trust Project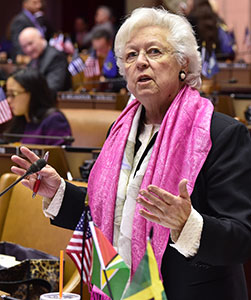 As Assemblywoman Sandy Galef looks back on what will be 30 years in the state Assembly, she will tell you just how much the political landscape has changed.
On Monday, Galef announced she was retiring from public office at the end of 2022.
For the last year, Galef, like most state representatives, have worked remotely because of the pandemic. That, in part, contributed to her decision against seeking re-election in November.
"I didn't go to Albany at all last year and got more bills debated on and passed via Zoom. It made me reflect on how it divided me from the Albany experience," said Galef, a longtime Ossining resident who serves the 95th Assembly District. "Going forward, I am 82, very healthy and have lots of energy."
Galef, who was first elected to the state legislature in 1992 after serving 13 years on the Westchester Board of Legislators, reflected on major changes during her tenure including the traditional political control forcing representatives to "follow the leader."
"When I first started in Albany it was so leadership driven," she said. "We were told what was decided and how we had to vote. That's not why I was there."
After winning 15 consecutive elections to the Assembly, there will likely be multiple Democratic competitors seeking the nomination this year. Hours after making her announcement, former Peekskill mayor Andre Rainey announced his candidacy for the seat.
Trying to buck the machine, Galef recalled being involved with an attempted coup to oust then-Assembly speaker Sheldon Silver, a longtime powerful official in state politics who was later convicted for accepting millions of dollars in bribes.
"It really has changed with Speaker Carl Heastie," she said. "He reaches out to us all the time and we all feel very engaged."
Galef said early on it was rough learning the rules and regulations of how bills became laws. Among the innumerable bills she was happy to pass was one signed into law by then-Gov. George Pataki requiring the state to pay taxes on property it owned in Putnam County. Another piece of legislation she was proud of was an amendment to make the state constitutional a gender-neutral document. The amendment got high praise from Judith Kaye, the state's chief judge.
"The constitution was all about men and I had a little problem with that," Galef said.
The ongoing saga of Indian Point nuclear power plant was always on her desk.
"Indian Point has been an issue forever," Galef said, whether it was generator problems, equipment failures or September 11 terrorist planes flying right over the plant. Everyone was always anxious and the emotions went up and down for all these years."
Several local officials, all of whom served with her, had high praise for Galef on Monday. Westchester County Executive George Latimer, whose time on the Board of Legislators and the Assembly overlapped with some of her service, said that Galef has redefined what it means for an elected official to be approachable. As a result, she has been able to represent her constituents well because they were able to reach out to her as were her legislative colleagues.
Latimer did not rule out trying to coax Galef out of retirement in some capacity.
"I think Sandy is going to be remembered by those of us who served with her very fondly," Latimer said. "She's still an active person in society, and frankly, I'm going to give her a call to see if there's a role for her to play in county government in some way shape or form because of her talent and her interests and her abilities."
Assemblyman Tom Abinanti (D-Pleasantville) also served with her at the county level and the last 11 year in Albany. He called her "a great legislator."
"She's been an independent legislator who puts principle over party and did what was right for her community over the pressures of political expediency," Abinanti said.
A Republican colleague, Assemblyman Kevin Byrne (R-Mahopac), also praised Galef. The two co-sponsored multiple pieces of legislation giving sometimes needed bipartisan support.
He remembered that when he was first elected, Galef welcomed him.
"We belong to different political parties and have strong ideological differences at times, but that never prevented us from finding ways to work together constructively," Byrne said.
Galef also served as president of the New York State Association of Counties and was chair of the Welfare and Medicaid Steering Committee, among many other posts of distinction.
The 95th Assembly District currently covers Cortlandt, Ossining, Kent, Philipstown and Peekskill.
Martin Wilbur contributed to this article.