Galef Backs Cortlandt's Efforts for Median on BMP as Another Motorist Dies
We are part of The Trust Project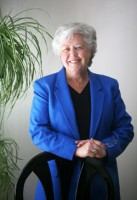 State Assemblywoman Sandra Galef (D/Ossining) has lent her support to the Town of Cortlandt's efforts to have the state Department of Transportation install a median on the Bear Mountain Parkway.
Meanwhile, a fourth driver was killed in an accident on the roadway on July 8, prompting Cortlandt Supervisor Linda Puglisi to once again urge state officials to make the barrier project a priority.
"They have to take action," Puglisi said. "We're not going to give up."
The latest fatality occurred when James Parker, 47, of the Bronx was apparently traveling east on a motorcycle heading at a high rate of speed, according to State Police, when he crossed the double yellow line and slammed head-on into a minivan. Parker later died of his injuries at Hudson Valley Hospital Center. The driver and two passengers in the minivan had to be removed from their vehicle by Mohegan Lake firefighters and were taken to Westchester Medical Center with injuries that were not considered life threatening.
Less than two weeks earlier, Puglisi held a press conference on Arlo Lane off the parkway with Carol Wilson, mother of a 27-year-old Peekskill resident who was killed last December in a car that was struck by another vehicle that crossed into his lane. LaMarr W. Barnes, a father, was a passenger in the car.
Wilson and Cortlandt officials have been collecting signatures on petitions calling for the DOT to construct a median. More than 1,500 signatures were obtained and sent recently to DOT Commissioner Joan McDonald and elected officials.
One of those officials, Galef, penned her own letter to McDonald, describing the situation as a "critically important safety concern in the 90th Assembly District."
"I am alerting you to a continuing and serious concern on a state road in my district that is narrow, winding and dangerous," Galef wrote. "Ways to improve safety on this part of the Bear Mountain Parkway in Cortlandt have been discussed for many years, yet no final solution has as yet been provided."
In addition, Galef reiterated a recent quick response the DOT had to a fatal accident near the Bronx Zoo in April, in which the state agency announced that a concrete barrier would be installed in the area three days after seven people were killed.
"I am aware that there are funds available for emergencies, and also that there have been plans developed for this road (Bear Mountain Parkway) to mitigate accidents," Galef stated. "Could you please let me know what serious proposals currently exist to address safety on the Bear Mountain Parkway in Cortlandt and what kind of timeline DOT has outlined to accomplish these necessary fixes?"
The DOT has publicly stated its plans for the Bear Mountain Parkway are to reconstruct the interchange of the roadway and Route 6, where the motorcycle accident took place, in 2017. That project would only include a concrete median on a short section of the parkway. The DOT has also stated that accident data on the Bear Mountain Parkway does not justify a median along the entire parkway.