Funding for State Education Foundation Aid Hits Record $34B
We are part of The Trust Project
By Abby Luby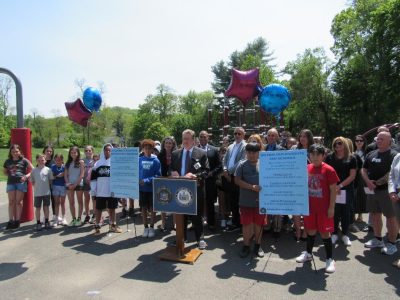 State funding for public schools reached a milestone when New York allocated more than $34 billion of the Fiscal Year 2024 budget to schools across the state.
The sum that will be disbursed represents about a $3 billion increase over the current school year, marking the most school aid ever delivered from the state in one budget.
Since Foundation Aid was created in 2007, this is the first time it has been fully funded, accounting for $24 billion of the aid for 2023-24.
Announcing the record level of state funding last week at the Roosevelt Elementary School ball field in Ossining was state Sen. Peter Harckham (D-Lewisboro) and Assemblywoman Dana Levenberg (D-Ossining).
Surrounded by 30 fifth-graders with balloons and signs, Harckham and Levenberg were joined by Ossining Superintendent of Schools Dr. Raymond Sanchez, Peekskill Superintendent of Schools Dr. David Mauricio and a host of members from each district's school community. A group of fifth-graders included members of the student council, students in the group My Brothers Keeper and members of afterschool equity programs.
"Today we are here to celebrate a milestone in the fight for educational equity," Harckham said. "A fight that started decades ago with the Campaign for Fiscal Equity suing New York for not living up to the mandate that resulted in Foundation Aid."
Harckham explained that Foundation Aid, the state's main funding source for school districts, was adopted by the state to level the playing field using a formula to provide money based on a district's socioeconomic needs creating glaring inequities. In some previous years, some needier school district would often receive less than 50 percent Foundation Aid while there were wealthier districts that would receive more than they should have been allocated, he said.
"The problem was (full Foundation Aid) was never realized. The former Senate and governor felt education funding was fine," said Harckham who referenced years of advocacy groups trekking to Albany, sitting on the Capitol steps and protesting in hallways. "All the parents and advocates fought tooth and nail for their fair share."
"This money will be put right back into the classrooms," Levenberg added.
Ossining and Peekskill are among the 18 school districts in Harckham's 40th Senate District. Those 18 districts will receive a combined $541 million in total school aid for 2023-24, an increase of $86.1 million over the current year's funding.
Ossining schools is slated to receive $53.2 million in total aid, an increase of $11.3 million over the current year. Ossining Foundation Aid will be $37.1 million, a $12.1 million increase.
Peekskill schools will see $65.9 million in school aid, a bump up of nearly $10 million. Peekskill Foundation Aid will be $51.4 million, an increase of $10.2 million.
State funding will be used for new programs in the upcoming 2023-24 school year. Of the $150 million to fund statewide universal pre-kindergarten programs, 13 school districts in Harckham's Senate district will receive $19.6 million that will enable schools to create 758 new slots. Several districts already have pre-k programs in place.
The state awarded $135 million to cover school meals, which will help expand access to breakfast and lunch in Ossining, Peekskill and elsewhere.
Funds will also help create more social-emotional and mental health-related programs, add more special education teachers and English New Language programs and reduce class size.
"We often talk about being equity warriors and dismantling inequity within our sphere of influence," Sanchez said. "It's more than just the money, it's all about opportunities for children. The money that has been allocated will be going to support our teachers, our children, provide programs with more mental health services."
Mauricio thanked everyone who helped secure full Foundation Aid.
"The impact of this funding is monumental for the Peekskill City School District in supporting our vision and in keeping Peekskill's promise to our children," he said.
In New York State as a whole, about 40 percent of education funding comes from the state in the form of grants and formula aid, which includes Foundation Aid. About 56 percent of education funding is derived from local revenues, such as property taxes, while 4 percent comes from the federal government.