Fulgenzi: 'We'll Be Fighting' JCCA Over Migrants; Threatens Lawsuit
News Based on facts, either observed and verified directly by the reporter, or reported and verified from knowledgeable sources.
We are part of The Trust Project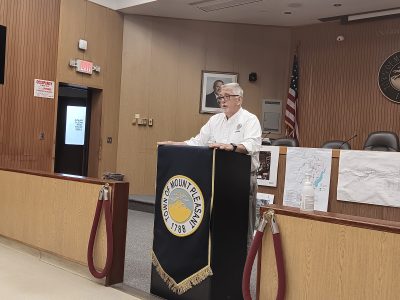 Mount Pleasant officials renewed their battle with the Pleasantville Cottage School after Supervisor Carl Fulgenzi said the town issued a stop work order because of unauthorized refurbishment of its cottages in preparation to house migrants.
Fulgenzi said last week that shortly before the Labor Day weekend town Fire Inspector John LaVecchia brought him onto the JCCA's Broadway campus to show him the ongoing plumbing and electrical work on an undetermined number of cottages. He said he also saw the installation of brand-new granite kitchen countertops and stainless-steel appliances.
Fulgenzi said he is certain that the JCCA is "remodeling these for migrant families." He warned that if any migrants should arrive at the site, the town would "definitely" launch litigation.
"This Town Board is not going to just lie down and let it happen," Fulgenzi said. "We'll be fighting this all the way."
Multiple calls placed to Mount Pleasant Building Inspector Sal Pennelle as well as a message left for LaVecchia for more specific information related to the town's allegations were not returned.
The latest spat comes after a summer of escalating tension between the town and the JCCA. On May 26, Fulgenzi issued a state of emergency, one of three towns in the state to take that action, shortly after he said he was tipped off by someone that the Cottage School was prepared to accept migrants. He said that having migrants at the facility would tax the town's resources, including the police department.
In July, Fulgenzi called for the facility's closure because there were well over 400 calls to Mount Pleasant police from the Cottage School during the first six months of this year, including for repeated violent incidents. Then last month, town officials publicized the JCCA's jobs listings where the agency was looking to fill five positions to work with unaccompanied minor children.
The Examiner twice reached out to the JCCA for comment last week regarding the latest round of allegations from the town, but was rebuffed both times.
Fulgenzi questioned why the JCCA or the state was going to the expense of putting in new appliances and workspaces if it were only for children and not families.
"Why would you put in such a facility for children?" Fulgenzi said. "If you're going to do just for children then you have bunks and all of that and you have a place for them to go to eat, a cafeteria."
Last week Fulgenzi took it a step further, accusing the JCCA as well as the state agency overseeing the Cottage School of being untruthful when the town confronted them about whether migrants would be housed at the site.
"They were remodeling these for migrant families," said Fulgenzi who reiterated his claims during a Saturday mornings residents' forum at Town Hall. "So we were lied to from Day One, (JCCA CEO and Executive Director) Ron Richter, all of them. They sat here, they were all B.S.-ing. Nobody would ever admit that that's what this was for."
Another of the town's chief concerns was safety on the campus.
The state Office of Children and Family Services (OCFS), which has regulatory authority over the facility, said any children who are housed there will be in a safe and supportive environment.
"The health and safety of these young people, as well as that of the surrounding community, remain a top priority for our agency," said OCFS spokeswoman Karen Male. "OCFS has and will continue to meet with State and local officials, as well as stakeholders, to explore all options to provide vulnerable youth with an environment in which they can flourish."
She said that JCCA is expected to comply with any local zoning and permitting requirements, and that the department would also make sure any work is in compliance with its standards.
One person willing to step into the fray was Mount Pleasant Democratic Chair Tom Abinanti, who accused the supervisor and others on the all-Republican Town Board of trying to rile up his political base in time for the November election.
Abinanti said the children who will be arriving are "pawns in their political game to bolster their chances for re-election by distracting from their failures in the town."
"They're trying to create a culture war to excite their base and distract from their failed administration that's not responding to the real needs of the people of Mount Pleasant," he said.
Abinanti took Fulgenzi to task for likely trying to organize a rally outside the JCCA's gates on Broadway last Wednesday evening, even though it was organized anonymously. The Examiner was told by another source that less than 10 people showed up, none of them with signs.
Fulgenzi said representatives of the state Office of Children and Family Services, which regulates the facility, wanted to meet with him alone. He said he insisted on having Councilwoman Danielle Zaino, Police Chief Paul Oliva and Town Attorney Darius Chafizadeh, but the agency balked.
Zaino said she had no interest in sitting down with them or the JCCA to "waste an hour of my time to be lied to." Some members of the community are twisting the circumstances to fit their narrative, but the campus is a dangerous place, she said.
"You go up there 2 o'clock in the morning and you have 12- and 13-year-olds running around campus with no staff," said Zaino, who co-founded Coalition for a Safe Mount Pleasant in 2016. "You have kids for a year, they haven't gone to school. I, as a mother, would be charged with neglect. Why are they allowed to neglect these kids?"