Foxes Fall to Somers/North Salem Despite Bunyan's Heroics
We are part of The Trust Project
Fox Lane hockey coach Charles Berger is convinced there isn't a better goalie around than the one he sends onto the ice for each game.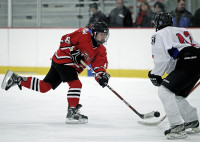 On Sunday evening, at Brewster Ice Arena, Fox senior Conor Bunyan showed just why his coach has so much faith in him, stopping one shot after another during a constant third-period barrage by host Somers/North Salem.
"If anyone has any doubt that he's the best goalie in the section," said Berger afterwards, "just come to one of our games."
Unfortunately for the Foxes, though, their recent scoring woes continued as they dropped a 3-1 decision to the Sabers. Outshot by Somers/North Salem by a whopping 42-13 margin, the Foxes, thanks to Bunyan,  were still within one goal until an empty-netter with 46 seconds remaining sealed the outcome.
"I really hope he gets all-section this year," said Berger about Bunyan, who turned aside all 19 shots he was peppered with during a dominant third period by the Sabers. "I think the kid deserves it."
The Foxes, now 5-7-1 this season, suffered their fourth consecutive loss despite getting on the scoreboard first. Ryan Kelly ended a long scoring drought for the team, assisted by both Blaze Vogliano and Harrison Morell, when he converted in traffic just three and a half minutes into the contest. But the Sabers tied the game just 21 seconds later on a goal by Wilson McCloy.
"That's very frustrating," said Berger of his team's inability to maintain the lead for long. "It felt great to get that goal. We hadn't scored a goal in nine periods, worked hard to get it. I thought we were turning the corner, and that's just a great job by them coming right back down the ice and scoring. Took all the wind out of our sails. That hurt."
It also hurt when the Sabers' Kyle Hanszer took the puck away in the neutral zone and put a shot past Bunyan for the go-ahead goal exactly five minutes into the second period.
"That happens," said Berger of the giveaway goal. "But I mean, defensively, we played well enough to win. We allowed two goals against a very strong Somers team. We've gotta win this game."
An opportunity to get even slipped away 90 seconds into the third period when the Foxes' Jack Alexander nearly capitalized on a breakaway chance along the right wing. But he was stopped from behind before he could get a good shot away from point-blank range.
"It's a designed play and it just kind of went a little too far ahead of us," said Berger. "It's a great effort on  Alexander's part and the puck just didn't go in for us tonight. We've gotta find a way to make it go in. We had chances to score and we didn't capitalize. That's what it came down to tonight."
Alexander's bid to tie the game was the last gasp for the Foxes as Somers/North Salem controlled the puck the rest of the way, outshooting the Foxes 20-4 in the final period. Bunyan turned aside each shot he faced, thwarting the Sabers over and over, but he was pulled for the extra skater with a minute to go. Moments later, David Rubinstein broke free along the right wing and deposited an insurance goal into a wide open net.
"The guys battled, but Somers was just too much," Berger said. "I tip my hat to them. Holding us to 13 shots is impressive. That's not gonna get it done on our end."
-Andy Jacobs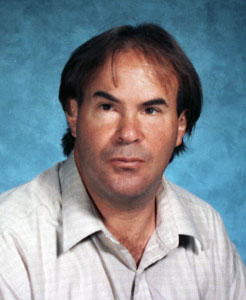 Andy is a sports editor at Examiner Media, covering seven high schools in the mid-Westchester region with a notebook and camera. He began there in the fall of 2007 following 15 years as a candid photographer for the largest school picture company in the tri-state area.
Read more of Andy's full bio here.
Read Andy's archived work here.