News Based on facts, either observed and verified directly by the reporter, or reported and verified from knowledgeable sources.
Four Local Hoops Lovers Hold Tourney to Help Mt. Kisco Food Pantry
We are part of The Trust Project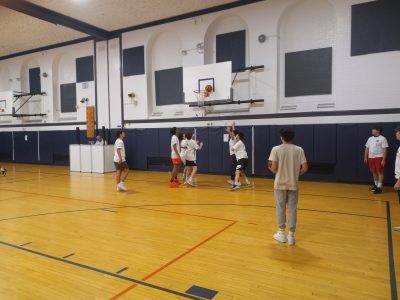 Since he was small, Jared Saiontz and his family have done their best to make sure the Mount Kisco Interfaith Food Pantry is well-stocked to help local residents in need.
Saiontz, now a Horace Greeley High School freshman, was born with 26 food allergies. During the pandemic, when pantry use skyrocketed, including by people who never thought they would ever have to visit a pantry to help feed themselves, his attention turned to assisting others who, like himself, needed to remain vigilant with their food choices because of allergies.
Last Sunday afternoon, he and three friends – freshman Alex Horowitz and sophomores Jordan Kintslinger and Justin Gostfrand – organized a 3-on-3 youth basketball tournament called Hoop to Pack the Pantry at Chappaqua's Robert E. Bell Middle School for local youngsters in grades 5-10. The goal was to raise money to help the Mount Kisco pantry acquire allergy-friendly food. In some cases, participants and others who attended also donated appropriate food items.
For four guys who love basketball, it was a perfect way to have some fun and help an area pantry that for more than 30 years has provided nourishment to families that need assistance.
"(We) decided we all wanted to do a basketball tournament because we all play basketball and a bunch of people in town all play basketball, and we thought it was a good idea to raise money that way," Saiontz said.
During the first two hours, three-member teams of both boys and girls in grades 5-8 competed against each other followed by high school freshmen and sophomores in the second half of the event. There was a $25 entry fee for every participant, but some gave more, Horowitz said.
Sponsors, including some local businesses, also donated generously to the effort.
In each of the two different sessions, there was a round robin, with games decided when one team reached seven baskets or 10 minutes elapsed, whichever happened first.
The top teams in each would then face each other in playoff rounds.
Several years ago, another Greeley student held a basketball tournament to raise money for a different organization and the four student organizers thought that was a fun and exciting opportunity.
"We wanted to continue that but with our own cause and we thought it would be a good idea for the allergies, for people who suffer a lot of allergies because one of us has allergies," Kintslinger said.
Best of all, was the money and food that was collected from the event. About midway through the afternoon, Saiontz's mother, Stacey, said they hit the $10,000 mark in addition to food donations.
"So they're going to be able to pack the pantry with allergy-friendly food for the entire year," Stacey Saiontz said. "So they're really excited about that and it's nice to see that they're showing concern about everyone in their community."
Sharon Seidell, the president of the Mount Kisco Food Pantry's Board of Directors, said of the tens of thousands of people who visited the pantry last year, a relatively small number need allergy-friendly food.
But for those who are beset with allergies like Saiontz, the pandemic and now steep inflation over the past year affects their pocketbook just like everyone else.
"They've done a great job," Seidell said of the boys. "They've raised a lot of money and they've also raised awareness for people with food allergies and they need help also."
In 2022, there were nearly 78,000 people who were served by the pantry's twice-weekly distributions, up about 25 percent from 2021.
The Mount Kisco Interfaith Food Pantry is located at the United Methodist Church at 300 E. Main St. in Mount Kisco. For more information, call 914-610-5187, visit www.mountkiscofoodpantry.org or e-mail outreach@mountkiscofoodpantry.org.