Former Supervisor Questions Lone Interview of Goldberg
We are part of The Trust Project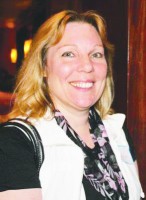 A member of the North Castle committee that was formed to recommend candidates for town administrator said the selection of Yorktown comptroller Joan Goldberg to the position was "a done deal" before others could be considered.
Former town supervisor Reese Berman said last week the committee met twice–once on July 14 to work on the job description and again on August 14 to interview Goldberg. Because of personal schedules and commitments, the original six-member committee was unable to meet as a full group, she said. Town officials later added Assistant Water Superintendent Sal Misiti to the committee.
"I felt very much it was already a done deal," Berman said. "That's the way I felt."
Berman, who stressed that she was speaking for herself and not for the entire committee, said Supervisor Howard Arden was eager to see the position filled quickly.
She said her comments were no reflection on Goldberg, Yorktown's comptroller for the past 16 years. Berman concurred with the town board that Goldberg was a strong candidate, however, with the administrator's opening being filled for the first time in the town's history it was critical that the person succeeds.
"She made a good impression on us," Berman said. "I don't want to say otherwise. She had a good interview. The concern was that if you don't go through with the process how do you know whether there is someone equally good, if not better, out there."
The process of how the North Castle Town Board selected Goldberg was a point of contention at the board's special meeting on August 28 where it unanimously made the official appointment and that of the town's new comptroller Faith Berland. Goldberg takes over the post on September 17 with a two-year contract paying her $135,000 a year. Berland will start a week earlier for an $80,000 salary.
Several residents questioned why officials were in a rush to fill the administrator's position when it is one of the most important hires the town board has faced. Armonk resident Steve Schneider said a simple computer search on Goldberg turned up "red flags" surrounding her pending departure from Yorktown.
Goldberg had a falling out with new Supervisor Michael Grace and a majority of the Yorktown Town Board, which voted in May to have her resign. Goldberg has remained in her position since that vote.
"(With) these flags, I don't know if I can completely trust that person to give me an honest appraisal of what happened," Schneider said.
However, Arden defended the decision to hire Goldberg without considering other candidates because of the strong qualifications she possesses. He said she and Berland will make an excellent team, each with a substantial financial background. Goldberg has a master's degree in public administration, manages a staff of about five people and for the past five or six years has had an expanded role in the operation of the town.
Arden also said that he trusted his level of business experience to recognize a strong candidate for a job as well as the judgment of the remainder of the town board who all agreed that Goldberg was an excellent choice.
"Yes, we would have liked that luxury of maybe prolonging this exercise," Arden said. "Frankly, I think some people like to prolong the exercise. But we had an audit that started (last Monday) from the state comptroller's office, we have other items that need to be attended to and we've been without a comptroller for several months. We came across a combination of talent that I think is really unusual and rare to find available."
The employment contract enables the board to terminate Goldberg for cause, he added.
While Councilman Michael Schiliro said he enthusiastically supported Goldberg's appointment, he also made it clear the committee had little to do with her hire.
"I know the committee had hoped to have a more significant role in interviewing candidates and making a recommendation to the board," Schiliro said.
Despite questions surrounding the process Councilwoman Diane DiDonato-Roth said it was critical that the new administrator receive unanimous backing from an often divided town board.
"We're here to hire absolutely the best people we can because the better they do, the better we do and, in turn, the better the town does," she said.
Meanwhile, Yorktown Councilman Nick Bianco, who failed to have the votes to retain Goldberg, said the board majority that voted to oust Goldberg has had trouble finding a replacement. In its interviews for a new comptroller, he said the board hasn't located any viable candidates despite a series of interviews.
"They played Russian Roulette with the town's finances and they got hit with a bullet," Bianco remarked.
Goldberg will receive about $80,000 in unused vacation and sick pay upon her departure from Yorktown, he said.
Goldberg and Berland will be introduced to North Castle at the town board's next meeting on September 12.