Former Supervisor, Prominent Attorney Al Capellini Dies at 75
We are part of The Trust Project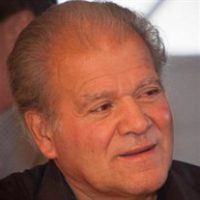 Albert Anthony Capellini, a former supervisor in the Town of Yorktown, a prominent real estate attorney and an active community volunteer, died April 12 from complications from cancer. He was 75.
Flags at Yorktown Town Hall, the Yorktown Fire Department and Yorktown Police Department were flown at half-mast in Capellini's honor, and thousands of people paid their respect for two days at Yorktown Funeral Home.
"My dad was an intensely private person. He had no ego," said Jeffrey Capellini, one of his two sons. "My dad was the kind of guy who had 25 best friends who he treated the same and they all loved him. He was considered to be one of the most gentlemanly man there ever was."
Rich Leahy, owner of Atlantic Appliances, was a close friend of Al Capellini for more than 40 years and remembered him as "a stand-up guy."
"He was the most generous guy I have ever met," Leahy said. "He really thought about other people so much. He would do anything for anybody. He was a really good friend."
Mr. Capellini was born on October 17, 1942 in Manhattan and grew up in Harlem before attending high school at Mount St. Michael Academy in the Bronx. Always fascinated with history and the law, he attended Fordham University, graduating in 1964 with a B.A. in political science. He then attended Columbia Law School, earning his L.L.B. in 1967. He then returned to Fordham, where he pursued a Ph.D in political science. He was awarded an M.A., before taking on a higher obligation as an assistant district attorney of the Bronx, a position he held until 1974.
Three years earlier, he and his wife, Rosanna, moved to Yorktown Heights in Westchester County. In 1975, Mr. Capellini was elected to the Yorktown Town Board. During his year on the council he also taught political science and government at New York Institute of Technology. In 1976, he was elected as supervisor of Yorktown. For the next four years, he served the community, successfully navigating the town through some difficult economic times.
Once his four-year term as supervisor ended, Mr. Capellini ran for state Assembly and eventually opened a real estate law practice in Yorktown Heights. He served the needs of his clients faithfully and ardently for 38 years. Throughout the last four decades, he represented his clients effectively in front of the Yorktown Town Board, Planning Board and Zoning Board of Appeals.
"I have known Al for the good part of three decades and we all know him as an outstanding attorney, advocate, public servant and member of our community but for me he was so much more. Al was a very dear friend and confidant," said former Yorktown Supervisor Michael Grace. "I treasured his company, his counsel and his friendship. I will truly miss him. He was a truly exceptional person, one of a kind. We pray for his eternal peace and for his family."
Current Yorktown Supervisor Ilan Gilbert also remembered Mr. Capellini fondly, saying "I wish I didn't have to express these words of sorrow, but Yorktown has lost an unassuming giant. A gentle soul but a powerful advocate. Al was a man who loved Yorktown and who served as Supervisor. In his later years when he was the go-to-guy for many citizens and developers as an attorney, he still had the well-being of Yorktown at heart. I will miss him as a good friend and mentor."
The accolades Mr. Capellini received for his service to his community over the years were numerous. Among them: he was a former president of the Lions Club, and was named Lion of the Year in 1984/85 and a Melvin Jones Fellow in 1990. He was a founding member of the Circolo da Vinci Italian-American Club, holding the title of president in 1989. He was named Person of the Year by the Yorktown Democratic Club in 1999, Business Person of the Year by the Yorktown Chamber of Commerce in 2004, and was a trustee of the Jack DeVito Foundation in 2011. The Circolo da Vinci Italian-American Club will be setting up a scholarship this year in Mr. Capellini's name.
A longtime fan of his beloved New York Yankees and a former softball star-turned-bocce superstar, Mr. Capellini enjoyed spending time in the sun with his numerous loving friends and family. He is survived by Rosanna, his wife of 50 years; his sons Jeffrey (Mindy) and Terence (Nadine); grandchildren Jack and Mia; and older brother, Aldo Capellini, and his wife, Lorraine.
A funeral mass was held at St. Patrick's Church in Yorktown Heights. In lieu of flowers, contributions can be made to St. Jude Children's Research Hospital, Phelps Memorial Hospital, The Jack DeVito Foundation, or Doctors Without Borders.