Former Mayors Endorse Catalina Team in Peekskill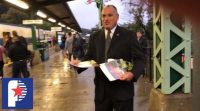 Peekskill Mayor Frank Catalina and his bi-partisan Peekskill United team picked up the endorsements last week of six of the seven living former city mayors.
All six of the former city leaders are Republicans, like Catalina. Only former Mayor Mary Foster, a Democrat who was unseated by Catalina four years ago and has been rumored to be in line to be city manager if Councilman Andre Rainey defeats Catalina November 7, was not included in a press release that Catalina termed an "unprecedented statement of support."
"For me, it was an acknowledgement of promises made and promises kept, a recognition of those who have served and know how difficult it is to get a city back on solid financial footing and stimulate smart development," Catalina said of the support given by ex-mayors George Pataki, Richard Jackson, Fran Gibbs, Vincent Vesce, John Kelly and John Testa.
"These people represent the true leadership of our city dating back over a 50-year period and I am humbled by their endorsement and support of a truly bipartisan slate of candidates," Catalina added.
Catalina is running with Councilman Joe Torres and registered Democrats, Luis Segarra and Robert Sullivan. Rainey's running mates are Democrats Vanessa Agudelo, Ramon Fernandez and Colin Smith.
Pataki, who served two terms as mayor (1981-1984) before moving on to the state Assembly and Senate and then governor, maintained Peekskill United was "poised to keep moving Peekskill forward."
"I knew the dire financial circumstance Peekskill was in when Frank Catalina ran in 2013 and knew he had a great plan to reverse the city, but I have been surprised by the dramatic turnaround in so short a period of time, just four short years," Pataki said. "We were lucky he came in when he did."