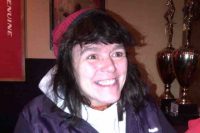 The family home of Nancy Haggerty, former managing editor of the Yorktown-based weekly newspaper North County News, was gutted by a devastating fire on the evening of October 2 on Anita Road in Granite Springs.
Haggerty, who is now employed as a sports writer with the Journal News, was working on the top floor of her home at about 9:30 p.m. when she smelled burning plastic. She went down the stairs to investigate and saw a small flame in the hallway. She called 911 and ran across the road to a neighbor to get a fire extinguisher.
"I thought it was nothing. It seemed so small," Haggerty said.
The fire, which started in the basement, quickly spread and destroyed many of Haggerty's belongings inside the brick-frame home, which was built in 1942 and has been owned by Haggerty's family since 1956. Four beloved pet cats, two of whom were born in the house, perished in the blaze.
"They were like my best friends," said Haggerty, a well-known animal lover. "I really wanted to try and save the cats."
The cause of the three-alarm fire, which took approximately 75 firefighters from the surrounding area more than three hours to extinguish, is unknown.
Friends, co-workers, former co-workers, coaches, neighbors and others have to come to Haggerty's aid in an effort to help her recover and clean-up debris. Two separate GoFundMe accounts have been established in Haggerty's name. As of Monday, 264 individuals have donated $30,345 to one account, while 94 other individuals have donated $8,450 to the other account.
"The outpouring from people has been phenomenal," Haggerty said. "They'll never know how grateful I am."
Currently homeless and living with friends, Haggerty hopes to be able to rebuild her home, which sits behind Stonewall Farm. Financial contributions to Haggerty can either be made on GoFundMe or mailed to: Nancy Haggerty, P.O. Box 162, Baldwin Place, NY 10505.