Former Greeley Teacher Charged With Improper Sexual Conduct
We are part of The Trust Project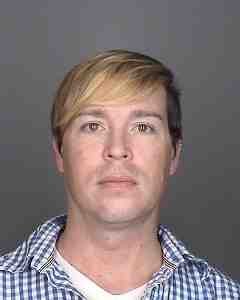 The former Horace Greeley High School theater teacher who resigned following a complaint of inappropriate contact with students was arrested this morning for having engaged in sexual assault and multiple instances of improper sexual contact.
Christopher Schraufnagel, 41, of Manhattan, surrendered to law enforcement authorities and was arraigned Wednesday morning in New Castle Justice Court on seven charges, including one felony count of a third-degree criminal sex act for having had oral sexual contact with a 15-year-old student at the school sometime between May 1 and June 24, 2011, according to the Westchester County district attorney's office.
In addition, Schraufnagel was charged with two counts of endangering the welfare of a child, a Class A misdemeanor, and four counts of third-degree sex abuse, a Class B misdemeanor.

New Castle police and the district attorney's Special Prosecutions Division conducted the investigation. Schraufnagel faces up to four years in jail if convicted of the offenses.
The district attorney's office stated that between Dec. 1 and Dec. 25, 2014, Schraufnagel asked a student to participate in a slideshow kissing every student in one of his classes while he took pictures. Another student was allegedly directed by Schraufnagel to have the same student kiss additional female students, both male and female, while being photographed.
He then publicly displayed the slideshow to a class full of students in an attempt to humiliate them, the complaint stated.
Between Oct. 1, 2014 and June 5, 2015, the defendant engaged in numerous instances of inappropriate conversations with strong sexual overtones and sexual contact with another student at the school.
Bail was set at $12,000 for Schraufnagel, a popular teacher at Horace Greeley High School for 12 years who led the theater program before his departure.
Chappaqua School District spokesman David Hayes issued a one-paragraph statement following the arrest on behalf of Superintendent Dr. Lyn McKay, calling the matter "deeply troubling."
McKay also sent a letter to families explaining the situation. She stated that in the coming weeks the school will have a dialogue with families about how they can talk to their children about the incident and what the district is doing to ensure a safe environment.
"An arrest of this nature has a profound effect on our community," McKay wrote. "We know that some students may be talking about information that may make them feel confused or anxious. Their teachers, as well as our clinical staff and guidance counselors, are well‐prepared to address their concerns. Also, they can provide additional resources for students and families."
Last June, Schraufnagel was placed on paid leave following a complaint lodged to New Castle police by a student who graduated. Last spring's theater program production was abruptly canceled about a week before the school district's action to place Schraufnagel on paid leave. He resigned from his position in early September.