Food Pantry in Mohegan Lake Seeks Donations for Holidays
News Based on facts, either observed and verified directly by the reporter, or reported and verified from knowledgeable sources.
We are part of The Trust Project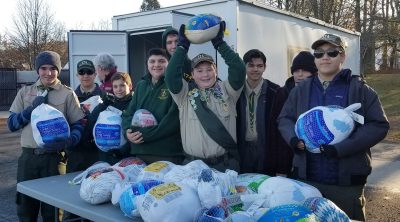 The holiday season is fast approaching, and many families won't be able to celebrate as they struggle to deal with the rising costs of daily living.
The Community Food Pantry at St. Mary's in Mohegan Lake works year-round to provide assistance to families and individuals in need, and its leaders are asking for help so those who rely on its services, including seniors, veterans and youth, won't be turned away.
"We are seeing an increased need as the prices of everything have gone up so much – food, heating oil, gas," said Cindy Secor- Smith, Warden/Director of Operations at the pantry. "Our numbers also tend to increase in the late fall as seasonal workers lose their jobs. We strive to provide a welcoming place to all in our community, especially those in need."
The Community Food Pantry provides supplemental food to more than 175 families each week, but this Thanksgiving, Secor-Smith said the pantry is expecting to serve between 350 and 375 families.
"Each family gets all of the makings for a holiday dinner," Secor-Smith said. "We are trying to get as many turkeys as we possibly can as it is a huge expense for us to make that purchase."
If the pantry had to purchase enough turkeys for Thanksgiving and hams for Christmas, Secor-Smith said it would cost between $6,000 and $8,000.
St. Mary's primarily serves the towns of Yorktown and Cortlandt and the Lakeland School District, although no pre-registration is required for anyone that needs assistance.
ShopRite provides approximately 50 bags of food weekly to the pantry. DeCicco's in Jefferson Valley donates a portion of each sale that is attributed to St. Mary's, the Yorktown Lions Club has made a large cash donation and is collecting turkeys and the Yorktown Elks Club also made a donation. Secor-Smith also mentioned the generosity of Charles Fazzino and the support of Yorktown Councilman Ed Lachterman.
Besides food, St. Mary's provides more than 250 children with basic school supplies and Easter baskets and Christmas gifts are distributed to more than 400 children.
Food for Thanksgiving will be distributed on Saturday, Nov. 18 from 9 to 11 a.m. All donations must be made by Nov. 17. For more information, call (914) 528-3972.