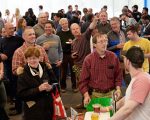 There were many good things about the Pleasantville Rotary Club's first-ever Hudson Valley Fermented last March.
Similar to its forerunner, the Westchester Wine Experience, which was held for 16 consecutive years, it brought together outstanding local restaurateurs providing delicious tastings, wineries and live music. It also raised about $15,000 for several local charities and organizations, said Henry Leyva, Pleasantville Rotary's event chair.
In hopes of freshening the event and opening it to a wider cross section of guests, craft breweries, distilleries and cideries were added in 2017, Leyva said.
On Saturday, Mar. 10, Hudson Valley Fermented returns to its host site, Pace University's Kessel Student Center, where the second year since its rebranding promises to be even better. Not only will there be great food from area establishments, but attendees will sample top-notch adult beverages from throughout the state.
"It is still very much a Hudson Valley, New York State event," Leyva said. "All the wines, spirits and beers will be from New York State and the quality just blows your mind."
A concerted effort was made to ensure that wineries are well represented, Leyva said. Last year with an emphasis on the other types of beverages, there were only two wineries at the event, prompting a few complaints from longtime fans of the Westchester Wine Experience, he said.
That will not be a problem this year. Rotary is partnering with Best Wine Purveyors on Marble Avenue by using its contacts to entice wineries from throughout the state to be on hand. Leyva said he expects about 10 wineries to attend along with seven distilleries and about a dozen breweries.
An enhanced feature this time will be the ability for visitors who may want to purchase a wine that they have tasted to arrange for a home delivery within a couple of business days, he said.
"That's going to open us up, I think, to a larger audience," Leyva said.
Another great reason to attend is some of the area's most delicious food will be sampled.
"I think it's a great opportunity for local restaurants," Leyva said. "They can introduce themselves to the community. There are so many people from Pleasantville, Chappaqua, Armonk, Briarcliff that are going to be at this event, plus regular customers, and it's an opportunity to have people taste the food before they go to the restaurant."
Last year's musical performers, the Pleasantville-based Back 2 Zero and The Michael Collins Band, have been asked to return for an encore appearance.
Also, with the Pleasantville Music Festival is a main sponsor, there will be a chance to win one of three pairs of tickets to this summer's festival.
Aside from the fun and great tasting food and beverages, Hudson Valley Fermented is perhaps most significantly about raising money for important causes. This year, there are four organizations that will be the chief beneficiaries: Food Bank for Westchester, the Pleasantville Fund for Learning, the Leukemia & Lymphoma Society and Team Fox for Parkinson's Research.
Dating back to the Westchester Wine Experience, Rotary always made certain the event, its largest fundraiser of the year, gives back to the community, Leyva said.
"What's beautiful about this event is that people step forward and kind of give selflessly, so it's fun, it's fun to be a part of all of that," he said.
Tickets for Hudson Valley Fermented, which runs from 1 to 4 p.m., cost $55 in advance and $65 at the door. For those interested in purchasing a limited number of VIP admissions that will get you in by noon, those tickets run $75 in advance and $85 at the door. To buy tickets and for more information about the event, including the establishments that will be in attendance, visit www.hvfermented.com or call 914-310-0739.
The Kessel Student Center is located at Pace University's Pleasantville campus.