Fleeting Moments, Lasting Connections: Honoring the Legacy of Robert Schork
News Based on facts, either observed and verified directly by the reporter, or reported and verified from knowledgeable sources.
We are part of The Trust Project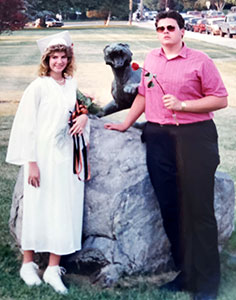 With his best friend and sister Dollyne Bohn living hours away, in Delaware County, Pa., the 2020 pandemic year was a punishing time for our late digital editor, Robert Schork.
Holed up in his Yonkers home, Robert was devastated to learn Dollyne had been diagnosed with Stage IV cancer, and given just two years to live.
But, in characteristic fashion, Robert found ways to deliver for a loved one.
Robert would mail Dollyne care packages, tailored to her needs, like hard candies to assuage discomfort caused by chemo-induced mouth ulcers.
Another medication caused Dollyne to suffer from sore feet.
"So he sent me cushy socks and whatever he could do from up there, he would send me stuff," Dollyne recalled when I phoned her last Friday. "Plus, I could call him anytime. And he offered many times if I wanted to take my phone into the doctor's office and put it on speakerphone, since he couldn't be there with me, he could be there on the phone, on live speakerphone with a doctor and listen or ask questions, what have you."
As Robert lifted up his older sister, 11 years his senior, the siblings never imagined she would be here fighting, and he'd be gone, in the spring of 2023, well after what she called her "expiration date."
Gentle Giant
Last Friday night, I was e-mailing with Robert; we were finalizing the details of that evening's Examiner+ e-mail newsletter. I gave the green light, and Robert blasted out the message.
By Saturday morning, the six-foot, seven-inch gentle giant was gone at age 51.
"In the morning, when I got up, he was having trouble breathing," his cousin Valerie Bell, who had been visiting Robert, told me in a phone conversation late last week. "Then he stopped breathing and I called 911. I'm certified in CPR. I gave him CPR until they got there, and then the Yonkers EMTs did the best they could, but they were not able to revive him."
The family later learned he died from cardiac arrest.
I know, I know, you've heard it a billion times before, we all know it already, and I'm not breaking any new ground here with what I'm about to say. But please listen up anyway, for the billion and first time. (For the record, I'm really just admonishing myself and inviting you to overhear the self-talk.)
This world can trick us into a sense of permanence. Days often unfold somewhat predictably. But then there are the moments that shatter the illusion. Moments that remind us of the delicate thread we call life, which can snap at any second.
With that in mind, I wanted to quickly make some observations about loss, and living life, in the aftermath of an unexpected, devastating death in The Examiner family.
In the wake of such a jarring reminder, after the sudden passing of our masterful digital editor, I've felt compelled to confront the fleeting nature of life, and my own tendency to take the world's precious moments for granted.
Robert taught me many lessons in recent years, and it's tough to pick an aspect to emphasize.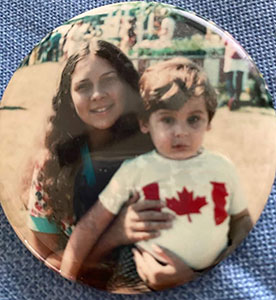 'Sneaking Suspicion' 
Although many of you knew Robert, most of you did not. So, in sharing his story, I wanted to be sure there was a larger purpose, a bit of his wisdom to pass along, to help his spirit endure, instead of just detailing my personal grief.
One of Robert's defining qualities was an insistence on fostering genuine connections with the people in his orbit. His approach serves as a useful reminder of what we all intuitively already know: the true essence of a life well-lived doesn't reside in our mundane routines or distractions. It's in the meaningful relationships we cultivate. It's in the impact we have on one another.
Back in 2021, just after initially conversing with Robert about the possibility of him joining our editorial team, I was dashing off to a brief summer vacation. Before I left, I asked him to develop a proposal for a newsletter we were retooling.
This is the message Robert e-mailed me once I arrived home.
"If you're reading this, I hope you're already back from your trip," Robert wrote.
"I purposely didn't email you anymore until now because I got the sneaking suspicion you're just like me, and you check your work email religiously no matter where you are – and so I didn't want to contribute to you not unplugging and enjoying yourself for a few days."
Robert's thoughtful consideration of others extended far beyond work matters, often reminding friends and colleagues to prioritize self-care and embrace the moments of joy that await us when we allow ourselves to disconnect.
"If he could do anything for anybody, a favor or whatever, he would do it and not look for anything in return," said Dollyne, a Garnet Valley, Pa. resident. "He was like that with friends and family."
I feel obligated to mention how Robert and I occasionally quarreled like brothers. As much as he advocated for unplugging, he was also committed to excellence, and maintained strong opinions on all manner of minutia.
He sometimes drove me bananas, and I'm certain the same could be said in reverse; navigating a close friendship and an employer-employee relationship is littered with landmines.
You truly wouldn't believe how passionately and uncompromisingly Robert argued for specific gradients of color shades when we were debating a revised logo.
And let me tell you, despite his wicked sense of humor, the man could argue straight-faced over a shade of color like it was the Battle of Waterloo for digital editorial directors. I half expected him to pull out a magnifying glass and start analyzing Pantone swatches like a detective at a crime scene.
But that was Robert. He was all in on all he valued. When I first connected with him more than a decade ago, when he was a top editor at Westchester Magazine, his passion for storytelling shone through to me right away. He cared about every word, and every aesthetic nook and cranny of every piece he ever edited.
I won't repeat all the biographical details from last week's obituary about Robert but, in a nutshell, here's a quick taste of Robert's unique biography: the NBA-tall (with no interest in sports) New York City auxiliary police officer and former boy genius magazine editor maintained a love of soap operas, Iceland, Turkish people, the Berkshires and cats.
After growing up in an aptly-named Pennsylvania town – Media, Pa. – Robert began college at the tender age of 16, at Bard College at Simon's Rock in Great Barrington, Mass. It's a school for the young and gifted.
Bard had gotten wind of Robert's talents, and sent his parent's literature, recruiting him to a summer program to provide a taste of what the campus community had to offer.
"And my parents kind of wrestled with the idea about, do we want to let him, at a young age, be up there by himself?" Dollyne recalled. "So I guess they went up to visit, from what I recollect, and they were pretty impressed, and he was so excited to go, and he did get to go and he loved it."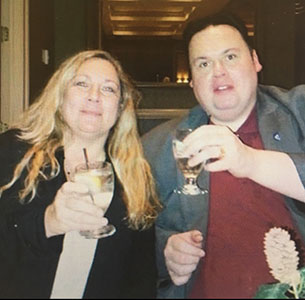 Ring of the Bell
Although Robert's death came as a shock, it is worth noting how he was battling a variety of health issues. Valerie was in town two Fridays ago to check on him, as a surprise, after talking to Dollyne about the possibility, and Dollyne not feeling well enough to join.
"I called him and I said, 'It's a beautiful day in Yonkers,'" recalled Valerie, who is about a year-and-a-half older than Robert. "And he said, 'Yes, it is.' And I said, 'You know how I know? Because I'm in your building.' And he goes, 'Oh, Valerie, tell me that you're punking me.' And I'm like, 'No, here I am.' I said, 'I had business in New York.' And he says 'You didn't have business in New York.' And I said, 'Yeah, you're my business, so I'm coming up.'"
After not seeing him for about a year, a gnawing intuition screamed at Valerie to visit Robert a pair of fateful Fridays ago.
"I just had this feeling," Valerie recounted for me. "I had a feeling for a week, you need to go see him. You need to go see him. You need to go see him."
She also said: "I feel like God gave me that last day."
But it would have been incredibly important to Robert that we celebrate the vibrant life he led, and not dwell on the sadness of the premature end.
When Valerie graduated from college, Robert was still in school, in his junior year abroad in Turkey. With graduation gift money, Valerie flew the 5,000 or so miles to see her cousin for two weeks of fun.
She remembers a local bar, Twilight.
"And these guys, they just adored him," said Valerie, whose late mother June was Robert's mother's older sister. "They adopted him like he was the owner of the bar, and the bartenders, the ex-military Turkish guys, they loved him. So he was like an honorary bartender there. Like he could go there anytime. He never paid to drink. He was their great big giant American, and they just loved him to death."
Valerie noted how Robert would visit older relatives of theirs who didn't have children, to catch up and keep them company, and attended family gravesites, to pay respects. He was always mindful of other people's feelings.
"There's some people you'd have two beers with and there's some people you would trust your puppy with for the weekend. but it's not often that you find somebody who is so awesome that you'd have two beers with them and also trust them with your puppy," Valerie memorably put it in our phone chat on Friday. "And he was that guy."
The heaviest loss of Robert's life was the loss of his mother, Mary Jane, who passed away about a decade ago.
"He would vacation together with her, always looked out for her, called her every day, make sure that she was okay, living alone," Valerie, also a Garnet Valley resident, said of Robert and his mom. "I mean, he was just like the world's best son. He would also take my grandmother when my grandfather passed away, he would take my grandmother grocery shopping. And she's five-foot-nothing and 83 years old, and he was probably in his twenties, six-foot-seven, driving my grandma to the store every week. And it was his pleasure to do that."
Tapestry of Goodness 
One crushing detail Dollyne shared with me last Friday was about upcoming family plans. Dollyne and her husband, Harvey, were excited to see Robert later this spring, or at least by this summer.
Dollyne's daughter Jennifer – Robert's goddaughter – delivered a baby boy, Griffin, into the world this past September.
"He was very happy and proud to be a great-uncle," Dollyne told me.
The plan was to get everybody together and have professional portraits done and create what would become a family heirloom.
"And that's one thing we were striving for," Dollyne said. "We knew we would all get together sometime this spring or summer and get portraits done. And, of course, that didn't happen either."
That was heartbreaking to hear. But I'm comforted to know Robert's memory and spirit will undoubtedly endure in his family, and in the lives of all he touched.
The lasting connections Robert built were the threads that wove a life of purpose and generosity of spirit. He's left us with a tapestry of goodness to cherish forever.