First Candidate for Latimer's Senate Seat Steps Up to Announce Run
We are part of The Trust Project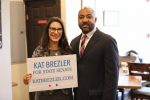 It didn't take long for one potential candidate to emerge for County Executive-elect George Latimer's soon-to-be-vacated state Senate seat.
Katherine Brezler, a White Plains resident and a second-grade teacher in the Bronx, announced Thursday that she would seek the Democratic nomination for a special election in the 37th Senate District, which Latimer has held for the past five years. The district stretches from a portion of Yonkers, through White Plains and North Castle and north to Bedford.
Brezler cited the need for a renewed commitment to public education, dangers to the environment, her support for the New York Healthcare Act, which would bring universal health care to the state, and campaign finance reform as her key issues.
"Teaching has always been my passion but I can no longer watch as Albany and D.C. politicians slash our education budgets and write policies divorced from the reality of what the real practice in education is," said Brezler of the top issue that is motivating her to run. "I want to highlight the issue of implicit bias both in testing and in teacher ratings and make sure that public schools receive the funding that is crucial to educating the future of our community."
Brezler has collaborated with the Alliance for Quality Education and Citizen Action of New York to equitably fund public schools. Most recently, she was part of the nationwide the opt-out movement effort regarding standardized school testing.
She has also been a fierce environmentalist and is a strong supporter of efforts to change campaign finance rules to limit the influence of big-money lobbyists.
"From my anti-fracking and environmental issues activism to fighting for sound education policies both in the classroom and out, I am proud of the work I have been able to accomplish, but I know that to bring further results, it must be done from Albany," Brezler said. "In the Senate, I can fight for the rights of New York's children to have equal access to education, universal healthcare, and campaign finance reform.
Gov. Andrew Cuomo would have to call for a special election to fill the seat once Latimer is sworn in as county executive on Jan. 1. Another option is to keep the seat vacant until next November's regularly scheduled election, although that would mean the district would be without representation for the 2018 session.
Although the 37th Senate District has been a hotly contested district in recent elections, Latimer was able to stave off three different Republican challengers to win the seat in 2012, 2014 and last year.