Farmers, P'ville Community Send Over 600 Pounds of Food to Needy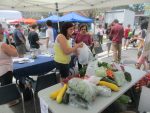 It was a happy and healthy holiday weekend for many clients of Hillside Food Outreach thanks to generous shoppers and a roster of dedicated farmers and volunteers.
More than 600 pounds of fresh produce and other food was collected last Saturday at the Pleasantville Farmers Market during its second Hillside Food Donation Day and distributed throughout the county. Farmers donated 347.5 pounds of food they hadn't sold by the market's close while many participating shoppers bought one extra item to donate, adding another 274 pounds to the total.
Steven Bates, the market's executive director, said with an alarmingly high food insecurity problem in Westchester, which includes the elderly, the financially challenged and those with health issues, the farmers market can supply vastly superior food for Hillside's 1,600 Westchester clients compared to what they acquire at other facilities.
"This is the best food for them to be eating and often it's carbs that are on sale," Bates said. "Their finances are not bringing them the opportunity to have the freshest, best food for their dietary needs, so whether it's a diabetic situation or just getting enough food, 5,000 pounds in the calendar year (have been collected) so far."
On Saturday two large boxes were brought to A-Home residences in Chappaqua and Katonah, Bates said. Hillside's volunteers were able to truck the remainder of the produce away shortly after the market closed for same-day delivery for their clients.
Along with last Saturday's efforts, farmers donate food they haven't sold at the close of each weekly market.
Devin Juros, a 15-year-old Pleasantville resident who launched the Pleasantville Community Garden two years ago at St. John's Episcopal Church, has been able to grow about 17,000 pounds of fresh vegetables, which has been donated to Hillside since the garden debuted.
"We drive over to Hillside and we weigh everything so we know our poundage and it goes right in, so it goes in a couple of days to people that need it," Juros said.
Bates said that the farmers at the Pleasantville market have responded because the efforts of Juros and his peers, mainly fellow high school students and other community volunteers, have inspired them. Hillside's coordination of its deliveries to speedily get the food in the hands of the needy is also outstanding, he said.
"They were really impressed by the effort of Devin and his family and the high school students, the teens," he said. "There were also impressed by Hillside handling it all."
Hillside Food Outreach founder and Executive Director Kathy Purdy said many community members don't realize that the organization needs to buy about 70 percent of the food that it donates to its clients, so the Pleasantville Farmers Market and Pleasantville Community Garden efforts are deeply appreciated.
"We buy food from the Food Bank. It's for sale," explained Purdy, whose facility recently moved from Pleasantville to Armonk. "Nobody gets it for free. But then we turn around and give it to the people who need it. So the donations save us a small fortune so you don't have to buy it."
Hillside was also accepting monetary donations at the market. It spends between $150,000 and $175,000 a month to buy the food, Purdy said. There are about 1,000 clients in Putnam County and western Connecticut that Hillside distributes to on a regular basis in addition to its Westchester clientele, she said.
Bates said last fall's first Donation Day was such a success that it needed to be reprised. The next Hillside Food Donation Day is scheduled for the fall, probably in October, he said.
"Farmers are really aware of challenges, of ups and downs and when they've got extra and when they see what these guys are doing it makes a connection," Bates said.
To learn more about Hillside Food Outreach, visit www.hillsidefoodoutreach.org. For more information on the Pleasantville Farmers Market, visit www.foodchester.com.