Family Separation Protest in White Plains; Trump Signs Order
We are part of The Trust Project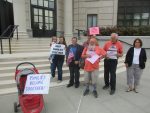 Westchester residents participated in a daylong vigil in White Plains Wednesday to join the chorus of voices nationwide that halted the Trump Administration's policy of separating children from their migrant parents when crossing the border.
The first group of about eight protesters started gathering outside the federal courthouse on Quarropas Street at about 8 a.m. while others were scheduled to arrive in hour-long shifts throughout the day.
The hastily organized vigil started just hours before President Donald Trump did an about-face, signing an executive order ending the policy of family separation and replaced by family detention for those who cross the nation's border illegally. More details were pending but Trump said that there would still be a zero-tolerance policy against illegal immigration. The order doesn't address the 2,300 children already separated from their parents under the administration's policy. Those children won't be immediately reunited with their families, according to federal officials.
Wednesday's protest in White Plains was scheduled in conjunction with an effort by the Yonkers-based social justice organization Hudson Valley Community Coalition, the Caravan of Hope, Solidarity and Freedom. The coalition sent a busload of residents from Sleepy Hollow at 5 a.m. to Washington in hopes of meeting with Congresswoman Nita Lowey and U.S. Senator Kirsten Gillibrand to put an end to the family separation policy.
"I can't believe what's happening right now," said Laura McSpedon of Irvington, who participated in the protest with her two-year-old daughter. "I've been upset by this country's immigration policies for a long time and how we treat the people coming here and this is a day I never expected we'd get to, and I can't believe that kids as young as my daughter, who's two, are separated, and younger kids are separated from their moms and dads."
It also started amid a threat from Gov. Andrew Cuomo to sue the federal government for housing about 70 separated children in New York State, including four locations in Westchester.
One of the vigil's organizers, Nada Khader, executive director of the WESPAC Foundation, said she learned that the Children's Village in Dobbs Ferry and Leake & Watts in Yonkers are two of the locations. A published report stated the others facilities are Lincoln Hall in Somers and the Abbott House in Irvington.
"I do feel there's a tremendous outpouring of outrage to what's happening and I'm hoping that this outrage will be translated into real change," she said.
In a statement late Tuesday, County Executive George Latimer said he was "heartbroken and outraged" at the mistreatment of children.
"Earlier we were informed that some of these children, who are being ripped from their families, are being placed in facilities in Dobbs Ferry, Irvington and Yonkers," Latimer said. "They do not belong here – they belong with their mothers and fathers. I am calling on the Federal Government to halt this practice of breaking up families and ripping children away from those who love them immediately. I applaud Governor Andrew Cuomo for taking this matter to the Courts for redress."
Others who participated in Wednesday morning's vigil were infuriated that the United States would participate in a practice they called inhumane.
"I think this is the sharpest example of this government intentionally wanting people to suffer and in a very racist way as what they see as a political advantage," said Nick Mottern, of Hastings-on-Hudson. "I think it's a very, very dangerous thing if people don't prevent this from going forward."
"I want to be very clear to say this is an unjust policy that doesn't represent us," said Beth Cava, a White Plains resident.
Robert Kesten, a Democratic candidate in the 40th state Senate District and who attended the vigil's first hour, said the outrageous decisions and behavior by the Trump Administration have become normalized.
"It's preposterous. When he was first elected, we would not have tolerated it but we've gone so long now with accepting more and more as normal that they are pushing the envelope and this is just part of that," Kesten said.