Family Secret Revealed in Hudson Stage Production of Acclaimed Play
We are part of The Trust Project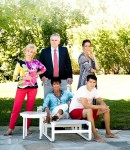 In 2011, Dan Foster headed to Lincoln Center to take in a new Off-Broadway play and was enthralled with what he saw.
Foster, co-founder of Hudson Stage Company and a longtime actor and stage director, was at the original production of "Other Desert Cities." The play eventually enabled Jon Robin Baitz to become a Pulitzer Prize finalist for drama.
A little more than four years later, Foster will be directing "Other Desert Cities" for local audiences for Hudson Stage at its home theater, Whippoorwill Hall in Armonk, for the next three weekends. He also directed a 25-performance production that ended last month in Nantucket, but the majority of the five-member cast has changed for the nine upcoming performances at Whippoorwill Hall.
"I remember seeing it originally at the Newhouse Theater in Lincoln Center and being bowled over," Foster recalled. "Jon Robin Baitz is just such a terrific, terrific writer. Just great. It was a great look at a modern American family."
The cast is led by Colleen Zenk, who may be best known for her role as Barbara Ryan on "As the World Turns," which has earned her three Emmy Award nominations. For Zenk, who is one of two actors to follow Foster from Nantucket to Armonk, the production and her character (Polly Wyeth) captivated her so much that she called it "a play that needs to be seen."
"It is a thrilling play to do," said Zenk, who has also appeared on Broadway. "I don't think I've ever done something quite as extraordinary, it's family fury, and it is that moment of truth when they find out that Brooke has exposed the family secret."
The story takes place at Christmas in 2004, when Polly, the mother of novelist Brooke Wyeth, welcomes her daughter back to her and her husband's Palm Springs, Calif. home to celebrate the holiday. Brooke's brother and aunt also arrive.
But Brooke reveals that she's about to publish a tell-all memoir, reopening old and painful wounds for the family.
The play also features Malachy Cleary, who has been seen on "Law and Order" and "Boardwalk Empire," as Polly's husband Lyman Wyeth; Brenda Withers (Brooke Wyeth); Davy Raphaely (Trip, Brooke's brother); and Peggy J. Scott (Aunt Silda).
After a run at Lincoln Center in early 2011, "Other Desert Cities" moved over to Broadway's Booth Theater for an engagement, which marked Baitz's debut work on the Great White Way.
One of the challenges for Foster and Zenk for the upcoming production, which opens Friday night, is the change in cast members, which makes the Hudson Stage version an entirely new production, Foster said. While the script may be the same, there are differences between the actors and the larger stage at Whippoorwill Hall.
Foster said he was fortunate to land Zenk in a lead role and pursued her after he learned that she loved the play and the characters.
"She had great interest and I, of course, thought very highly of her," he said. "I was very fortunate that she wanted to do it."
In addition to Friday night, additional performances are scheduled for Oct. 17, 23, 24 and 30 at 8 p.m. and Sundays, Oct. 18 and 25 at 3 p.m. There will be a matinee and evening performance on Saturday, Oct. 31. Tickets are $35; $30 for seniors and students.
Whippoorwill Hall at the North Castle Public Library in Armonk is located at 19 Whippoorwill Rd. East. For more information and tickets, visit www.hudsonstage.com.