Family Fun, Food and Music in Store on Saturday for P'ville Day, 5K
We are part of The Trust Project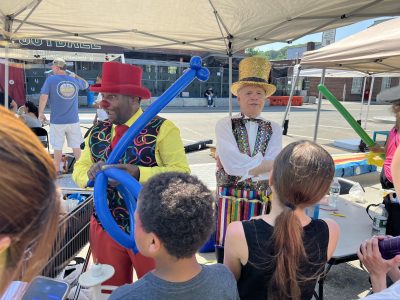 Families will be thrilled at the upcoming annual Pleasantville Day and 5K Fun Run this Saturday.
"There's more kids' activities this year than last year," said Pleasantville Day Co-organizer Ben Serebin. "This day is a free, family oriented fair to promote Pleasantville school and community groups."
Kiwi Country Day Camp is one of this year's two sponsors of the event, along with the village. Pleasantville Day is scheduled for 10 a.m. to 3 p.m. at Memorial Plaza.
A wide range of activities for youngsters will include a little kids slide, children's tattoos and various sports inflatables like basketball and soccer. There will also be miniature golf, archers, a stilt walker, crafts, balloon inflatables and an obstacle course for teens.
Performing throughout the day will be live music including Crossfire Hurricane, a band featuring a nine-year old drummer, the Old Mill Singers a cappella group, the Pleasantville High School jazz band and various dance groups.
There will be more than 50 vendors on hand, including a Kona Ice truck offering shaved ice, and Able Athletics will be offering an agility course, said Katie Jordon another Pleasantville Day organizer.
"Many vendors are from Pleasantville and we are very excited about new vendors as well," she said.
Amidst all the fun, the Community Scholarship Fund (CSF) will be hosting its annual 5K and Fun Run. Since 1946, CSF has been awarding scholarships to Pleasantville High School seniors to help them defray some of the cost for their higher graduation. Last year CSF raised $22,000 and 13 members of the Class of 2022 were awarded scholarships.
Registration and runner check-in for the races begin at 7 a.m. The warmup begins at 7:30 a.m., followed by the Fun Run, a one-mile race, at 8:15 a.m. The start of the 5K is scheduled for 9 a.m.
All participants receive a t-shirt, and there will be prizes for first-place finishers in each age group.
This weekend's festivities displace the Pleasantville Farmers Market for one Saturday, but the market will return the following week on May 27.
For more information and to pre-register for the races, visit https://www.raceentry.com/pleasantville-day-5k-and-1-mile-fun-run/race-information.
Also visit www.pleasantvillecommunityscholarshipfund.com.