Exhibit Captures the Stunning Beauty of Morocco Before Earthquake
News Based on facts, either observed and verified directly by the reporter, or reported and verified from knowledgeable sources.
We are part of The Trust Project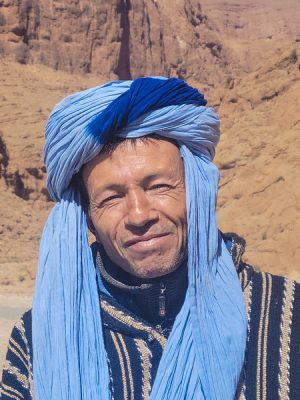 Months before a devastating earthquake hit Morocco in September, local acupuncturist and herbalist Ron Hershey photographed the country's dramatic landscapes and exotic, ancient walled cities.
He caught the mystique of converging cultures with stunning clarity.
"Morocco: Timeless Journey," a show of Hershey's photographs visually mapping his journey, is on exhibit through Dec. 27 in the Ottinger Room Gallery at the Croton Free Library. A reception to celebrate the exhibit will be held on Sunday, Dec. 3 from 2 to 4 p.m.
All work in the show is for sale and profits will be donated to The High Atlas Foundation, dedicated to earthquake relief.
Hershey's journey took him through Morocco from the coast, through the High Atlas Mountains to the Sahara Desert. His vibrant images will whet any traveler's desire to visit that part of the world.
From the rich tawny shadowed waves of desert sands dotted with a line of camel riders to the cool azure corridors and streets of Morocco, Hershey's visual chronicle radiates an engaging sense of place.
Men wearing colorful keffiyehs near Todra Gorge smile directly at you, others in vivid, stripped kaftans gracefully pour a cup of tea in Ben Haddou between the Sahara and Marrakesh. An elegant dinner in Chefchaouen highlights the sumptuous dishes of meats, bread, dips and olives, a sampling of the many influences on Moroccan delicacy through the centuries.""
The show is not only a visual delight, but each image expands one's understanding of how Morocco is much like a gateway between Europe and Africa, with touches of France, which colonized it, Spain, and Sub-Saharan Africa. Different cultures have left their stamp on the architecture and language as seen from the street signs which are in French, Arabic and Berber. The exhibit emanates the rich and complex fabric of Moroccan life.
"Morocco: Timeless Beauty" can be seen at the Croton Free Library, which is located at 171 Cleveland Drive in Croton-on-Hudson. For more information and library hours, call 914-271-6612 or visit www.crotonfreelibrary.org.