Examiner Media-Area Top 10 Section 1 Football Grid Poll
By Ray Gallagher
Examiner Sports Editor @Directrays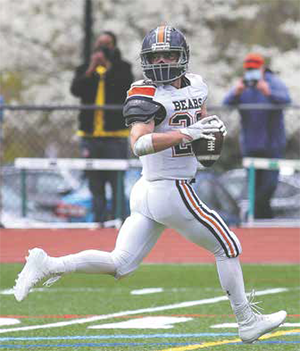 Here's yet another grid poll that features only programs covered in the Examiner region for the week of Apr. 19.
No.1 SOMERS — Somers boss Tony DeMatteo's Class A Tuskers (5-0) will need to lay the wood on Jay's senior QB Nick Giardina and super soph Chris DiChiara in an epic Week 6 showdown between two of Section 1 premier grid programs. Somers vs. Jay for all the marbles is pretty dang exciting, almost as good as Somers vs. Yorktown! #LastTouchWins!
No.2 BYRAM HILLS — Coach Carp's Class B Bobcats (5-0) have dispatched Pleasantville and Ardsley, two of the section's top Class B programs, in succession. A win over Westlake in Week 6 would complete the holy grail and provide the program's first sectional title #GoGetSome.
No.3 CARMEL — Coach Cayea's youthful Class AA Rams (4-1) went ahead and made mincemeat of John Jay EF in Week 5, so what does that tell you about the direction of this program? Tells me Carmel will be legit title contenders in 2022 should these juniors commit and develop as expected. Carmel has outscored its opponents by a robust 184-55 for the year.
No.4 WESTLAKE — Coach John Castellano's Class B Wildcats (4-1) will hope the savvy veteran coach can out-scheme young-gun Coach Carpenter's Byram Hills Bobcats in this Week 6 "Old-School vs. Nu Skule" matchup, in which Westlake seeks its first sectional title since 2015 while preventing the Bobcats their first ever.
No.5 YORKTOWN — Coach Ypsilantis' Class A Huskers (3-2) have fought tooth and nail for their first-year head coach, which is the Yorktown way, and they got a nice bunch of returnees for 2022 season, so expect bigger and better down the road.
No.5 MAHOPAC — Coach Dom DeMatteo's Class A Indians (3-2) have chalked up three W's in a row. DL/OL's Adam Montavlo and Dom Perricone have really impressed in the trenches, and Matt Puckhaber showed hustle and grit in win over Brewster.
No.7 HEN HUD — Coach John 'Big Cat' Catano's Class B Sailors (3-1) have one blip on the radar this season, a loss to mighty Byram Hills. Other than that, Year 2 of the John Catano era has been on point. Who steps up for Artope, Travis and Cepeda in 2022?
No.8 VALHALLA — Coach Troilo's Class C Vikings (3-1) were set to challenge an improving Woodlands program last night.
No.9 LAKELAND — Coach Mike Meadows Class A Hornets did not play their Week 5 game as Pelham went on pause.
No.10 PLEASANTVILLE — Coach Tony Becerra's Class B Panthers (2-3) are just a smidge beneath the elites of Class B this season, but they fight to the death, which is typical of P'Ville over the years.
HM OSSINING — Yes, this is not the Ossining of old — not even close — but Coach Larry McRae's Pride (3-1) — in typical fashion — are set to battle Mount Vernon for the Independent League title in Week 6 after crushing Ramapo, 37-14, in Week 5. Dudes were running the ball like they were Scott Rowe or something (circa wee '90s): Terrell Francis (20 carries, 235 yards, 2 TDs), Khy'leil Hawkins (5 totes, 103 yards, 2 TDs), Caden Hallinan (93 yards, TD) crushed it for Ossining, which rushed for 426 yards as a team #RoweWouldBeProud #McRaeKnows.
HM HALDANE — Coach McConville's Class D Blue Devils (2-3) are worthy of mention, having played a competitive schedule and done so proudly.
HM BRIARCLIFF — Bears Coach Skip Stevens saw Briarcliff RB/DB Brandon Rispoli morph into the dude in Week 5 romp of Irvington Saturday, scoring three TDs in the independent league game.