Ex-Westchester Government Official Arrested in Mt. Pleasant Hit and Run
News Based on facts, either observed and verified directly by the reporter, or reported and verified from knowledgeable sources.
We are part of The Trust Project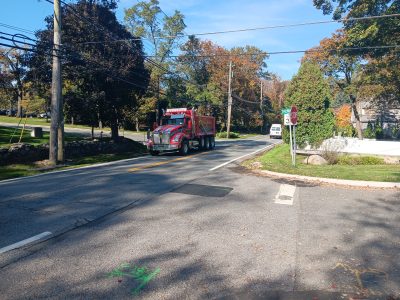 A former Westchester County deputy county executive was arrested for his role in a hit-and-run accident more than a week ago on a stretch of road in Mount Pleasant that residents have charged is dangerous.
Neil DeLuca, 74, who served as Andrew O'Rourke's deputy from 1991 to 1996, was charged on Oct. 22 with the felony count of leaving the scene of a serious injury motor vehicle accident the day after he hit a 66-year-old Sleepy Hollow woman on Bradhurst Avenue the previous evening.
He was also charged with the violation of unlicensed operation.
The woman was taken to the nearby Westchester Medical Center with life-threatening injuries. However, late last week Mount Pleasant Supervisor Carl Fulgenzi said that he had been told that the condition of the woman was improving, although she was still hospitalized.
Mount Pleasant police said that just before 8 p.m. on Saturday, Oct. 21, the woman, who was not identified, was found unconscious and severely injured on the northbound shoulder of Bradhurst Avenue near Blythedale Children's Hospital campus.
Town police detectives with assistance from the Westchester County Department of Public Safety found part of the front grill of the car that had left the scene, according to police.
About 24 hours after the accident a patrol officer and a detective sergeant noticed a vehicle matching the description of the car that had left the scene the previous evening parked in the driveway of 15 Bradhurst Ave. in Hawthorne, roughly a mile from the accident site.
Police said they interviewed DeLuca and eventually took him into custody and impounded the vehicle.
"As chief of the department, I could not be more proud of all involved personnel to bring this investigation to a successful conclusion culminating in the arrest of this offender," said Mount Pleasant Police Chief Paul Oliva. "Our thoughts and prayers are with the victim."
Although one area resident said the woman was known in the area as a bit of an eccentric person who liked to walk the busy thoroughfare at night, the incident once again raised concerns about the safety of Bradhurst Avenue.
Resident Glenn Accocella, who lives on the street, said it was only a matter of time before someone would be seriously injured. Accocella has repeatedly appealed to the town and the state to address the dangers on Bradhurst.
"I know this was going to happen in a sense, that somebody's going to get hit out there or even a fatal," he said. "That's kind of really went through my mind (after the accident). What I feared was going to happened pretty much happened."
One of the challenges for the town to get some safety measures put in place is that it's a state road, Fulgenzi said. In addition to having a heavy volume of traffic, it is a route favored by trucks, he said.
At one point, Fulgenzi asked Westchester County to use an alternate route to have their garbage haulers heading to the county's plant in Peekskill avoid using Bradhurst Avenue.
A similar request was made of trucks heading to and from ShopRite and Acme supermarkets.
"We're all trying to do what we can within the construct of the state to try and make improvements there," Fulgenzi said.