Ex-No. Castle GOP Chair Bellantoni Accused of Hypocrisy for Katz Fundraiser
We are part of The Trust Project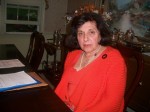 A former North Castle Republican Committee chairwoman has once again sparked controversy after agreeing to host a fundraiser this Thursday at her home for embattled Assemblyman Steve Katz (R-Yorktown).
Rosemarie Bellantoni, a politically active Republican who served as town committee chair in 2010-11, will be hosting the invitation-only event at her Armonk home. In March, Katz, a second-term assemblyman, was stopped for speeding upstate on the New York State Thruway and issued tickets for speeding and marijuana possession after the trooper smelled pot in his car.
Bellantoni has been one of the harshest critics of another former town GOP chair, Loronda Murphy, and Republican committee members who supported Murphy. Murphy was sentenced in March to four-and-a-half to 13 1/2 years in prison for her role in a mortgage fraud scheme.
Last Friday, Bellantoni confirmed that she has opened her Green Valley Road home for the two-hour fundraiser despite living in a different Assembly district than Katz. She said a fellow member of the Tea Party in White Plains asked whether she could host the $100 per person event because Katz needed a venue. Bellantoni said she agreed to the request because she supported most of his positions, particularly regarding fiscal constraint.
"Assemblyman Katz has been in the forefront of a lot of issues that I support, he's a conservative and I wanted to help him out," Bellantoni said.
She cited his opposition to pay raises for state lawmakers and his fight to keep taxes low as key issues that are important to her.
However, apparent political opponents rankled by Bellantoni's continued harsh criticisms of fellow GOP committee members for supporting Murphy, accused Bellantoni of being a hypocrite. Shortly after Murphy's sentencing, Bellantoni wrote a controversial and scathing guest column in The Examiner criticizing those who had remained loyal to Murphy or failed to renounce her. Murphy's troubles have also played a key role in the split in the North Castle Republican Committee in recent years.
Last week The Examiner received an email about the Katz fundraiser, which raised the issue of Bellantoni's participation and her support of someone who broke the law.
"Why is it then Ok for Ms. Bellantoni to associate and raise money for a drug user," the email stated in part.
Katz accepted a plea deal in April. Following the plea, he received a reduced parking ticket and an adjournment in contemplation of dismissal and given a $75 fine plus 20 hours of community service.
Bellantoni said it is implausible for anyone to try and equate Katz's transgression with Murphy's scheme that defrauded some victims out of hundreds of thousands of dollars. She did mention that she disagreed with the assemblyman's "flip flop" when he voted to legalize marijuana for medicinal purposes.
"They are unable to justify their support of Loronda Murphy to the end," said Bellantoni, adding that she expected retaliation in response to her views. "I don't mind because I've gotten used to them, the pettiness."
On May 29, Katz also voted to decriminalize possession of small amounts of pot even when it is out in the open. He was the only Republican in the Assembly to vote in favor of that bill, which would make possession of small amounts of marijuana a violation instead of a misdemeanor in certain instances.
Meanwhile, in a statement released last week following his vote, Katz acknowledged his involvement in the March incident and added that "I apologize to any family, friend, supporter, or constituent whom I have made uncomfortable or disappointed."
On the Assembly floor during debate of the medical marijuana bill, Katz described how seeing his mother suffer from a degenerative spinal condition led him to change his position. Katz stopped short of connecting his mother's condition to his alleged marijuana possession.
Both bills have passed the Democrat-dominated Assembly, but their fate in the Senate remains in doubt.
Andrew Vitelli contributed to this article.