Ex-Mt. Pleasant Police Chief Pleads Not Guilty to Child Porn Charges
We are part of The Trust Project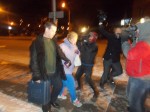 Former Mount Pleasant Police Chief Brian Fanelli pleaded not guilty Monday afternoon in federal court in White Plains to three counts of possessing child pornography.
Fanelli appeared before U.S. Magistrate Judge Judith C. McCarthy for a few minutes to enter his plea then was seen a short time later leaving the courthouse holding hands with his wife. He remains free on a $50,000 personal recognizance bond pending the outcome of the case.
He and his attorney, Michael Burke, issued no statements and refused to answer questions.
A pretrial conference was scheduled for today (Tuesday) at noon in front of U.S. District Judge Kenneth Karas.
The U.S. Attorney's office announced on May 14 that a grand jury had handed up a three-count indictment against Fanelli, charging that from October 2013 until January 2014, he "knowingly received and distributed material that contained child pornography" via a computer.
Authorities stated at the time of his arrest that he allegedly used a peer-to-peer file sharing system to deliver the material.
The second and third counts allege that on Nov. 9, 2013, and Jan. 3, 2014, respectively, Fanelli "knowingly possessed, and accessed, with intent to view, a book, magazine, periodical, film, videotape, computer disk and other material that contained an image of child pornography," which was also distributed via computer.
Fanelli, 54, a graduate of Valhalla High School, was arrested on Jan. 23 at his home in Mahopac by agents from Homeland Security following an investigation. At the time, the U.S. Attorney's office's 10-page complaint stated that Fanelli told investigators he was viewing the images as part of his work to help him teach youngsters about the dangers of sexual abuse.
In addition to his police work, Fanelli was a longtime volunteer teacher at St. Elizabeth Ann Seton Church in Shrub Oak and regularly spoke to the church's schoolchildren about sexual abuse awareness.
He is barred from having unsupervised contact with children.
In Mount Pleasant, Fanelli was replaced on a temporary basis by Lt. Paul Oliva. Oliva has since been elevated to the full-time chief's position. Fanelli took over as chief last November after a 30-year career with the town.
Although he was released on bail the day of his arrest, Fanelli  has been electronically monitored and is prohibited from leaving his home except for any work-related activity, court appearances, meetings with his attorney, doctors' appointments and religious services.
He was also forced to relinquish his firearms and all access to electronic devices that can connect to the Internet, including computers and cell phones.
 Neal Rentz contributed to this article.