Evidence of Overcrowding in House Owned By Village Trustee's Father
News Based on facts, either observed and verified directly by the reporter, or reported and verified from knowledgeable sources.
We are part of The Trust Project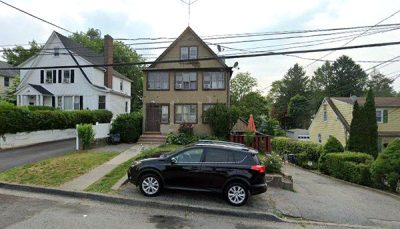 A two-family house in Mount Kisco owned by the father of village Trustee Karine Patino was the scene of a minor electrical fire last weekend but officials appear certain that there was overcrowding.
The village's fire department was called to the house at 19 West St. at 8:56 p.m. on Saturday for a fire that was deemed electrical, said Fire Chief John Hochstein.
Hochstein said the fire started in the first-floor ceiling due to the electrical wiring in the wall. It was quickly extinguished causing minimal damage, which was mostly cosmetic, he said. There were no injuries to residents or firefighters.
"There were electrical issues in the house, but they were not related to the fire, not related to the cause of the fire," Hochstein said.
Fire officials ordered that electricity to the 3,269-square-foot stucco house be cut off until the wiring problems can be addressed, according to Hochstein. He did not elaborate on the types of electrical issues that need to be corrected in the home.
There were other violations observed, but Hochstein referred all questions pertaining to violations to the village's building department.
"We did have an issue with overcrowding in the house," Hochstein said. "I don't have an exact number of how many were living there but five people did find refuge with Red Cross."
Building Inspector Peter Miley could not be reached for comment on Monday on the nature of any violations and whether there were an excessive number of residents were living there.
Reached by The Examiner on Monday afternoon, Patino confirmed that the house is owned by her father, Angel. She later issued a statement on behalf of her family thanking firefighters for their quick response, Red Cross and the generosity of community members who reached out to help.
However, she did not directly address the issue of overcrowding at the property.
"As we move forward, it's essential to address the root cause of this incident," the statement read in part. "The fire was a result of an electrical issue, and we are committed to resolving this matter promptly and effectively. We intend to cooperate fully with the Building Department and undertake any repairs and improvements to ensure the safety and compliance of the property."
Late last weekend into Monday, social media lit up with speculation regarding the fire and potential code violations as the village's political campaign reaches its final two weeks. Patino is up for re-election for the first time on Nov. 7 in what has been an increasingly rough campaign.
The issue of residential units failing to meet building code standards and fire and safety regulations in Mount Kisco has been a persistent challenge that the village has tried to address.
Mayor Gina Picinich said Monday it was clear to her that 19 West St. held too many people.
"The property was overcrowded and that clearly is of grave concern to the village, and it's not okay," Picinich said.
Over the past six years, Mount Kisco has cracked down on illegal residential units and overcrowding, she said. In that time period, 437 single-room occupancy (SRO) units were identified with the "overwhelming majority" having been eliminated. The remainder of those are still in the adjudication process, she said.
Another 108 overcrowded rooms were identified and nearly all of them have been brought into compliance or are in court.
The village had also uncovered 153 "upzoned units," residences that were illegally added in basements or attics, Picinich said. The vast majority of those have also been addressed in order to have the owners become code compliant.
"So this is something that we have taken very seriously and continue to take very seriously," Picinich said. "Ensuring that every property in the village is not just in compliance with the zoning code, which his very important, but, of course, in compliance with fire safety regulations. And those that are not are not just putting the people there at risk, they put our firefighters at risk. It's unacceptable."