Esthetician Helps Make Clients Look and Feel as Good as They Can Be
News Based on facts, either observed and verified directly by the reporter, or reported and verified from knowledgeable sources.
We are part of The Trust Project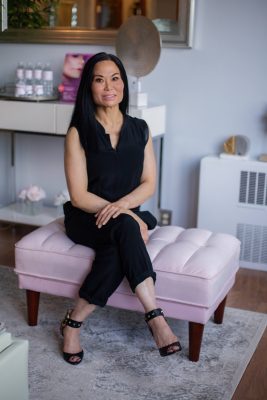 Perhaps the best decision Becky Pfeifer ever made was to open her own business in early 2019.
For the last 18 years, Pfeifer has worked as an esthetician, but it wasn't until just over four years ago that she made the leap of faith that she could successfully operate and manage her own spa, FaBesthetics in Mahopac.
Despite facing the mandatory eight-month COVID-19 shutdown the following year, Pfeifer hasn't regretted the decision. Business has been as strong as ever for the North White Plains resident.
What makes her customers repeatedly return to her South Lake Boulevard studio, is that she makes them feel great about themselves.
"I'm a people pleaser," Pfeifer said. "It's the most gratifying thing that I can get to change somebody's life, to make them feel really good about themselves and that's what I do," Pfeifer said. "I'm a very attentive person. I'm probably 99.9 percent more attentive than anyone that I know."
Pfeifer provides her customers with a wide array of services at FaBesthetics, starting with facial treatments, laser hair removal and skin rejuvenation.
But there are the other less common treatments that her customers come for, such as to rid themselves of vascular lesions, or body contouring, popular for those who can't seem to get rid of an area that doesn't get trim regardless of how well they eat or work out.
Pfeifer also performs what she calls a triLift, a non-invasive, non-surgical treatment that has the same effect that a facelift would provide. What's better about the triLift procedure are quicker results without the extended recovery time.
"Traditionally, when you get treatments to tighten the skin or you have jowls, your skin is losing elasticity and it's drooping, you'll get treatment," she said. "But it's normally done four to six weeks apart so you have wait longer for the results, and with a traditional facelift it's very invasive because you're going under with a scalpel and the recovery time is two to three months."
One factor that sets her work apart, Pfeifer said, is that she's not watching the clock, rushing a customer out the door as soon as the 50-minute session is supposed to end. If a customer needs some more attention, that's what Pfeifer will provide, giving her best effort to every client.
"Here, I'll have a facial, maybe a 50-minute facial, maybe an hour, but if it is not perfect, I will spend more time but I don't charge them anymore when they walk out that door," Pfeifer said. "When they walk out that door, they look at themselves in the mirror, I want to make sure that they notice a difference, and they do."
Pfeifer's journey to becoming an esthetician was through a somewhat circuitous route. Born in Seoul, South Korea, she and her biological sibling were adopted by a family in South Dakota. As a small girl she lived on a farm.
Her goal was to leave the rural outpost as soon as she could and landed in Ocean City, Md. and Philadelphia, where Pfeifer took some classes at Temple University. A few years later she was in Seattle and went to school for interior design, but then worked for a technology company. She lost her job during the Great Recession, so she returned to the East Coast dabbled in real estate before enrolling in the School of Esthetics in Tarrytown.
Pfeifer said esthetics quickly become her passion, describing her choice as "where I was meant to be" by helping her customers feel great about their appearance.
"They just want to feel more confident and look their best, and that's what I'm here to do," Pfeifer said.
FaBesthetics is open from 10 a.m. to 7 p.m. Monday through Saturday. It is located at 880 S. Lake Boulevard, Suite 301, in Mahopac. For more information, call 845-243-6644 or visit www.fabesthetics.com.