Environmentalists Urge Vote on Packaging Reduction Bill
News Based on facts, either observed and verified directly by the reporter, or reported and verified from knowledgeable sources.
We are part of The Trust Project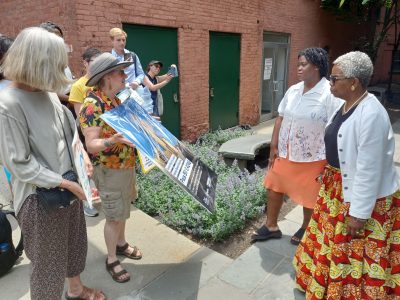 Environmental advocates and two prime sponsors of legislation that promises to vastly reduce plastic and packaging in the waste stream are pressuring legislative leadership in Albany to bring the measure to a vote.
State Sen. Peter Harckham (D-Lewisboro) and Assemblywoman Deborah Glick (D-Manhattan) on Monday pushed for the full legislature to vote on the Packaging Reduction & Recycling Infrastructure Act before the 2023 session ends later this week.
The legislation, which the two legislators introduced, would establish "extended producer responsibility" and require companies with net annual income of more than $1 million to reduce consumer packaging. It would also require them to bolster recycling efforts of their packaging and help update recycling infrastructure.
Companies would be expected to create and/or maintain reusable and refill infrastructure, support municipal recycling programs financially and reduce the toxins in their packaging.
Harckham said the excess waste generated by packaging and plastics is polluting communities and costing local municipalities millions of dollars a year because of the extra volume being trucked to landfills and garbage plants.
"This is the best chance to finally do something about recyclable waste and the many toxins found in packaging," Harckham said. "I am grateful for the legislative support and staunch advocacy for this bill; now it's time to get it passed."
Last Friday afternoon, a variety of environmental advocates held a press conference in Yonkers and hand-delivered a petition containing 18,000 signatures to the district office of Senate Majority Leader Andrea Stewart-Cousins (D-Yonkers) to make the case for bringing the bill to the floor of the legislature before the session concludes.
Prior to that, they held a press conference urging lawmakers to do what is right for the environment and for residents, particularly those in who live in communities with landfills and plants that process trash.
Megan Wolff, policy director for Beyond Plastics, an organization that is striving to put an end to single-use plastic, said if the bill would be approved and signed into law, it would cut plastic packaging in half in the state in 12 years.
She called it "one of the most exciting pieces of anti-plastic legislation that we have literally ever seen."
"We all know that the plastic pollution crisis is out of hand," Wolff said. "We have more than 10 billion tons of plastic on the planet already and production is set to double again by 2040. We need to turn off the plastic tap, a single-use plastic and especially packaging."
As expected, certain business interests have been ramping up their opposition to the bill in hopes of influencing legislators against taking action. A coalition of 78 industries and business organizations oppose portions of the bill, including the extender producer responsibility and the prohibition of about 16 materials that are deemed toxic.
In a statement released Monday on behalf of the organizations, it stated that in the past three years more than $5 billion in investments. including advanced recycling, has been announced to help modernize the U.S. recycling infrastructure and expand the types of plastics that can be reused or incorporated into a circular economy.
Business interests were also rankled by the introduction of last-minute amendments.
"We have concerns about the approach to advancing this legislation. With just a few days left in the legislative session, these amendments were put forth without meaningful stakeholder input or robust detailed discussion of the complex provisions," their statement read in part. "There is limited opportunity for stakeholders to provide public comments and for legislators to consider comments and evaluate the bill on its merits."