Environmental Activists Pray for the Planet in Peekskill
We are part of The Trust Project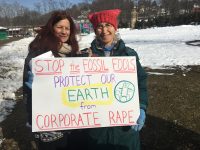 By Anna Young
Environmental activists gathered Saturday afternoon in Peekskill to raise awareness, offer indigenous prayer and call for strength, solidarity and compassion for the planet as concerns rise over the Spectra pipeline construction.
Healing and Protecting Our Land Together: A Call to Prayer, a local group of environmental activists, held an interfaith vigil at the Riverfront Green where roughly 30 attendees held signs such as "Honor mother earth, stop polluting fossil fuel," and formed a circle to pray for climate justice.
Sister Bette Ann Jaster, a Dominican Sister of Hope, led the vigil requesting attendees to breathe the air and to appreciate the sky, trees and ground below them. She then led the group in a rendition of "This Land Is Your Land" where revised lyrics expressed the importance of climate justice.
"We're coming to learn that Earth is a living organism worth relating to as a teacher, mentor and healer, it's not just an object to be treated and abused but a safe subject worth relating to," Jaster said during the rally. "We do this to draw attention to the natural world around us and to invite ourselves to reflect on it and pay attention and leave here awake and aware of what we can offer back in mutuality."
After President Donald Trump signed a January 24 executive order advancing construction of the Keystone XL Pipeline and the Dakota Access Pipeline, members of the group became motivated to take preventative action to slow construction before any damage is done to the environment.
"We focus on prayer and nonviolent direct action, which seems to be the only thing left in order to raise awareness and get the attention of our elected officials who seem deaf," said Croton-on-Hudson resident Paola DalleCarbonare, founder of Healing and Protecting.
Since 2015, Healing and Protecting has worked with Resist Spectra, a group of advocates dedicated to stopping Spectra Energy's Algonquin Pipeline Expansion (AIM) by holding vigils throughout Westchester.
Vigils have also been held outside the home of Gov. Andrew Cuomo in New Castle with the hope he will instruct the state Department of Environmental Conservation (DEC) to deny Spectra Energy's request for water quality permits for the second part of their 42-inch pipeline expansion called Atlantic Bridge.
"It's our job as citizens to stop this construction because of the irreparable damage the construction will have to the wetlands and the water in New York," said Courtney Williams, a Peekskill resident and Resist Spectra coordinator. "We can all stand together and stop these types of projects."
Garrison resident Paula Clair expressed her concern with the pipeline located next to Indian Point, contending that it will damages people's homes and lives.
Alexia Weilder of Manhattan added that if changes aren't made people are going to suffer the consequences. Westchester Resident Vitalah Simon agreed stating, people will die if preservation of air and water quality isn't a priority.
"I believe in the power of prayer and the power of people together, so I think when people pray and get together miracles are possible," DalleCarbonare said. "We're calling for a miracle; a miracle hasn't happened yet but we're still hoping."